Blood at the Breeders' as US trainers rage over Lasix ban
Mixed fortunes for Europeans in California iovershadowed by row over dirt-racing diuretic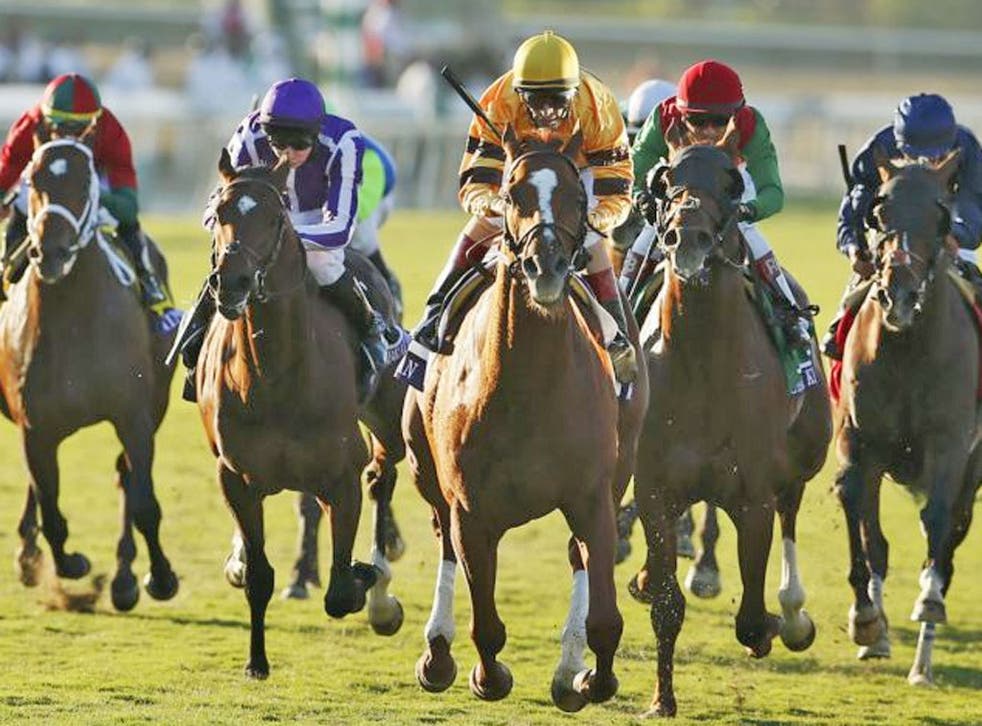 It did not seem to augur too well for the host nation when a stirring professional rendition of the national anthem before racing here on Saturday was silenced by a microphone failure. Some patriots in the stands, straining to pick up a distant acoustic, did murmur a few shy verses, but they need not have worried. A far more profound cultural emasculation beckoned those arriving at the 29th Breeders' Cup from Europe.
As usual, these had flown in confident of exporting at least one of the three main prizes offered in their specialist discipline of grass racing. For only the second time, however, the raiders were thwarted by the home team in Mile, Turf, and Filly and Mare Turf. True, they had been most unlucky in the latter, The Fugue getting caught up in traffic before closing into third on Friday's card; and they did console themselves with both juvenile turf races, George Vancouver taking their record in the colts' race to four wins in six runnings. Ultimately, however, they were lost without Frankel.
The defeat in the Mile of the retired champion's regular punchbag, Excelebration, reiterated how limited a theatre he bestrode with that epoch-making talent. Wise Dan showed that taking Excelebration off his feet is not a unique distinction, doing the fastest mile ever recorded round one of the American Turf's most storied circuits.
The winner is a quite beautiful colt, likely to obtain unusual distinction as a Horse of the Year campaigned on turf; and yet connections of the runner-up, Animal Kingdom, may still contend that he has at least as much ability. This was an audacious target for the 2011 Kentucky Derby winner, switching from dirt and unraced since February, but he was still tanking along as he sought a run on the home turn. In such company, Excelebration requires no excuses for finishing a nose out of the frame, beaten barely two lengths.
If Bobby Frankel was gazing down, he must have shaken his head and wondered why those who named a champion in his memory did not dare to bring the great horse to his hometown track. To say that Frankel was retired with nothing to prove is insulting to the ambition and heritage embraced by those who did test their horses here, after a long journey and long season. His greatness would surely have obtained a new measure – whether in the Mile itself; or in the Turf, where St Nicholas Abbey instead wore down Little Mike too steadily in third; or in the duel that disclosed such courage in Fort Larned, dragging the runner-up seven lengths clear in the Classic.
Never mind. It had long been obvious, thanks partly to the crass misapprehensions that permitted Ascot to stage a Champions Day just a fortnight before this carnival in California, that Frankel would not be here. And it is not as if those supervising his career were the only conservatives hesitating at new frontiers at the Breeders' Cup.
For while the mutual perspectives of the Art Deco stands and the San Gabriel Mountains share a benign, timeless quality, this meeting was played out against bitterly polarised visions for its future. The Europeans, having made hay here during a two-year experiment with a synthetic surface in 2008 and 2009, were so vexed by the restoration of the old track that they wholly ignored the big dirt races. And many Americans, for their part, are maddened by a fresh, compensatory assimilation to an alien racing environment.
European horsemen increasingly distrust American pedigrees, believing latent defects to be masked by endemic medication. And the organisers of the Breeders' Cup, true to the interests implied in its name, have responded with a bold challenge to American professionals. A prohibition of Lasix, the anti-bleeding diuretic, in the juvenile races this year is set to be expanded across the meeting in 2013.
Many trainers here were seething at that prospect and, one way or another, there was always bound to blood on the carpet after this experiment. Mark Casse had been strongly critical of the ban beforehand and went into overdrive after Spring In The Air bled in the Juvenile Fillies on Friday. "Before, I was disappointed with the Breeders' Cup," the Canadian told the Louisville Courier-Journal. "Now I'm just downright mad. I am furious."
Casse predicted a sharp drop in entries if the Breeders' Cup persevered with its policy, reasoning that older horses will prove still more vulnerable. He had John Oxley's filly scoped after she coughed all the way back to her stable. "The vet said she bled a 'three out of five' [scale]," Casse said. "She put her head down and blood came out of her nostril. I mean, is that right? Mr Oxley is so upset he said he would never, ever run another two-year-old without Lasix in the Breeders' Cup. This could be the end of her career, which is just absolutely ridiculous. We've got all these smart guys [running the sport]. Let them come back to the barn some time, and watch a horse that bleeds cool out."
There is a correlation, of course, between the twin discouragements to European competition here: dirt being a relatively punishing surface for routine training, and so more likely to disclose capillary frailties. After saddling George Vancouver to beat a Lasix-free field on turf, Aidan O'Brien reflected on some of the schisms renewed by the return to a dirt surface on the adjacent track – and remembered this colt's sire, Henrythenavigator, being foiled only by another European runner when the Classic was run on the synthetic track here in 2008.
"Dirt racing is more about survival," the Ballydoyle trainer said. "We do think the injury rate is higher on dirt. The problem is that [turf] horses will handle it, but they need to be working on dirt on a daily basis."
Fortunately, the most prestigious two-year-old race of the meeting volunteered a precious feel-good story for the American sport. For Rosie Napravnik's success on Shanghai Bobby in the Juvenile potentially gives her the best chance yet of any female rider in the Kentucky Derby, for which the colt is now 8-1 favourite with Coral. Some American trainers, resenting new regulations, may no longer consider this a land of the free. In this young woman, at any rate, it does remain a home of the brave.
Turf account
CHRIS McGRATH'S NAP: Aragorn Rouge (3.55 Wolverhampton)
Very well treated and plainly about to take advantage for his new stable, likely to have done so at Kempton the other day but for being exposed to an excessive pace.
NEXT BEST: Partner (4.55 Wolverhampton)
In top form, just too free here last month and no luck at Catterick since.
ONE TO WATCH: Requested (Mahmood Al Zarooni) shaped well against a pace bias when third in a nursery at Kempton last week.
WHERE THE MONEY'S GOING: Cristal Bonus is 12-1 from 16-1 with Hills for the Paddy Power Gold Cup at Cheltenham on Saturday week.
Join our new commenting forum
Join thought-provoking conversations, follow other Independent readers and see their replies