Cheltenham Festival 2016: Victoria Pendleton divides opinion but she deserves a fair crack of the whip
Former Olympic cyclist's Cheltenham debut has drawn out some of the less appealing traits in the Turf community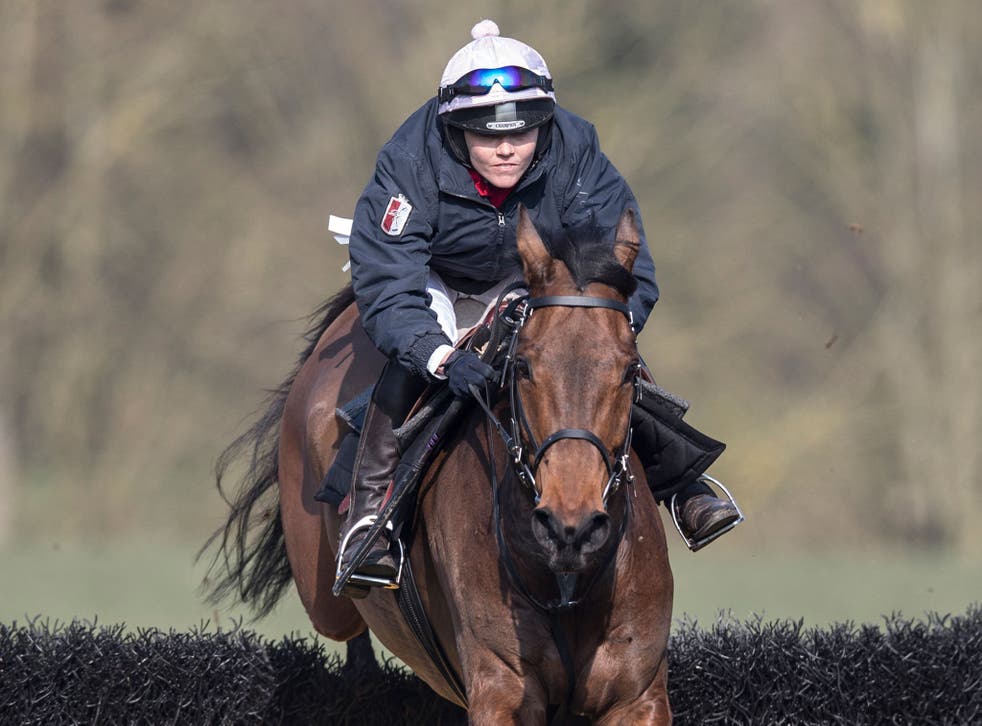 To many professional horsemen, she arrives on a wing and a prayer. But if their superior insight tells them anything about the challenge embraced by Victoria Pendleton at Cheltenham, then they cannot exclude the possibility that she could yet bestow upon their sport the benediction of a passing angel.
Make no mistake, the jump racing community is bitterly divided by the advent of the former Olympic cyclist in the crucible of so many lifelong dreams. Many are aggrieved to see Pendleton's participation in the St James's Place Foxhunter Chase threatening to steal the show from those jockeys, trainers, owners and breeders whose patience and craft – over an aggregate of decades – have been rewarded with a stake in a vintage running of the Timico Cheltenham Gold Cup. Even as the winning rider is being interviewed in the unsaddling enclosure, the paparazzi will be training their lenses in the opposite direction, as the amateurs emerge from the weighing room for a race suddenly exalted from footnote to top of the bill.
Historically, in fact, it has only been of significance precisely to those cognoscenti who preserve the organic link between steeplechasing and its rural roots, in stockmanship and hunting and muddy point-to-points. To many of these, its transformation represents the brash intrusion of an urban celebrity culture into the earthy, ageless rhythms of their existence. How flimsy, how crassly suggestible, do they find all this obedient attention to a transparent marketing stunt!
No less a judge than John Francome, moreover, has been withering about Pendleton's competence for an assignment that could not post less frivolous stakes. As we have already seen this week, the spectrum that offers a jockey glory does not extend merely to disappointment, but to loss of life and limb. Francome has described Pendleton as "an accident waiting to happen," and too many other ex-jockeys are confined to wheelchairs for anyone to resist at least a degree of queasiness about the whole business.
Their distaste is compounded by indignation on behalf of Nina Carberry, one of Pendleton's rivals, whose career tally approaching 3,000 rides and 400 winners (including five at the Festival) has made her the first lady of riding over jumps; the first, that is, unequivocally accepted by even the most unreconstructed of punters as a pound-for-pound match for the best of her male rivals.
Yet however cogent any one of these objections, together they suggest that Pendleton may have drawn out some of the less appealing characteristics of the Turf community even as she has so diligently aspired to its very best. For all that horses daily confound our expectations, we can seldom resist a judgemental tone. These serial dilemmas, six or seven times a day, yield their serial denouements: vindication for one opinion or another comes too explicitly for us to remember that very often, in life, there is no right or wrong answer. As such, the respect the sport demands (and receives) from Pendleton should at least be reciprocated.
Peerless as Francome was in the saddle, Pendleton has entrusted a verdict on her readiness to arbiters scarcely less seasoned, not least the multiple champion trainer Paul Nicholls, who will hoist her on to Pacha Du Polder. And it is not as though she owes either her eligibility or her fascination, among a broader public, to the kind of career that might justify cynics in conflating this remarkable exercise with the gaudy exhibitionism of reality television.
Nobody in racing, certainly, would disparage Tony McCoy should he get it into his head to fill the unwonted vacuum in his life by, say, climbing the north face of the Eiger. They would admire the longevity of that uniquely competitive appetite; the dedication and athleticism required to gain approval from hard-eyed mentors; above all the readiness, like Pendleton, to scale fresh summits from a standing start. Seeing McCoy here this week, candidly tormented by the unreachable proximity of an elixir that sustained him for 20 years, who would dare to presume the faintest sense of what it must be like to renounce the pursuit that set him apart for so long? Or of what it might take, now, to satisfy standards comprehensible only to – well, people like Victoria Pendleton? They both belong to those happy, unhappy few, who learn nearly to dread the fulfilment of ambitions, unattainable by nearly everyone else, that give meaning to years of unremitting endeavour.
If some perceive a hint of desecration, in this raw novice riding over the Gold Cup course 40 minutes after Ruby Walsh et al, the bottom line is that thousands wholly indifferent to the big race could yet develop an interest in its next running – or, for that matter, in Carberry – through Pendleton's adventure.
To an extent, after all, each and every ride is an accident waiting to happen. In the first race, months of planning by a veteran Irish trainer were unravelled when his horse collided with a rival at the start and unseated Davy Russell. One of the consummate horsemen of his generation, Russell promptly rode the next winner with a ride of tremendous nerve and dash in a helter-skelter field of 24. Of his two experiences, one would seem to beckon Pendleton rather more obviously than the other. But that does not disqualify her, with a proven temperament and an instinct so honed to velocity, from the opportunity to ride a carousel that only captivates the romantics in the first place by so consistently flouting logic.
There are, of course, legitimate anxieties. But nobody should resent Pendleton for wrenching a gap in the palisade that might otherwise preserve this theatre for the aficionados. These latter can turn their backs, just like the paparazzi, and instead salute Willie Mullins, perhaps, for redressing that anomalous Gold Cup blank in his CV; or a Dorset dairy farmer, Colin Tizzard, with the West Country champion Cue Card. But if they are as big-hearted as the horses they adore, they will accept that there is room here for everybody – and show plenty of respect for a superstar who is prepared to come here, whatever the headlines say, as a nobody.
Join our new commenting forum
Join thought-provoking conversations, follow other Independent readers and see their replies