Cheltenham Festival 2021: Rachael Blackmore becomes first female jockey to win Champion Hurdle
Honeysuckle was chased home by Sharjah, second in the race for the second successive year, and 2020 winner Epatante, who finished third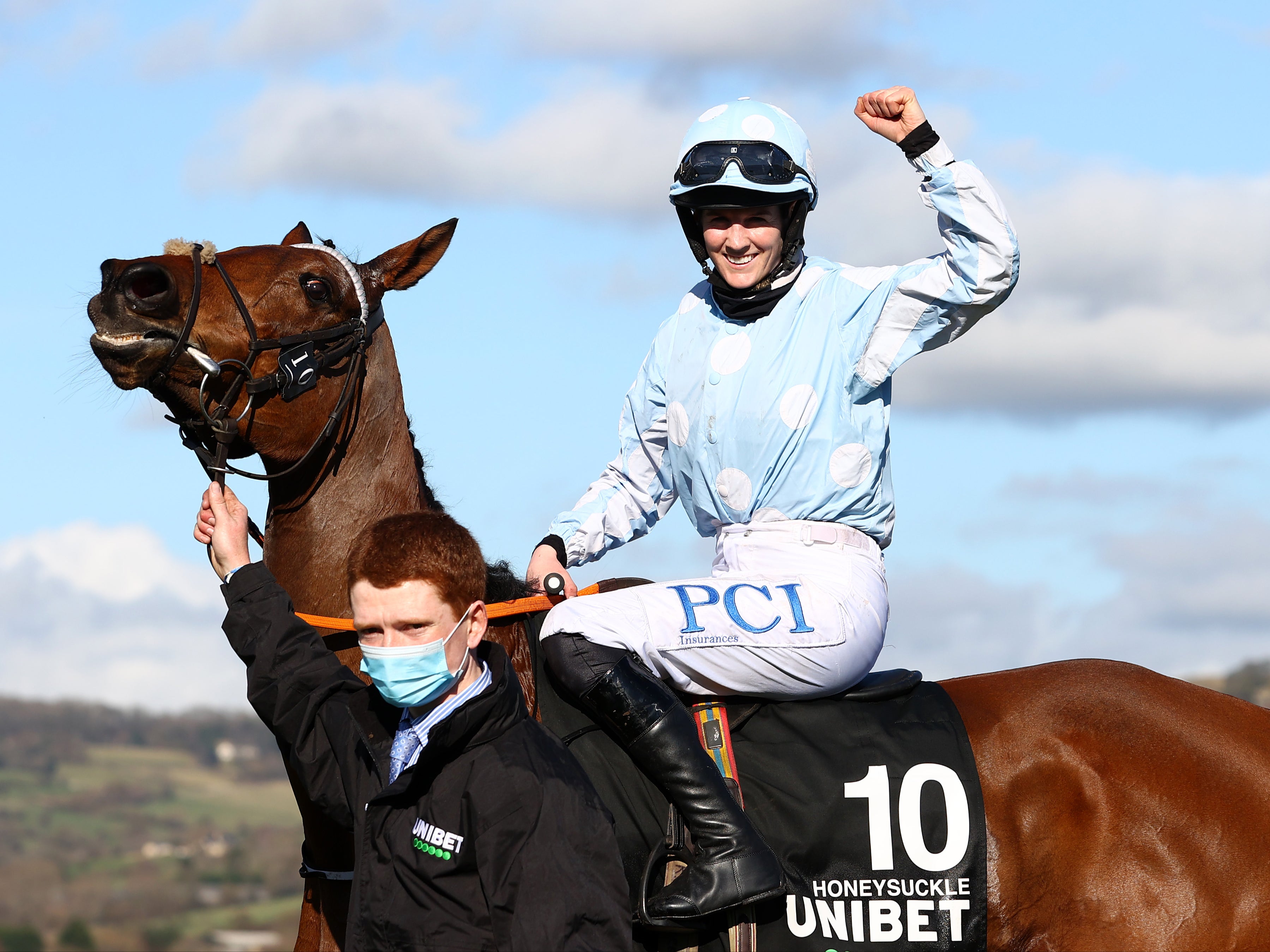 Rachael Blackmore was lost for words after steering Honeysuckle to an historic victory in the Champion Hurdle at the Cheltenham Festival.
Unlike many of her weighing-room colleagues, the 31-year-old was not bred to be a jockey, being the daughter of a dairy farmer and a secondary school teacher.
However, she is the perfect advertisement of where sheer hard work and perseverance can get you - rising from little-known amateur to becoming one of the most respected members of her profession on either side of the Irish Sea in the space of six years.
Unbeaten in 10 previous starts and a brilliant winner of last year's Irish Champion Hurdle at Leopardstown, Henry de Bromhead's Honeysuckle was all the rage to ensure Blackmore became the first female jockey to claim victory in the sport's most iconic hurdle race.
Her legion of fans will have been shouting her on at home too, as the 11-10 favourite kicked clear into the straight and powered up the hill to beat old rival Sharjah by six and a half lengths.
"For me, this was never even a dream - it is so far from what I ever thought could happen in my life," said an emotional Blackmore.
Read more
"Being in Cheltenham and riding a winner of a Champion Hurdle is so far removed from what I dreamt could be possible. Maybe there's a lesson in that for everyone out there."
In typically modest fashion, Blackmore was keen to heap praise on her willing partner and De Bromhead and his team, rather than taking due credit herself.
"I'm so thankful to be a part of her (Honeysuckle) - it's all about her," she said. "You can't do it without getting on the right horses, and I've been extremely lucky in that sense, getting a link-up with a yard like Henry de Bromhead's.
"That is a massive part of every jockey's career - being in the right place at the right time and getting linked up with the right yard."
Blackmore recalled visiting the hugely popular three-time Champion Hurdle hero Istabraq as a schoolgirl.
"We went to see Istabraq on a school tour," she said. "I'm from Tipperary, so it was local. I never envisaged back then, when I went to see him, that I'd be riding the winner of a Champion Hurdle - it's incredible.
"When every person becomes a jockey they dream about riding at Cheltenham and all these things, but riding a winner like this - I'm sorry for repeating myself - is just unbelievable."
Blackmore has always been reticent to discuss her achievements as a 'female jockey'.
This victory provides just more evidence, as if it were needed, that she is more than a match for her male counterparts.
She said: "There's no deal about it any more, I don't think. It's not that I don't talk about it, I just think if you want to be a jockey you can be a jockey - drive on."
The biggest shame, of course, is that Blackmore and Honeysuckle were not welcomed back into the hallowed winner's enclosure to the usual raucous fanfare.
"It's a shame the crowds aren't here, because the people are what make Cheltenham what it is," she added. "But it was nice that the people that are here gave us a cheer when we got back in.
"It still feels very special, but it's not the normal Cheltenham of old. Hopefully we'll see the crowds back here next year."
PA
Join our commenting forum
Join thought-provoking conversations, follow other Independent readers and see their replies