Grand National 2016: Paul Nicholls hopes Aintree glory can seal title
Trainer feels his mount Silviniaco Conti is in flying form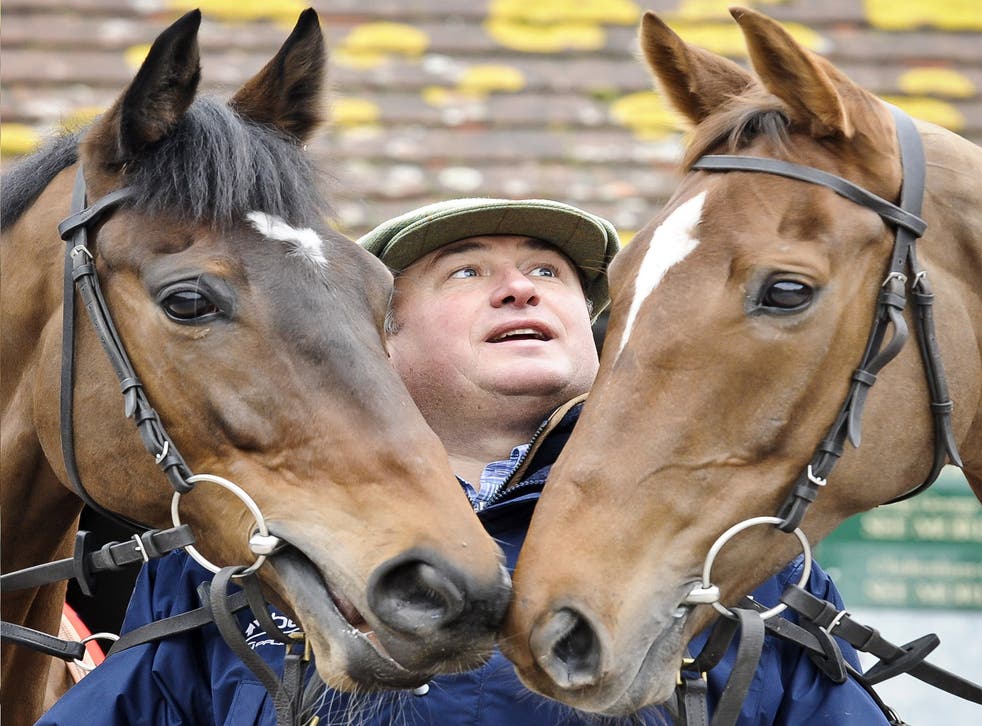 If anything, he almost seems to be enjoying it. He knows perfectly well, after all, that every other jumps trainer in Britain would love to have problems like Paul Nicholls. Following an unexpected reverse for his rival on the eve of the Crabbie's Grand National, it still remains neck-and-neck between Nicholls and Willie Mullins in their duel for the trainers' title – and the defending champion is now hoping to seize the opening left by Vautour's fall in Friday's big race when saddling no fewer than six candidates for the most valuable prize of the season. Nonetheless, Nicholls recognises that whoever commands the summit, when the campaign ends at Sandown on 23 April, will survey an altered landscape. Whether or not Nicholls manages to become champion for the tenth time in 11 years, he knows that the ascent will never again be quite as straightforward as in the years after he had first supplanted Martin Pipe. But he also knows that he is only a victim of his own success and, paradoxically, entitled to immense pride in the steepening odds against him.
For the erosion of his stature largely reflects his own transformation of the training profession. His own prizemoney haul this season is matched by the aggregate earnings of two young trainers, Dan Skelton and Harry Fry, who learned the ropes in Nicholls's Somerset yard. Another new force, albeit a late bloom, is Colin Tizzard: now fifth in the table, and candid in acknowledging a debt to observations made by his son, Joe, during his stint as Nicholls's stable jockey at Ditcheat. And, by the same token, even Mullins himself may have profited to a degree from the insights of Ruby Walsh, who for so long divided his services between the two yards before committing to the one closer to home.
"All those years Ruby worked for us weren't wasted, were they?" Nicholls says with a rueful grin, if not the faintest hint of resentment. "Obviously he's taken a lot of that back home. If Ruby doesn't ever make champion trainer one day it would be a bad job, wouldn't it, having worked for both me and Willie? And I'm very proud of Dan and Harry, even if it annoys me when they beat me. Obviously Dan's been very lucky to have that kick-start from his dad [the showjumper, Nick Skelton] and the financial clout to put in everything he wanted from the start. But he just reads everything the way I do: I can nearly predict his mind. I'll look at the programme book and find a race and I just know he'll have a horse for it, too. He's a bloody nuisance, Dan!"
Certainly it all feels very different from a decade ago, when Pipe had won the title 15 times in 17 seasons and saw Nicholls, emerging on the same West Country circuit, as a bumptious upstart. Pipe yielded with such bitterness that he announced his retirement the moment he lost out after their tooth-and-claw attrition through the spring of 2006. Both had squeezed every last farthing of prizemoney out of their horses. Now, his place in the sport's history long secured, Nicholls vows no such mutual indignities against Mullins, who is trying to become the first Irish trainer to export the title since 1954 – nor, indeed, against any new rival on the home front.
"I'm not going to be chasing round here, there and everywhere with five runners in every race, that's for sure," he says. "I'm as competitive and keen as I've ever been, but I wouldn't let it happen that way again if someone came through here and challenged me, the way I did Martin. It's just not worth it. That said, we're all competitive and I'll be doing my best to get the most out of all we've got left to run in the next couple of weeks. Aintree was always going to have a big bearing on the whole thing, with all these phenomenal horses Willie has at the moment, but I still think he needs to come away maybe £250,000 in front. We can still get lucky in the smaller races over here in the next couple of weeks. It'll be tough, but we'll keep going."
And the National could yet swing it, just as it did in 2012 when Nicholls saw off the challenge of Nicky Henderson by pulling a 33-1 winner out of his hat in Neptune Collonges. He could not disguise, then, how much the title meant to him. "That's blown Nicky right out of the water!" he exclaimed. But it was an overdue redress, after 52 previous runners in the National had caused him only frustration. "It had been an unlucky race for us," Nicholls says. "Most years I seemed to spend the evening chasing loose horses. Ad Hoc looked like he might have won, when he was brought down three out, and we'd had various seconds and thirds. But Neptune was probably the best horse we'd run in the race, and it was just one of those days when everything went right for him."
Of his team on Saturday, he is unequivocal that Silviniaco Conti has the best chance. "In fact, no disrespect to Neptune, but he's got to be the best we've ever run in the race," he says. "A dual King George VI Chase winner, and on a normal 'park' course you'd expect him to beat Many Clouds. He's really turned a corner since Christmas and I've never had any doubt he'll stay the distance."
But even if the National saves his bacon this time, Nicholls knows that he needs a rather more solid base to preserve his status in the future – and that the proliferation of his own methods places a growing emphasis on raw materials. "There was a time, ten years or so ago, when definitely a few of us had a huge advantage over everyone else," he says. "You could come to a place like Wincanton and win six races, bang bang bang, so you just knew they were fitter. But now so many of us are on the same level. Everyone's got great facilities, they all know about wind ops and tongue ties and all the rest of it, and the only edge now will be in the quality of your horses. And it's the same as a football team, you have to keep turning them over until you get a top squad together. And that's getting harder and harder, nowadays.
"When we bought horses like Kauto Star, Master Minded and Big Buck's from France, there were only two or three people spending the money needed – and you were generally buying horses of a known calibre: they'd have run seven or eight times, they'd have the Grade One form. Now there are so many people trying for the same horses and they're being sold after one run, beaten in a maiden hurdle. So I've changed my policy a bit over there, the last year or so, concentrating a lot on three- and four-year-olds, and we've come up with some real nice prospects that way."
There is no mistaking his avidity for the new challenge. Rallying now, in fact, might well give him even more satisfaction than those years when he was dominating the big Festivals much as Mullins is doing today. "I'd dearly love to win a tenth King George and, more than anything else, a fifth Gold Cup," he says. "That would equal the record. But remember I'll certainly be champion of the British trainers again this year, and by a long way. We've had 100 winners and won £2 million prizemoney, for goodness knows how many years in a row now. And if you can keep doing that every year you've got to be happy, whether you're champion trainer or not. And it does fire you up, the challenge, course it does. You want to be kept on your toes, so that you keep working, wanting to get better, never resting on your laurels."
RACE FOR THE TRAINERS CHAMPIONSHIP
Willie Mullins: £2,061,235
Paul Nicholls: £2,006,991
Season ends 23 April
Odds: Mullins 1-2, Nicholls 6-4
First prize in the Crabbie's Grand National: £561,300; Second: £211,100; Third £105,500
Join our new commenting forum
Join thought-provoking conversations, follow other Independent readers and see their replies