Grand National jockey Katie Walsh defends race as concerns over horse deaths mount
Martin Hickman
Monday 01 April 2013 20:01 Comments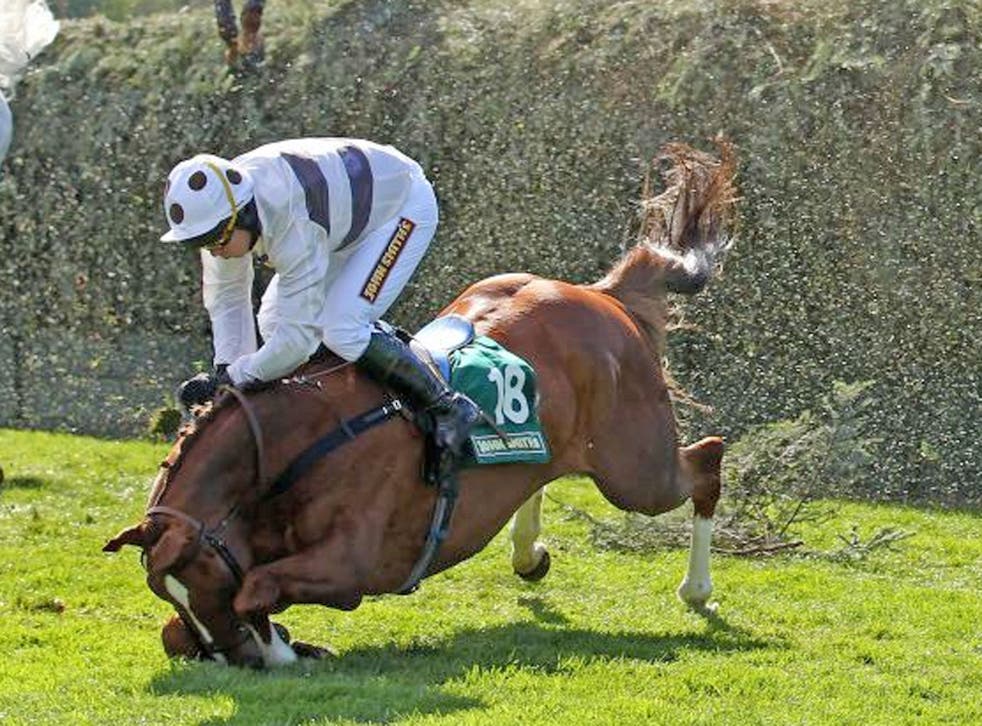 The horses that take part in the Grand National are treated "better than some children" despite the equine death toll, a leading jockey has claimed ahead of this weekend's race.
Katie Walsh, 28, who finished third on Seabass last year, rejected complaints from protesters that a combination of a packed field and high fences make Europe's most wagered race too dangerous for the runners.
Nine animals have died during or been put down after the past 10 Grand Nationals, five times the average death rate for other steeplechases, which are shorter and have lower fences.
Campaigners plan to gather outside Aintree racecourse to protest about the four-mile race on Saturday, arguing that safety changes made this year are inadequate.
In an interview with the Radio Times, Ms Walsh dismissed their protests, saying: "These horses are so well looked after. Better than some children, to be honest with you.
"At the end of the day it would be a lot worse if it had been two jockeys who lost their lives. I think everyone should remember that."
She added that although she did not want any more accidents "these things happen".
Animal welfare campaigners have long criticised the Grand National but the protests have intensified in recent years because of an increase in deaths.
Of the nine horses that have died in the past 10 Grand Nationals, four have been in the last two years.
Organisers at Aintree have introduced safety changes this year, such as softening the infamous Becher's Brook, and have also asked jockeys to slow up before the first fence.
Ms Walsh said: "Any changes that make it safer are a good thing, but I hope they leave it at this and don't change anything else. I hope to God there are no accidents this year, but these things happen, and they are horses at the end of the day."
She added: "I don't mean that in a cruel way, but to see [fellow jockey] John Thomas McNamara get a horrible fall at Cheltenham... for the minute he's gone from the neck down, and that's a different deal altogether in my eyes."
Ms Walsh, the highest-placed woman in the race's 173-year history, said those complaining about cruelty did not understand horseracing. "Anyone who gets up on Christmas Day and mucks out, loves animals," she said.
"Sure, it's a dangerous sport. But every night, all over the world, a lot of horses are left out in fields starving. These horses are so well looked after. Better than some children, to be honest with you."
Members of the group Animal Aid will parade an ambulance through Liverpool this week showing the injuries sustained to horses, typically broken legs.
The cosmetics retailer Lush will display a large tombstone in the front window of its Leeds branch.
They say the National remains unreasonably dangerous because of the height and angle of the fences, the length of the race and the large number of competitors, 40.
Register for free to continue reading
Registration is a free and easy way to support our truly independent journalism
By registering, you will also enjoy limited access to Premium articles, exclusive newsletters, commenting, and virtual events with our leading journalists
Already have an account? sign in
Join our new commenting forum
Join thought-provoking conversations, follow other Independent readers and see their replies