Rio 2016: The most memorable moments from this year's Olympics
From Team GB's record-smashing golds to the inspirational stories of the Refugee Team, this year's Olympics has had its fair share of unforgettable events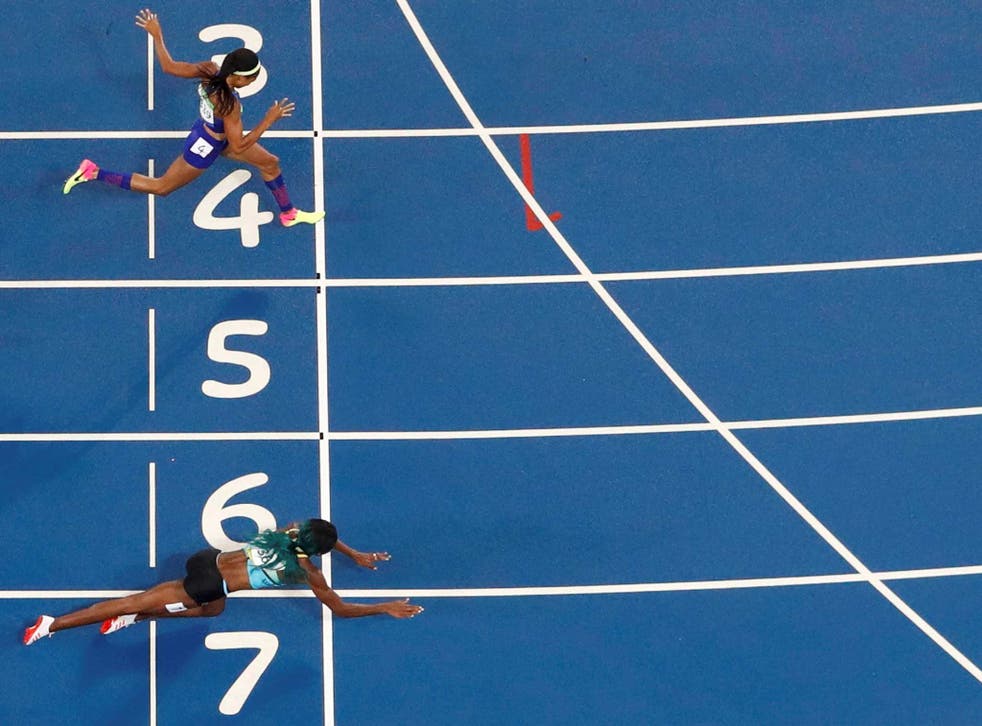 The Rio 2016 Olympics has now come to an end, with team GB bringing back its greatest ever haul of medals, including 27 golds, 23 silvers and 17 bronzes.
The British athletes will receive a heroes' welcome, with parades being planned in London and Manchester. Downing Street has also indicated that an extended honours list will be published to recognise the sportsmen and women's "phenomenal" achievements.
But now that it's all over, it's time to reflect some of the most memorable moments from the Games. Have a look at them below, and then vote in our poll to pick your favourite – and if there's any we've missed then be sure to let us know in the comments.
Love wins after Brazilian rugby team play Australia
Isadora Cerullo, who plays rugby for the Brazilian women's team, became engaged to her long-term partner Marjorie Enya after the inaugural Olympic women's rugby sevens event.
Adam Peaty celebrates his record-breaking gold medal
Team GB swimmer Adam Peaty celebrates winning the gold medal in the men's 100m breaststroke – as well as setting a new world record.
Refugee swimmer Yusra Mardini represents Syria in Rio
Yusra Mardini, a swimmer from Syria, competed as part of the Olympic refugee team. This was the first year the Games featured a team made up of stateless refugees, including the 18-year-old Mardini who swam part of the dangerous journey from war-torn Syria to Greece less than a year ago.
Chris Mears and Jack Laugher make a synchronised splash
Team GB divers Jack Laugher and Chris Mears compete in the Men's Diving Synchronised 3m Springboard Final, winning Britain's first gold medal in the event.
Chinese diver proposes to girlfriend on podium
Another proposal: this time for Chinese diver and silver medalist He Zi, whose boyfriend Qin Kai got down on one knee after she was awarded second place in the 3m Springboard Final.
Laura Trott and Jason Kenny kiss after gold medal haul
Jason Kenny and Laura Trott celebrate after both winning gold in cycling events.
Beach volleyball players' contrasting attire sparks debate
Egypt's Doaa Elghobashy made headlines for the full-length outfits she and her partner donned to compete in Rio against Italy. Elghobashy was also the first Olympic beach volleyball player to compete whilst wearing a hijab.
North and South Korea gymnasts in rare show of unity
South Korean gymnast Lee Eun-ju, right, and her North Korean counterpart Hong Un Jong, left, pose together for photographers during the artistic gymnastics women's qualification.
Max Whitlock brings home Team GB's first ever gymnastics gold
Max Whitlock of Great Britain competes in the Men's Pommel Horse Final, before beating his teammate Louis Smith to gold.
Phelps makes history as most sucessful athlete for the fourth games in a row
USA's Michael Phelps taking part in the Men's 100m Butterfly Semifinal. Phelps is the most decorated Olympian of all time and also holds the all-time record for gold medals, at 23 in total. He retired after the Rio 2016 Game, after ending his career with his 28th medal, another gold.
Islam El-Shehaby sent home after refusing to shake Israeli opponent's hand
Egyptian judoka, Islam El-Shehaby (right) was removed from the Rio Games after refusing to shake the hand of Israeli victor, Or Sasson (left).
The incident took place after his opponent beat him in the over-100kg competition, with less than two minutes remaining. The athlete was reprimanded by the IOC and sent home.
Rafaela Silva wins gold medal in judo after growing up in a slum
After growing up in the City of God favela in Rio's slums, Rafaela Silva falls to her knees with joy after winning Brazil their first gold medal of the Games in judo.
Andy Murray wins the only Team GB tennis medal in Rio
Tennis star Andy Murray in the men's singles, playing Argentinian Juan Martin Del Potro. He later took the gold medal for the event; the only team GB tennis medal at the Games.
Abbey D'Agostino and Nikki Hamblin capture Olympic spirit after collision
Abbey D'Agostino of the USA, right, is assisted by Nikki Hamblin of New Zealand, left, after colliding during the Women's 5000m heats. Both athletes were recognised for their Olympic spirit by the IOC.
Shaunae Miller dives over the finish line to win gold
Bahama's athlete Shaunae Miller gives it all she's got in the last moments of the Women's 400m Final, winning the race and beating her nearest rival by 0.7 of a second.
Mo Farah's double gold for GB
Team GB's Mo Farah can't hide his excitement after winning gold in the Men's 5000m Finals.
Bolt wins 100m final – but not before cheeky look towards camera
Usain Bolt is streets ahead of the competition in unbeatable triple-treble, with gold medals for Jamaica in the 100m, 200m and the sprint relay events.
Simone Biles wins four golds and one bronze medal in gymnastics
US gymnast Simone Biles competes on the balance beam during Women's qualification for Artistic Gymnastics at the Rio Games. Biles became famous throughout the gymnastic events for "The Biles", her signature move encompassing a double back somersault with a twist.
British boxer lands gold
Nicola Adams of Great Britain and Sarah Ourahmoune of France in action during the Women's Fly (48-51kg) Final Bout. Adams went on to win gold in this event, the only gold of Team GB's three boxing medals.
Triathlete brothers take first and second place
Team GB triathletes Alistair Brownlee and Jonny Brownlee compete during the Men's Triathlon at Fort Copacabana in Rio.
Japanese PM dresses up as Mario during closing ceremony
Shinzo Abe, the Prime Minister of Japan, gave the crowds at the Rio closing ceremony something to look forward to, when he appeared dressed as the videogame character Mario. The 2020 Games will be hosted in Tokyo, Japan.
Join our new commenting forum
Join thought-provoking conversations, follow other Independent readers and see their replies