Zak Hardaker handed 'final opportunity' at Wigan after signing four-year deal
The England international will join at the end of his drugs suspension in November Comments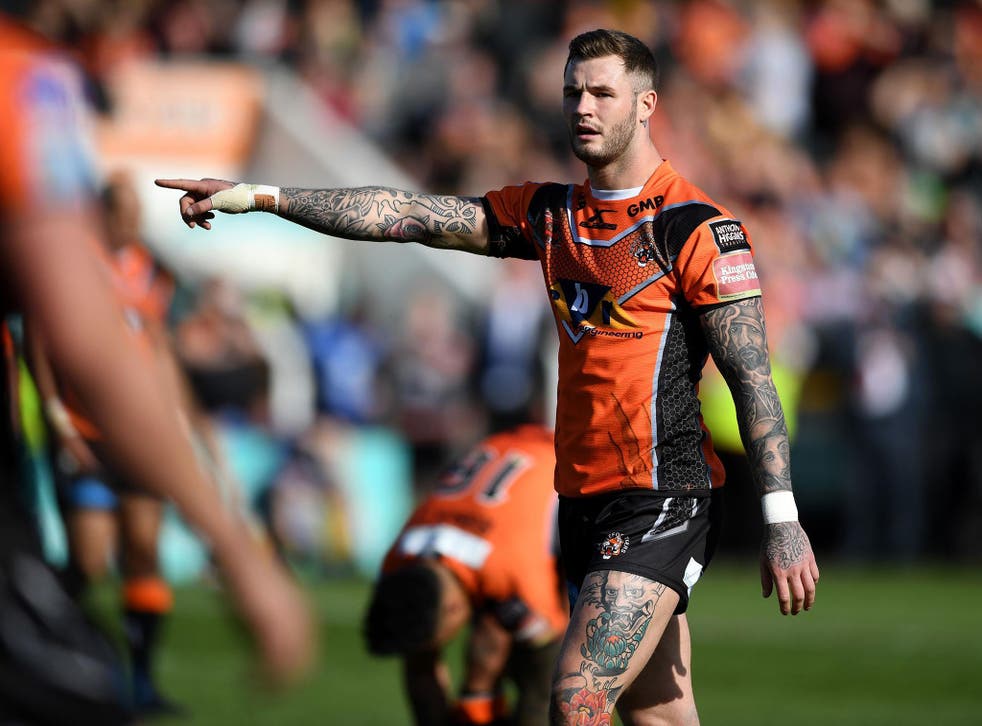 Zak Hardaker has been given his "final opportunity" to get his career back on track.
The England international has signed a four-year deal with the Wigan Warriors and will join the Super League club once his drugs ban ends in November.
The 2015 Super League Man of Steel is serving a 14-month suspension imposed by UK Anti-Doping after testing positive for cocaine while he was a Castleford player.
He was sacked by the Tigers after they were informed of the test, which took place in September 2017 and was confirmed in April.
Wigan confirmed the 26-year-old would be free to join the club officially on November 8, and permitted to train with them two months before that. But club chairman Ian Lenagan warned that Hardaker cannot afford anymore controversies.
Lenagan said: "This wasn't a decision that we made lightly. We recognise the serious nature of this incident and our choice in offering this opportunity should not be seen as condoning his actions in any way.
"We had extensive conversations with Zak and his family before making our offer. We encountered a man who, after eight months of reflection, openly admits that he has made a series of significantly poor decisions over the past few years.
"Crucially, we also saw someone who recognises that this is the final opportunity to focus on delivering the achievements his talent should generate.
"I have had the experiences in business and sport of offering contrite individuals the final opportunity and environment to learn from their mistakes with some notable successes and occasional failures.
"Wigan are giving Zak Hardaker that platform to repay the faith his family have shown him. My team at Wigan will manage, mentor and test him through this period of rehabilitation and development and, hopefully, guide him back to being one of the best players in Super League."
Hardaker, who won both the Super League Grand Final and Challenge Cup on two occasions during his time with Leeds, was left out of Castleford's Grand Final squad in October 2017 to face his old club after the adverse drugs test came to light.
He said he felt "responsible" for Castleford's defeat at Old Trafford and had apologised to his old team-mates in person - and is now hopeful of a "fairytale" ending to a low point of his life.
"I don't really think you can get as low as I've been," he said. "Before when I've got into scrapes, you get a fine and a couple of games banned, but you're still in that environment, still training, still on decent money and life's not really changed.
"This time, my contract got terminated, I was halfway through (sorting) a mortgage which fell through, so me and my girlfriend had to get another house.
"When Wigan were interested in me it lifted my spirits. That was the turning point of, 'I can't do this again because I'll be working on minimum wage, struggling to get by'. It was a real head-turner.
"When you hear Wigan Warriors, your ears prick up. It was an incentive that there could be a bit of a fairytale ending."
Register for free to continue reading
Registration is a free and easy way to support our truly independent journalism
By registering, you will also enjoy limited access to Premium articles, exclusive newsletters, commenting, and virtual events with our leading journalists
Already have an account? sign in
Join our new commenting forum
Join thought-provoking conversations, follow other Independent readers and see their replies