Antoine Dupont taken to hospital with facial fracture as France suffer major World Cup blow
The hosts' captain and star scrum half has suffered a facial fracture, leaving his further participation at the tournament in doubt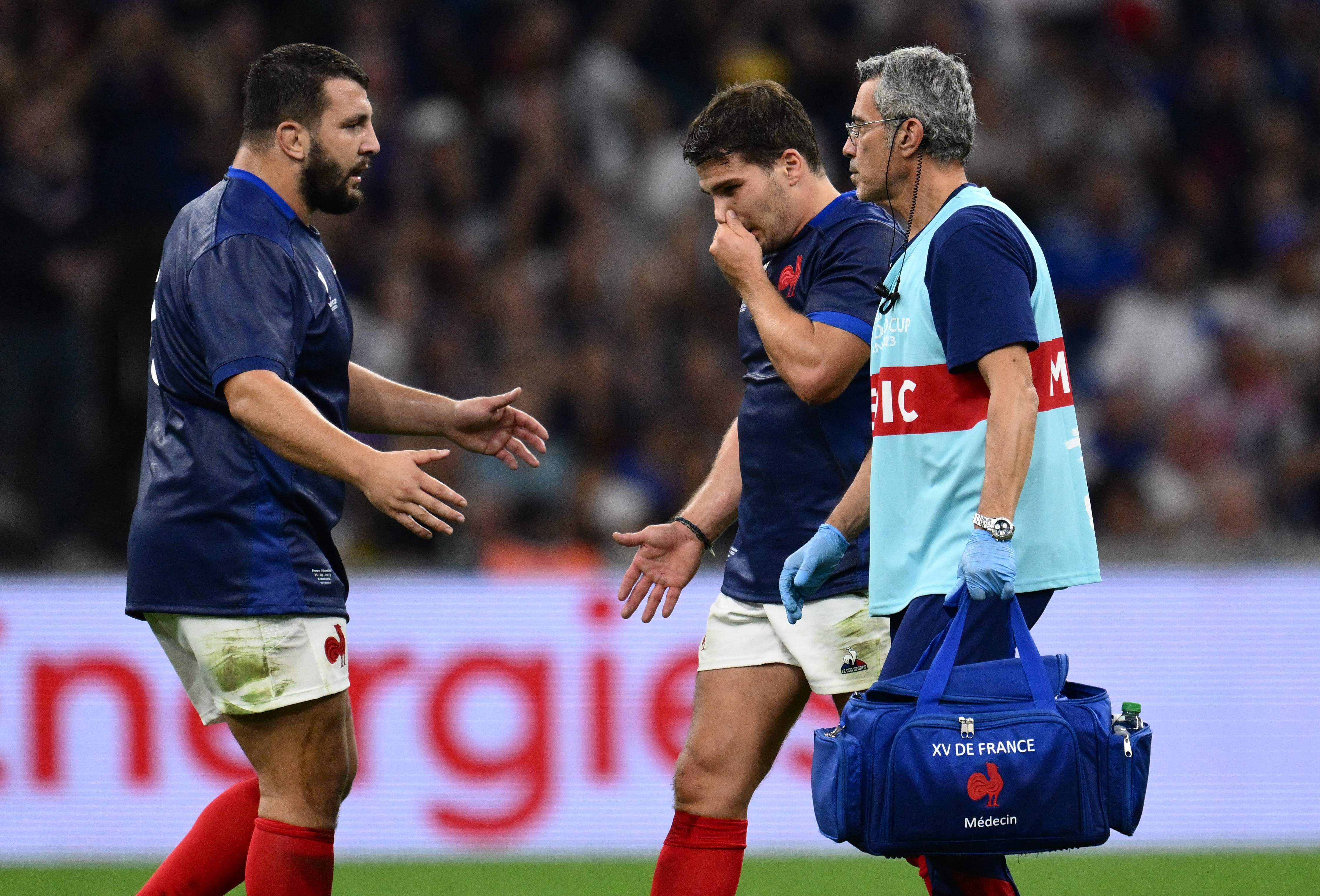 France have sustained a major blow to their hopes of a home Rugby World Cup triumph after captain Antoine Dupont suffered a facial fracture.
Dupont was taken to hospital after leaving the field after a head-to-head collision during the second half of the hosts' record win over Namibia.
And the French Rugby Federation confirmed the concerning news: "Antoine Dupont has suffered a maxillo-zygomatic fracture. A specialist surgical opinion has been requested to determine the exact length of the player's unavailability. Antoine Dupont remains with the France squad."
The scrum-half, regarded by most as the best player in the world, was hit by the top of Johan Deysel's head, with the Namibia centre's yellow card upgraded to red on review.
While the incident happened early in the second half, Fabien Galthie's decision to keep his star man on despite a sizeable 54-point halftime advantage may be scrutinised with Dupont now expected to miss at least some of France's potential run to the final.
France attack coach Laurent Labit said on Friday: "We always have a hope that Antoine will continue the adventure with us.
"We will leave the time for two-three days to have the opinion of a specialist. It's Antoine and the surgeon who will make the decision.
"For us, Antoine hasn't finished the competition. We have three days in front of us. We hope to have good news after the three days.
"He is in hospital now. He will leave by the end of the morning."
Maxime Lucu has been Dupont's primary back-up in the build-up to this World Cup, though Baptiste Couilloud has also impressed of late.
France have already lost Romain Ntamack, their captain's half-back partner for club and country, for the tournament after the fly-half suffered a serious knee injury in a warm-up fixture against Scotland.
Galthie was boosted, however, by the return to action of Cyril Baille and Jonathan Danty in the Namibia win.
With France at close to full-strength and Namibia resting a couple of key players ahead of their meeting with Uruguay next week, the hosts ran riot in Marseille, with Damian Penaud scoring a hat-trick.
Penaud is now just five tries short of Serge Blanco's record tally for France's men.
Join our commenting forum
Join thought-provoking conversations, follow other Independent readers and see their replies