Harlequins 23 Bath 9 match report: Birthday boy Ugo Monye settles Quins' nerves
Last season's champions end run of three defeats to bolster play-off bid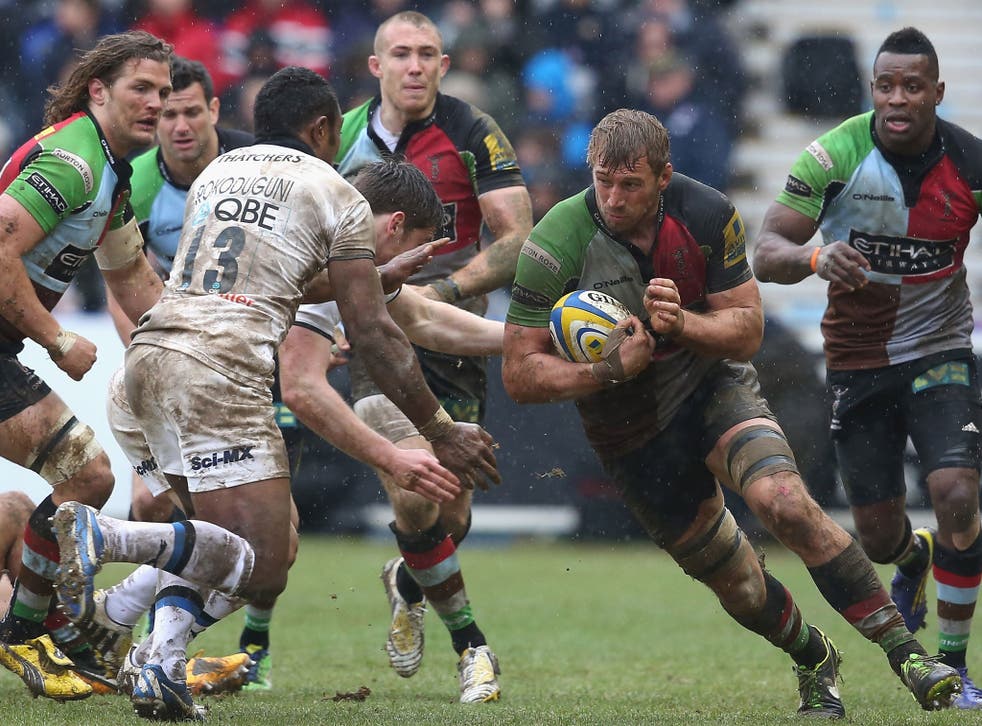 Perhaps Harlequins' supporters felt they needed to claw back brownie points after some of them were criticised by their own club for flogging tickets to Munster fans before last Sunday's deflating Heineken Cup loss to the Irish province here.
More likely, their spontaneous singing of "Happy Birthday" to Ugo Monye when the England wing, who turned 30 yesterday, came on as a substitute was a fair tribute to a popular character, and it received a timely reply when Monye scored the match-settling try with 15 minutes remaining.
After eight months' slog there are two more rounds before the Premiership play-offs, and this result all but guaranteed Quins their place, albeit the champions must be resigned to going away to either Saracens or Leicester.
Their self-belief after three straight league defeats plus the exit from Europe needed to be strong. A midweek refresher in La Manga for the likes of the workhorse that is Harlequins' England captain, Chris Robshaw, did not go amiss, either.
Hardly anyone has much faith in the scrum right now. There was familiar frustration in a first half of multiple resets, free-kicks for early engagements by both teams and a definitive nudge here and there from Paul James, Bath's Welsh Six Nations champion of a loosehead for the past two years. The referee, Wayne Barnes, pleaded for the players' co-operation, and therein lies part of the story – this isn't a jolly rock-up of lawyers and doctors on the heath any more. Players are looking for an edge, fair or foul, and a handful of the incomplete scrums could have produced a heel if all 16 men had wanted them to.
The lawmakers stand accused, too, of years of tinkering and changed cadence instructions, while referees are afraid to let a slightly unsteady scrum go, even when the whole mess could usefully be simplified by just drawing the mark and barking a one-word instruction to scrummage. Quins showed intent with one run from their own 22, with Nick Evans and his fellow New Zealander Ben Botica – who came on early for the injured centre Matt Hopper – handling and stepping nicely. It brought a penalty for Bath going off their feet that Botica converted for a score of 6-6 after 33 minutes.
But there was an unusual narrowness to Quins' attack in response to Bath's rush defence; the visitors probably judged they knew what was coming at them. Danny Care chucked one pass directly at the feet of Bath's onrushing tacklers in a pointed claim for offside that Barnes's whistle acceded to, but it was only a temporary solution. Harlequins were making a number of line-breaks but an equal amount of knock-ons.
So Bath were able to lead 6-0 with penalties by Stephen Donald from 30 metres and, further out, the full-back Ollie Devoto. In the absence of the injured Matt Banahan, Tom Biggs and Nick Abendanon, they trusted Donald and Kyle Eastmond to build on the grunt of James and company up front to help their aim of a top-six finish in the table (or top seven if Saracens win the Heineken Cup to earn the Premiership an extra place) and qualification for Europe's main event next season. Donald put Bath 9-6 up just before half-time when Barnes penalised Tom Guest for a high tackle on Eastmond.
But knowing what is coming does not always get the job done. Anyone with a passing interest in Quins knew what was likely from Care when a chip to the left corner by Evans almost seized upon by his wing Sam Smith led to an attacking line-out near the Bath goal-line that was caught by Olly Kohn. A maul and a ruck later, Care dummied the outside pass and drove hard and low like a truffling piglet, with the giant Stuart Hooper unable to stop him and Eastmond unable to help much as he joined the tackle. Botica converted and Quins led for the first time, 13-9, with 46 minutes gone.
Eastmond had only a minor influence on an unhelpful surface in blustery drizzle, and the slippery and diminutive former rugby league player made way for Tom Heathcote not long after Botica had put Quins 16-9 up with a penalty.
Maybe the changes in their backline contributed, but Bath's Woodburn and Jack Cuthbert got in a terrible muddle trying to deal with Evans' garryowen behind a line-out on Quins' 10-metre line, allowing Monye to chase through, with a hack and an alarmingly touch-and-go right-handed finish as the bouncing ball almost squirted away from him. Botica added the conversion.
"We came to ask questions of a very good Quins side," said Bath's boss, Gary Gold. "Unfortunately we made a few crucial errors." And how about that looming trip for Quins in the play-offs? "We don't really mind where we play as long as we're in the top four," said Botica.
Harlequins M Brown; T Williams, G Lowe, M Hopper (B Botica, 25), S Smith (U Monye, 50); N Evans, D Care (K Dickson, 60); J Marler (M Lambert, 52), J Gray (R Buchanan, 58), J Johnston (W Collier, 63), O Kohn, G Robson (C Matthews, 17), T Guest (L Wallace, 63), N Easter, C Robshaw (capt).
Bath O Devoto (J Cuthbert, 58); O Woodburn, S Rokoduguni, K Eastmond (T Heathcote, 60), H Agulla; S Donald, M Claassens (P Stringer, 55); P James (N Catt, 49), R Batty (E Guinazu, 55), D Wilson (A Perenise, 55), S Hooper (capt; W Spencer, 64), D Attwood, F Louw, S Taylor (G Mercer, 63), M Gilbert (Taylor, 70-74).
Referee Wayne Barnes (London).
Harlequins
Tries: Care, Monye
Cons: Botica 2
Pens: Botica 3
Bath
Pens: Donald 2, Devoto
Join our new commenting forum
Join thought-provoking conversations, follow other Independent readers and see their replies