Owen Farrell banned for five games and ruled out of Saracens' Champions Cup quarter-final against Leinster
The England captain appeared before a disciplinary hearing on Tuesday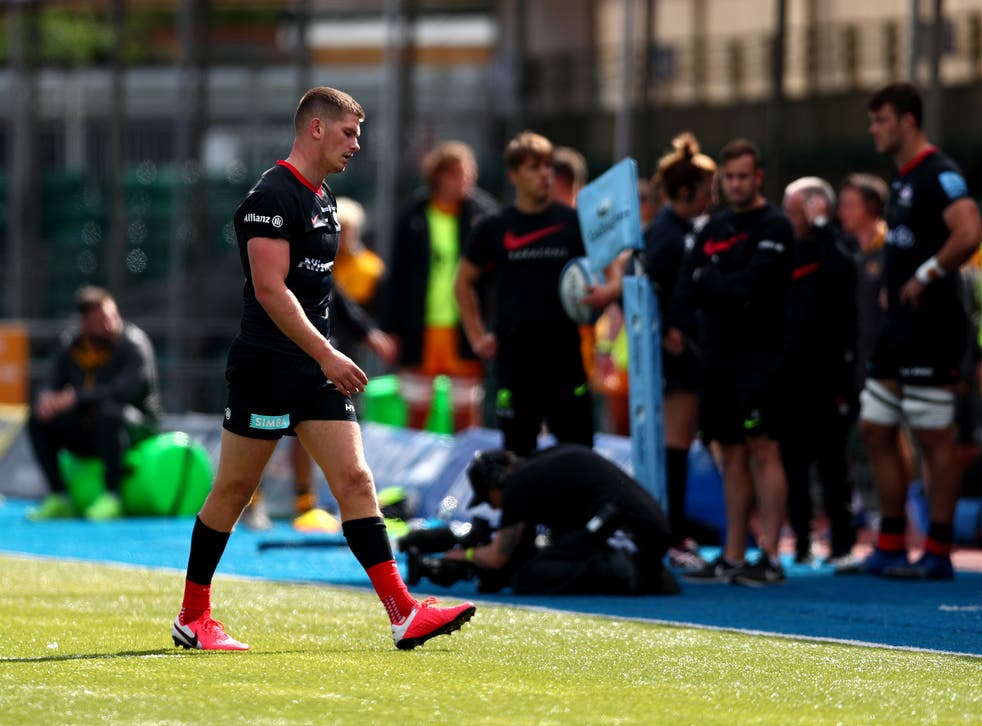 Owen Farrell has been banned for five matches and will miss Saracens' European Champions Cup quarter-final with Leinster after a dangerous tackle on Wasps' Charlie Atkinson on Saturday.
Farrell immediately apologised for the tackle in the 61st minute but was shown a red card by referee Christophe Ridley. Atkinson was concussed in the incident.
The England captain appeared before a disciplinary hearing on Tuesday to state his case, insisting that the incident was not intentional, something which was accepted by the panel and by the RFU, but it was deemed "totally unacceptable contact with the neck/head".
Farrell accepted the charge and was given a ten-match suspension, reduced to five by the independent panel.
Panel chair Mike Hamlin said: "It was accepted by the RFU, the player and the Panel that the offending was reckless and not intentional. This was a totally unacceptable contact with the neck/head of Charlie Atkinson as a result of a reckless tackle which had the consequences of him being knocked unconscious and sustaining a concussion. This resulted in the Panel concluding that this was a top end offence with an entry point of 10 matches. There were no aggravating features.
"Testimonials provided by Mark McCall, Eddie Jones and the founders of a charity with which the player works very closely were of the highest quality. The Panel concluded that applying the off-field mitigating factors, notwithstanding his suspension four-and-a-half years ago, the player was entitled to a reduction from 10 matches to five meaningful matches under RFU regulation 19.11.11. The player is free to play again on 5th October."
The ban means Farrell will miss Saracens' much-anticipated match-up with reigning Pro-14 champions Leinster.
Saracens' director of rugby Mark McCall said Farrell was "incredibly regretful".
Speaking before the verdict, McCall said: "He knew he had got it wrong and you could see on his face how he felt. I think we can safely assume that Owen won't be available for [the Leinster] game and we will plan as such. [But he] will definitely be involved in helping that squad before the game.
"[We have] two options – Manu to start or Alex Goode. That's the choice we have to make. I have every confidence with everything Manu has faced over these eight or nine months have prepared him for these moments and we think he is ready."
Join our new commenting forum
Join thought-provoking conversations, follow other Independent readers and see their replies