Saracens relegation can give England players the 'perfect' preparation for Lions tour, believes Mark McCall
Owen Farrell and Maro Itoje among the contingent who could suffer from playing in the Championship next season ahead of the British and Irish Lions' tour of South Africa in the summer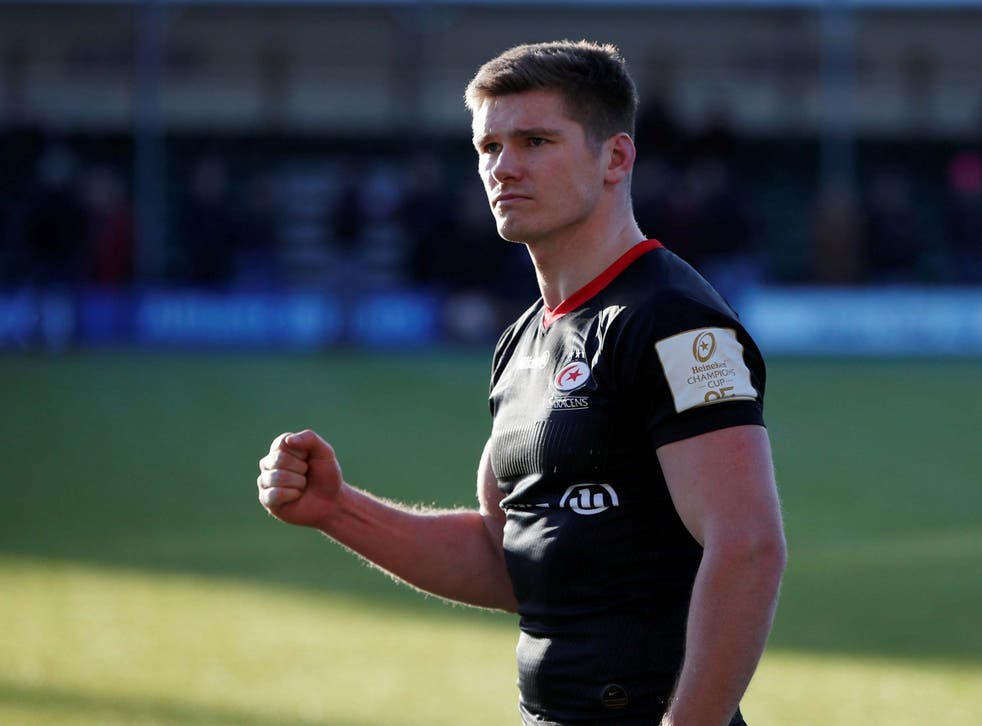 Mark McCall believes his Saracens contingent of England internationals will have the perfect preparation for the autumn internationals, and says that it will hold them in good stead to win selection for the British and Irish Lions tour.
Saracens will be relegated at the end of the season, with their six England internationals understandably concerned for their hopes of making Warren Gatland's squad for the tour of South Africa next summer, due to the lower level of competition that they will face in the Championship in 2021.
Had the current Premiership season ended as scheduled, the likes of Owen Farrell and Maro Itoje would have gone 12 months without competitive club rugby to push their case, but the coronavirus pandemic has resulted in a five-month delay that will now see them playing very little Championship rugby at all. And with the Six Nations set to fill their schedule from late January to the end of March, they are only facing around three months where they need to be managed accordingly.
"For international players, if we're absolutely honest, for them to get some competitive Premiership rugby and a European match before the autumn internationals is good for them," said McCall ahead of the season's resumption next weekend.
"We won't overplay them during this period, and then it's obviously going to be a very busy autumn this time around with not much of a gap between the autumn and the Six Nations.
"So it's really just the post-Six Nations period and pre-Lions tour that we'll figure out with them on an individual basis as to what they need, but in lots of ways this is the perfect season for them."
McCall maintains that immediate promotion back to the Premiership remains the top priority next season, but he is happy to bring his players' international hopes into the equation, too. Along with Farrell and Itoje, Jamie George, Elliot Daly, Mako Vunipola and his brother Billy will all harbour hopes of playing for England and the Lions in the next 12 months, and after speaking with Lions head coach Gatland on Monday, McCall believes that Saracens can give them the perfect platform to do just that, even if they need to leave on a short-term loan next season.
"I don't think it is out of the question, but this is their golden opportunity to have a quieter club year, something akin to a sabbatical," McCall added. "I don't think if that was to happen it would be for very long. It would be to get enough rugby to make sure they are firing come the Lions tour.
"I talked to Warren Gatland on Monday and he was very happy with the situation. The Lions have a warm-up game pre-tour and I would expect all of our players to play. There are some warm-up games before the first Test match and that might be enough for them. The opportunity has arisen for these players to have a little bit of a different year and we will look to use it as wisely as we can.
"We initially talked to see if he would be satisfied with [players] being in the Championship in the very first conversation before Covid. He was happy. He was going to be picking the team from the international season rather than the club season in the first instance. Now we are playing some Premiership games I think it has worked out even better for Warren."
Had coronavirus not put the rugby season on pause, Saracens would be preparing to begin their Championship campaign next month against the likes of Ealing Trailfinders, Ampthill and Doncaster Knights, but instead they face nine more Premiership games at the highest club level, before a European quarter-final against Irish heavyweight Leinster.
However, that will compress the Championship into a significantly shorter period next season, and McCall admits the lack of detail around what will happen in 2020/21 makes it hard to prepare for what comes next.
"It's been very sketchy, I've got to say," he said. "I've heard that it may be a December start or a Christmas start, which makes this season a little bit different.
"We've got this burst of games coming up, a minimum of 10 games for us and hopefully a few more, and then the possibility that we'll have maybe a two-month window before we start again, and then there'll be 22 consecutive Championship games after that. So it promises to be a little bit different next season.
"Obviously you'd love to be able to have a very clear idea of what the season looks like from start to finish, but that's just not the case at the moment."
Join our new commenting forum
Join thought-provoking conversations, follow other Independent readers and see their replies