England v Japan LIVE: Rugby World Cup result and reaction after ludicrous try off Joe Marler's head
England 34-12 Japan: Joe Marler's accidental headed assist for Courtney Lawes' try was the highlight of an error-strewn performance by England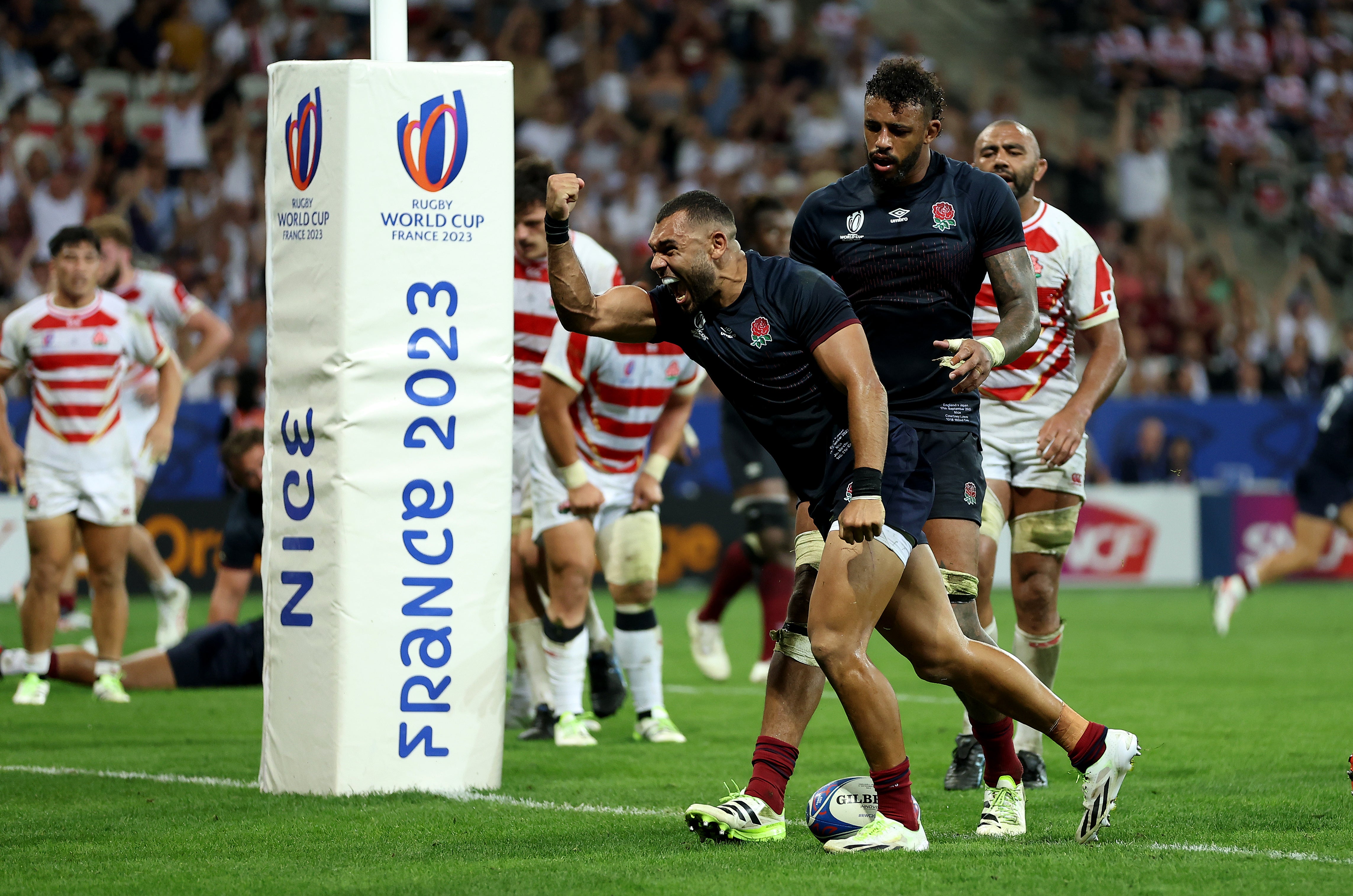 England toiled at times but profited from a bizarre second-half try to defeat Japan 34-12 at the Stade de Nice and earn a bonus point in an unimpressive display that nonetheless leaves them in control of their Rugby World Cup Pool D.
With the game poised at 13-12, England captain Courtney Lawes cantered in for a try as the Japanese players stopped and watched, expecting to hear the referee's whistle for a knock-on when the ball in fact deflected off the head of prop Joe Marler.
That turned the tide of the contest as England ran in four tries in all, No 8 Lewis Ludlam barging over in the first half before full back Freddie Steward crossed in the corner and centre Joe Marchant grabbed the bonus point with the final play of the game.
Before that England's attack looked blunt as they battled to hold onto the ball and kicked away possession from promising attacking areas, but were let off the hook by a Japan side that did not have the quality to punish them.
Get all the Rugby World Cup odds here.
1694985659
Joe Marler uses his head to spare England's blushes after error-strewn performance against Japan
It was a try that rather summed it all up. For 56 minutes, England and Japan had stumbled about, frantic, flustered and fumbling in the Nice heat. An error-ridden contest hung in the balance – until Joe Marler used his head.
It was fortuitous in nature, as it felt like it had to be on a night like this. An errant pass, a flick of Will Stuart's shoulder and a bounce off the bonce. Courtney Lawes collected the refuse and England salvaged the situation. Maro Itoje had promised they were prepared to win by any means necessary but few expected them to need to put an equally error-prone Japan away.
There was time enough for one moment of magic: England had kicked inaccurately all night but George Ford at last arrived at the jive, a delicate dab off his left boot landing in Freddie Steward's huge hands in the corner. Coupled with Joe Marchant's bonus-point-securing score, at last the travelling fans who earlier flooded the Promenade des Anglais could get out of their seats.
Read Harry Latham-Coyle's full match report from the Stade de Nice below:
England 34-12 Japan: England escaped with a bonus-point victory but late tries could not hide the flaws apparent
Ben Fleming
17 September 2023 22:20
1694986619
Until next time
England are back in action next Saturday as they face off against World Cup debutants Chile, while Japan have a bye week until they face Samoa in a must-win game on September 28.
That's all for us today - thanks for tuning in!
Ben Fleming
17 September 2023 22:36
1694986065
Joe Marler speaking to ITV
Fresh off his comical assist for England's second try, the prop explains all. As with any Joe Marler interview, do take it with a pinch of salt!
Ben Fleming
17 September 2023 22:27
1694985938
FULL-TIME: England 34-12 Japan
All smiles from England after that win:
Ben Fleming
17 September 2023 22:25
1694985783
Japan coach Jamie Joseph speaking to BBC Radio 5 Live
"I'm very proud of my team. We created a lot of opportunities, we just made too many mistakes. England put us under a lot of pressure but there were times I thought it was a real arm-wrestle, we just needed to capitalise on those opportunities and we couldn't do it.
"The heart of the team is really sound, we've got great leadership here and there is a lot of experience in our team, but when you have those opportunities, you have to capitalise on them."
Ben Fleming
17 September 2023 22:23
1694985583
England head coach, Steve Borthwick speaking to ITV
"We had to work hard for the win. We knew we would get our rewards if we kept doing the right things and I'm delighted for the players and especially the supporters out there. What's evident in the first two games of the tournament is what incredible support we have out here - travelling and following this team - and we want to make sure they enjoy it.
"We'll have a debrief and analysis of the game but the first thing is for the payers to enjoy this win. We've got six days until we play against Chile and we're looking forward to putting in a really good display in front of our supporters."
Ben Fleming
17 September 2023 22:19
1694985239
England's George Ford speaking to ITV
"Obviously delighted with another win. Another tough game which we knew it was going to be. Japan are a great team; they challenge you in different ways, they've got an unbelievable attitude to never give in and it took until that third and fourth quarter for us to pull away a bit which we planned for in the week.
"Probably not the prettiest to watch but we had to build a game in a different way to get our points in the end but I thought it was good discipline by the boys.
"There was no frustration from our end. We understand what wins Test matches. I can understand what people might see on the TV or in the stands but we understand that building pressure is more important, especially in those conditions tonight. Sometimes if you force it too early you can make it a real tight game.
"They'll be decisions we look back on that we could have done better but, overall, very happy with how we played. We are two from two, we've had two tough games in different ways. We are glad we backed last week up but there is some more in us."
Ben Fleming
17 September 2023 22:13
1694984869
FULL-TIME: England 34-12 Japan
With that win, England remain top of Pool D with nine points. Japan sit third on five points with Samoa also on five and just above them on points difference.
Argentina and Chile are both without a point so far.
Ben Fleming
17 September 2023 22:07
1694984655
FULL-TIME: England 34-12 Japan
Here is a look at those three second-half tries from England including that comical score courtesy of Joe Marler's head:
Freddie Steward touched down after Ford's perfect cross-field kick:
And Marchant added the bonus point late on with his score:
Ben Fleming
17 September 2023 22:04
1694984446
FULL-TIME: England 34-12 Japan
England huffed and puffed for much of that game but, in the end, they run out comfortable winners against Japan after a late flurry of tries. At one point in the second half, England's lead was just one but tries from Lawes, Steward and Marchant secured a much-needed bonus-point victory for Borthwick's side who are now in a very comfortable position in Pool D.
Ben Fleming
17 September 2023 22:00
Join our commenting forum
Join thought-provoking conversations, follow other Independent readers and see their replies