France 26 Ireland 21: Clerc hat-trick is just enough to hold off resurgent Irish
O'Sullivan sees late revival fall short but his new men buy time for beleaguered regime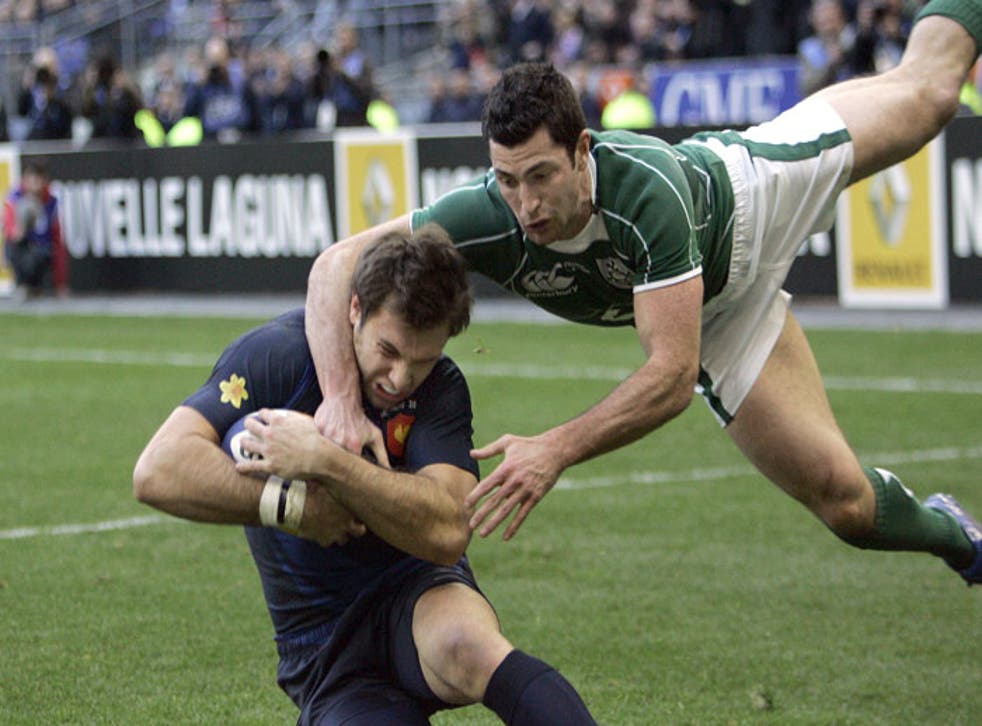 Ireland's losing streak against the French lengthened to seven matches, thanks hugely to three tries by the Toulouse wing Vincent Clerc, but a tremendous second-half fightback by the Irish prompted their captain, Brian O'Driscoll to speak in impassioned terms of his team and their head coach, Eddie O'Sullivan. "This wasn't about proving anything to anyone except ourselves," O'Driscoll said. "Eddie stuck by us when we didn't deliver for him in the World Cup, we owed him and ourselves a performance and we delivered in spades."
For the first half and a bit the only spades around were the ones Ireland were digging themselves holes with and Clerc – who had broken their hearts not once but twice last year with winning tries in the Six Nations at Croke Park and here in the World Cup – took 36 minutes to become the sixth Frenchman to score a hat-trick of tries in a Championship match.
Gradually, though, Jamie Heaslip at No 8 and Rob Kearney on the wing more than justified their selections, which O'Sullivan's critics had felt were long overdue, with vivacious incursions.
Having trailed 26-6, the Irish scored two tries late in the third quarter before a thrilling last-ditch attack spearheaded by Heaslip. Crabbing to the right, Geordan Murphy gambled with a grubber-kick and the French relief was palpable when Cédric Heymans ran it into touch ahead of Girvan Dempsey.
France's new-model Bleus have now won two out of two and, again, have deprived Ireland any chance of a first Grand Slam since 1948.
"I have a feeling France got out of jail," said O'Sullivan. The key to it was France building a lead big enough to see them through.
Clerc was not due to start until a torn thigh muscle ruled out Julien Malzieu in midweek and the hammer of the Irish struck first in the 15th minute, winning an unequal foot race with Denis Leamy as Ireland's blindside chased a clever kick by the scrum-half Jean-Baptiste Élissalde from a ruck on halfway.
Ronan O'Gara kicked a 40-metre penalty but in the 19th minute Clerc was in again after David Skrela flummoxed Leamy and Murphy and sent Clerc on a 30-metre run-in, Élissalde converting for 12-3.
It could have been worse for Ireland. Fulgence Ouedraogo nicked an early line-out from Heaslip and the same gremlins were at work again after 23 minutes when Julien Bonnaire stole one from Malcolm O'Kelly just a few metres from the France line. About as many men have scored winning Irish tries in Paris as have walked on the moon, and Clerc was the one doing the moonwalk through the green jerseys when – after a second O'Gara penalty – some bungled handling by Irish forwards allowed the 21-year-old Ouedraogo to feed Heymans, who drew three Irish defenders before releasing Clerc.
And you can forget the luck of the Irish. The fourth France try, eight minutes into the second half, came when Élissalde's chip from the base of a scrum bounced off O'Driscoll's nether regions and into the path of Heymans to score. Élissalde kicked his third conversion.
There was nothing now for the Irish to do but keep at it. They had, after all, been 40 points down here at half-time in 2006, and staged a decent fightback. Mick O'Driscoll, on for O'Kelly, and Leamy were held up centimetres short. The five-metre scrum promised much and delivered seven welcome points when the referee, Nigel Owens, rather rapidly awarded a penalty try – the replacement French loosehead, Julien Brugnaut, dropped the scrum – which O'Gara converted after 57 minutes.
Three minutes later David Wallace squeezed through at the right corner from a line-out drive and though O'Gara's tricky conversion was missed, Ireland were back in it at 26-18. Louis Picamoles replaced Ouedraogo soon after, so Marc Lièvremont had made changes in each row of his pack. Both half-backs would be taken off, too. Fatal tinkering? Ireland were certainly emboldened as France regrouped.
As Ireland's supporters dared dream the ultimate dream, Dempsey was prevented from releasing by David Marty and O'Gara, wonderfully, landed the penalty from 35 metres and a sharp angle: 26-21. Lièvremont changed his fly-half, sending on François Trinh-Duc. It was gripping stuff to the end, the World Cup forgotten for both sides. That was no bad thing in either case.
France: C Heymans (Toulouse); A Rougerie (Clermont Auvergne), D Marty (Perpignan), D Traille (Biarritz), V Clerc (Toulouse); D Skrela (Stade Français), J-B Élissalde (Toulouse); L Faure (Sale), D Szarzewski (Stade), N Mas (Perpignan), L Nallet (Castres, capt), A Méla (Albi), T Dusautoir (Toulouse), J Bonnaire (Clermont), F Ouedraogo (Montpellier). Replacements: W Servat (Toulouse) for Szarzewski, 48 mins; J Brugnaut (Dax) for Faure, 48; L Jacquet (Clermont) for Méla, 16-21, 50; L Picamoles (Montpellier) for Ouedraogo, 61; M Parra (Bourgoin) for Élissalde, 64; F Trinh-Duc (Montpellier) for Skrela, 75.
Ireland: G Dempsey (Leinster); G Murphy (Leicester), B O'Driscoll (Leinster, capt), A Trimble (Ulster), R Kearney (Leinster); R O'Gara (Munster), E Reddan (Wasps); M Horan (Munster), B Jackman (Leinster), J Hayes, D O'Callaghan (both Munster), M O'Kelly (Leinster), D Leamy (Munster), J Heaslip (Leinster), D Wallace (Munster). Replacements: R Best (Ulster) for Jackman, 60; T Buckley (Munster) for Hayes, 71; M O'Driscoll (Munster) for O'Kelly, 63.
Referee: N Owens (Wales).
Register for free to continue reading
Registration is a free and easy way to support our truly independent journalism
By registering, you will also enjoy limited access to Premium articles, exclusive newsletters, commenting, and virtual events with our leading journalists
Already have an account? sign in
Register for free to continue reading
Registration is a free and easy way to support our truly independent journalism
By registering, you will also enjoy limited access to Premium articles, exclusive newsletters, commenting, and virtual events with our leading journalists
Already have an account? sign in
Join our new commenting forum
Join thought-provoking conversations, follow other Independent readers and see their replies