France vs Ireland LIVE: Women's Six Nations result, final score and reaction as France secure bonus point win
Follow all the Women's Six Nations latest updates and live action from France vs Ireland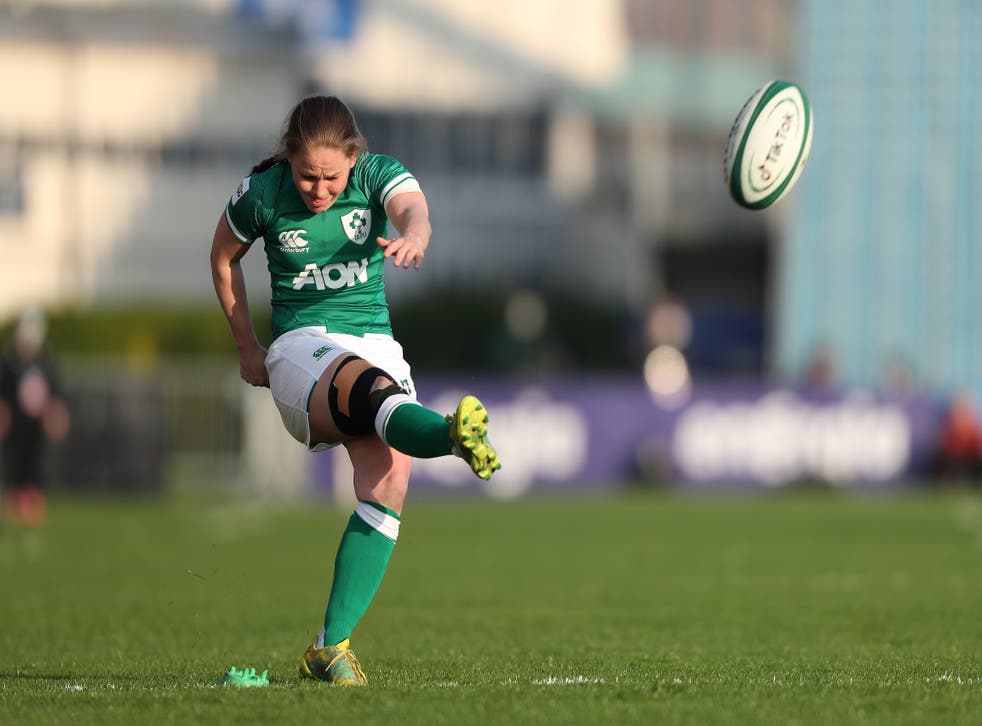 Ireland are still searching for their first win of the TikTok Women's Six Nations after being overwhelmed 40-5 by France in Toulouse.
Outside centre Eve Higgins crossed under the posts for the visitors in the 56th minute but it was a lone highlight on a difficult afternoon at the Stade Ernest-Wallon.
It was the second time Higgins had touched down but an earlier try was ruled out by the TMO.
Ireland were hampered by a high penalty count but having trailed 26-0 at half-time, leaking four tries in the process, they improved after the interval.
Livewire France scrum-half Laure Sansus ran in tries in each half to emerge as the most effective player for the hosts, who have now collected a maximum 10 match points after two rounds.
1648923384
Farewell!
That just about does us for this evening's live coverage. Another enjoyable Saturday of Women's Six Nations action, with France and, more surprisingly, Wales continuing perfect starts to the tournament with bonus point victories. In Toulouse, the French rather blew Ireland away with a dominant first-half, while for a second week in a row it was Wales' second-half surge that settled a hard-fought encounter with Scotland.
The Women's Six Nations weekend concludes tomorrow, with Italy hosting a formidable England in Parma. Simon Middleton's side will be looking to join Wales and France at the top of the table, but are wary of an "unpredictable" Italian team who troubled them in the first half 12 months ago.
For now, though, farewell!
Harry Latham-Coyle
2 April 2022 19:16
1648922285
And now WRU Performance Director Nigel Walker
"Not a minute," Walker quips when asked if he enjoyed that win. "[I'm] pleased, relieved, drained in equal measure. What a game to watch.
"We needed it. We'd been under the cosh for most of the game. We weren't at the races in the first half, but to hang in there and show the grit and then produce a move of that quality to win the game - I'm over the moon.
"Things are going very, very well in the women's game in Wales. 1200 girls were at the Prinicipality Stadium for a hub event earlier. The game is on the up.
"We all know the size of the task. We are the lowest ranked team in the Six Nations. England and France are one and two in the world on form. This is a big stepping stone along the way to the World Cup - two-out-of-two, we are delighted.
"4800 here today, the largest crowd to ever watch a women's international game in Wales. We are making strides at a quicker pace than I thought we would. Let's keep our feet on the ground, but let's give some credit to Ioan Cunningham and his team. They have worked hard."
Harry Latham-Coyle
2 April 2022 18:58
1648922063
Scotland captain Rachel Malcolm is next in front of the BBC microphone
"Really disappointed. I think we fought for large parts of that game, and I am proud of parts of that performance. We had the pressure, we had the opportunities, and we needed to make more of them. Every time Wales got one, they converted.
"We've had a tough talk with ourselves in the centre there. Our set-piece was a real strength last week and this week wasn't good enough.
"I don't think fitness was necessarily our issue today. We've had a pretty tough week, we've had a lot of disruption. We were asking our front row to play 80 minutes. Anne Young was flown into Wales last minute and had to put in a shift off the bench."
On Siwan Lillicrap not receiving a yellow card for that late deliberate knock-on: "I'm not here to argue. The ref had a pretty tough game today, there were a lot of decisions to make both ways. Joy and her team are experienced professionals and we trust them."
Harry Latham-Coyle
2 April 2022 18:54
1648921804
Wales 24-19 Scotland
Two from two for Wales, each achieved in rather similar fashion, fighting back in the second half after starting slowly. Again the bench made a telling impact - I might have leaned towards Alisha Butchers as an individual standout, but Sioned Harries and Siwan Lillicrap were also outstanding in the back row in that second half.
"We've got to be relieved there," Wales coach Ioan Cunningham tells the BBC. "Credit to Scotland - they threw everything at us in the first half, but the girls should grit and fight to stay in it.
"The girls came on and made an impact which is what we speak about. The girls understand their roles whether they are starting or on the bench.
"We just didn't get anything in that first half. We can't afford to do that next week or it will be a very tough day at the office."
Harry Latham-Coyle
2 April 2022 18:50
1648921498
Player of the Match Sioned Harries reacts to Wales' win
"It was amazing. We knew it was a great occasion and we wanted to show what we can do. In the second half, we stepped it up, and we showed the tenacity we had.
"We were a bit slow out of the starting blocks, but as soon as the crowd got going we got going. You saw the impact in the second half.
"We didn't underestimate them at all. They gave us a good game, a really good game.
"There's always work-ons, definitely. The biggest one for us is to start a bit earlier. We've been too reactive rather than proactive. We've got the hardest battle next against England.
"We have got to step our physicality up a notch. Discipline will be a major work-on."
Harry Latham-Coyle
2 April 2022 18:44
1648921316
FULL TIME! WALES 24-19 SCOTLAND
Harry Latham-Coyle
2 April 2022 18:41
1648921237
Wales 24-19 Scotland, 82 minutes
Wales again told to release just as Alisha Butchers appeared to have got over the top.
This time Butchers has it! Konkel fumbled, Butchers pounced - Wales have a first home Six Nations win in three years!
Harry Latham-Coyle
2 April 2022 18:40
1648921193
Wales 24-19 Scotland, 81 minutes
Jade Konkel carries with significant muscle, and then again. Up towards 20 carries on the day for the totemic number eight.
Evie Gallagher is held. Konkel again! There must be two of her!
Stolen? No! Wales told to release. Emma Wassell is held well by two Welsh defenders.
Harry Latham-Coyle
2 April 2022 18:39
1648921114
Wales 24-19 Scotland, 80 minutes
Just a penalty! The officials rule that there is enough cover close to Konkel to rule there is no clear opportunity of a line-break - I think given the area of the field, Lillicrap might be a little lucky. 15 seconds left as Scotland tap the penalty quickly...
Harry Latham-Coyle
2 April 2022 18:38
Register for free to continue reading
Registration is a free and easy way to support our truly independent journalism
By registering, you will also enjoy limited access to Premium articles, exclusive newsletters, commenting, and virtual events with our leading journalists
Already have an account? sign in
Register for free to continue reading
Registration is a free and easy way to support our truly independent journalism
By registering, you will also enjoy limited access to Premium articles, exclusive newsletters, commenting, and virtual events with our leading journalists
Already have an account? sign in
Join our new commenting forum
Join thought-provoking conversations, follow other Independent readers and see their replies