Ben Foden: A back for the future
England full-back Ben Foden opens up to Hugh Godwin about his pregnant pop-star girlfriend, rubbing shoulder pads with Elton John and that infamous World Cup diary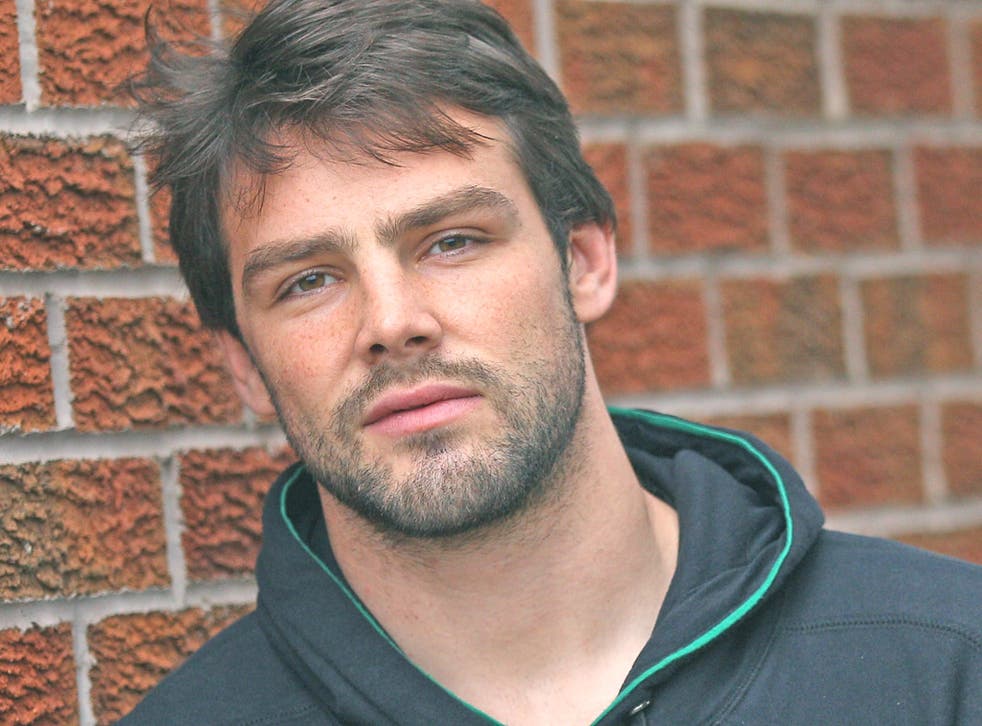 Meeting Ben Foden over a coffee in London's Theatreland was not to encounter a fish out of water. As the squeeze of the singer Una Healy, from The Saturdays, the Northampton and England full-back is accustomed to the bright lights of the big city. "Elton John had a Christmas party not far from here," said Foden, nodding towards the streets of Covent Garden, visible through a plate-glass window. "That was a pretty cool one to go to. It was ridiculous, though. People were bidding in an auction for the Aids charity he supports. There was a scooter that had been sprayed gold, and they sold it for £13,000, and the guy said: 'I don't really want it so just resell it and keep the money.' And that happened about four times."
Foden says he has felt comfortable attending those celebrity bashes – all cocktail dresses and black ties and, at Elton's, a floor show from Kelly Rowland – from the very start of his three-year relationship with Una, with whom he is expecting a first child on 21 March. The timing could be "impeccable", as the chatty Foden put it, because he has allowed himself to imagine England winning the Six Nations Championship against his partner's native Ireland at Twickenham four days beforehand. That'll be St Patrick's Day, then – a Saturday and a half, to be sure.
The trouble with England fulfilling the rugby part of the bargain, of course, is that comfortable is the last word you would associate with them just now. The 36 players, including Foden, who have now met in Leeds to start the build-up to Scotland on 4 February include a new captain (probably Harlequins' Chris Robshaw), the customary crocks and an unusually large number of new caps. Fifteen players including Jonny Wilkinson and the three most recent skippers – Lewis Moody, Mike Tindall and Nick Easter – have gone by the board for reasons of retirement, suspension, injury or selection since last autumn's dire World Cup.
"It will be interesting," said Foden, with an understatement unaltered by rubbing padded shoulders with the likes of Elton. "Especially for players like me, who a year ago were the fresh faces, the new blood. Now I think I'm the most capped back-three player in the squad and I'm going to have to take more of a senior role, a leadership role." Perhaps he is captaincy material? "If I'm being brutally honest as a professional athlete, I fit into that leadership role, but not really as a captain. I'm very laid-back and lethargic in the way I approach games, I don't get wound up. The leader for me is a guy who's banging his head against a wall. You know: 'About to go into war' and that sort of thing. When I approach games, I'm a bit more relaxed. I'll listen to my music, dance away in the corner, and be smiling and laughing."
The last time I'd met Foden face to face, the expression was a grimace. It was at Auckland's Eden Park, immediately after England's 19-12 loss to France in the World Cup quarter-finals. A shake-up of the management since then has removed Martin Johnson and his staff in favour of the temporary trio of Stuart Lancaster, Graham Rowntree and Andy Farrell. Did Foden, a form player during an unpredictable year – Northampton reached the Heineken Cup final but lost to Leinster; England won the Six Nations but were well beaten for the Grand Slam in Dublin – feel the global event had passed him by?
"I look at it differently," he said. "It's a team game and you can have the world's best individual on the field but if the team around him don't buy into what he's about, he's not going to do anything. England performed disappointingly, especially in that last game [against France]. Everyone took the field wanting to win. It's just that we got things wrong, in tactics, split decisions, individual errors. There was a try by Vincent Clerc and I'm the first one to say that was primarily my fault. If I'd have made that tackle on him instead of drifting off, the whole game could have changed."
So he will not point fingers individually and does not accept, either, that the video diary showing him on days off in the back seat of an old banger, larking around with James Haskell, Dylan Hartley and Chris Ashton, was a silly idea. "My brother used to watch them and said he thought they were funny and it was good for people to see behind the scenes. Things like that aren't going to win or lose you Test matches. It's time to move on now, you can't change the past and we've all learnt from it. We need to make sure the next time it comes around the same mistakes aren't made."
Foden admires The Saturdays' hard work. Una is still in the studio, recording, at six and a half months pregnant. She only recently ceased touring. "It's quite nice for me to have that distraction," said Foden. "To come home and see Una – she's been superb through the whole thing. She's been an angel."
England's rugby men would love such a positive public image and they are going to be given a few home truths this week by Gary Neville, the former Manchester United captain, and others from the Forces, cycling and rugby league. In their midst will be Ashton, who reportedly fell out with his and Foden's club coach, Jim Mallinder, in training last week and is certainly off to Saracens this summer. Could that be disruptive just when England need to pull together?
"Er, hopefully not," said Foden, whose 22 caps are exceeded by only nine of the squad. "Ashy's a professional and he knew the consequences of his choices. Me and him do have a good relationship, we're good mates, but he didn't talk to me about it too much. It's not on me to say, 'Oh Ashy, don't go'. We've been looking to win the Premiership for a season or two and if we can get ourselves in a good position to go for that it would be a nice way to say goodbye. He still wants to play for Northampton, he'll still want to win silverware with us before he goes away."
By contrast, Foden "knows very little" of Andy Farrell, who will be guiding England's backs and attack. There may be two Saracens debutants – Owen Farrell (Andy's son) and Brad Barritt – playing in front of Foden. "A lot of people say rugby league [where Farrell Snr made his name] is more exciting and expansive than union," said Foden. "So hopefully he'll be able to help us. Stuart [Lancaster] wants to create this England environment of a team fans want to watch, that will be expansive and score tries. But then also be able to play the up-the-jumper game. Everybody's got to put their 50p's worth in and make sure we do get the right blend of tactics and guile and how we're going to approach the game on and off the field."
Along the road at the Palace Theatre they were queuing for Singin' in the Rain. The heavens have been known to open at Murrayfield, where England have not won since 2004. "Having the new guys, 15 changes, we're wiping the slate clean," said Foden. "But I know for a fact that everyone involved will sit down and say, 'First and foremost, we want to win'."
Join our new commenting forum
Join thought-provoking conversations, follow other Independent readers and see their replies