British and Irish Lions 2013: Analysis - the controversial end for Brian O'Driscoll will be the making or breaking of coach Warren Gatland
The Irishman had been tipped to captain the side but instead will play no part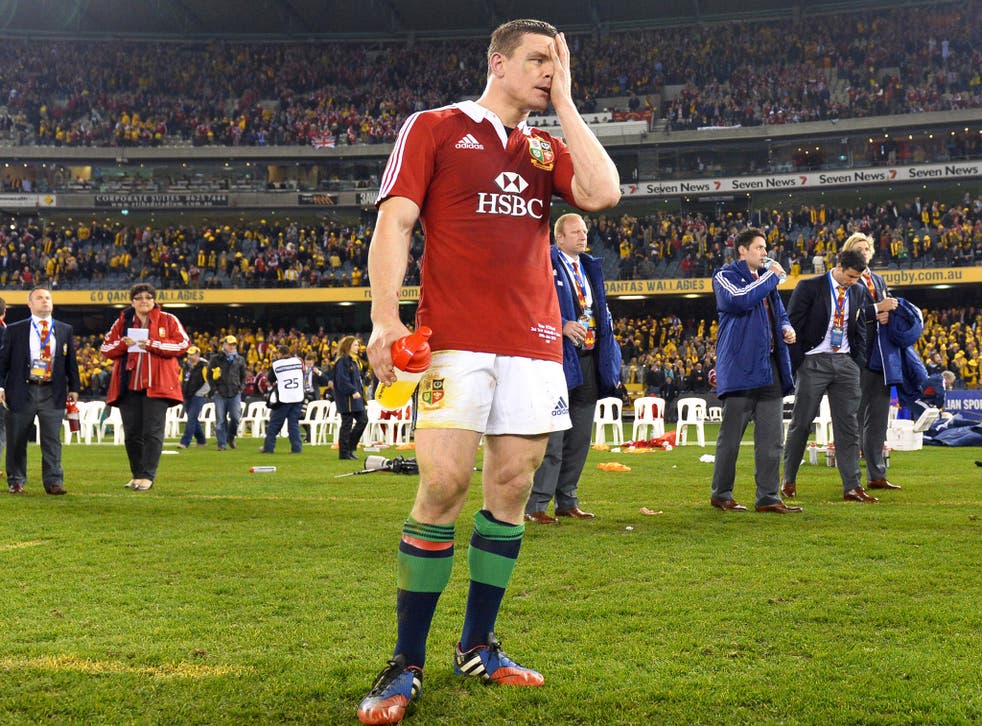 For the first time in his 14-year international career with Ireland and the Lions Brian O'Driscoll has been told that he is no longer good enough.
Warren Gatland delivered the news ahead of this morning's shock announcement
The New Zealander knows that his tenure as Lions coach may be judged by this call. If he has got it wrong, and the Lions wilt in the heat of the Sydney battle, then he will struggle to dodge the blame bullets because to leave out O'Driscoll is hugely controversial.
Today critics were already queuing up to question whether the Lions can really afford to do without the great talisman of Irish rugby.
"I've been uncomfortable throughout this tour whenever Warren Gatland has spoken about the captaincy," said Keith Wood.
"He tries to depower it, he consistently says it isn't about leadership and that isn't the most important thing. Having been on two Lions tours myself under (former England skipper) Martin Johnson, I would have said the leadership of the captain was the most important thing.
"Brian O'Driscoll has been quiet in the two Tests but at every stage, he has been the clarion call once Paul O'Connell got injured.
"I just think Gatland has made a terrible mistake.
''The fit-again Roberts will be central to a physical approach at ANZ Stadium and Wood, who won 58 Ireland caps at hooker, is upset at the lack of a "spark" in the tourists' game.
"It's entirely built around power," he said.
"A huge amount rests on Jamie Roberts' shoulders and they were crying out for him in the last two weeks. I just think Brian's subtlety off him would have worked.
"You can say (Gatland is) picking on form but he's picked an unbelievably direct team with very little guile in it, specifically to play this game plan.
"You're asking them to pulverise a team. The Lions are at the end of virtually 12 months of the season, all these guys are pretty tired and you're looking for the absolute maximum for it to work for them.
"It can happen, I want it to happen, I'm just a little bit disappointed at the manner in which I think the tradition has been treated.
"The Lions is about getting the best quality out of the players of these islands, not having an intransigent game plan. We're not seeing that spark that we're used to seeing from the Lions because it's a game plan doesn't suit an awful lot of the players.
"It suits the Welsh players, that's why there's 10 of them playing. We're not seeing the blend of four teams. That's what the Lions is about, that's what makes it so phenomenal."
This is O'Driscoll's fourth and final Lions tour and he has never played in a winning test series and must now rely on others to make that dream a reality after being dropped from a test for the first time since his debut in 1999.
Clearly O'Driscoll had a disappointing Second Test but Jonathan Davies, the man who has retained his slot alongside Jamie Roberts in the centre, scarcely fared much better. And to then exclude O'Driscoll from the bench appears close to an insult.
In Gatland's defence, no one knows O'Driscoll batter, and perhaps that provides the explanation. As Ireland manager between 1998 and 2001, Gatland gave him his debut in June 1999, ironically on a summer tour to Australia. Better than most, he knew what the young starlet was capable of. Fourteen years later, he has shut the book on one of the most stellar careers the northern hemisphere has known. He will not have taken the decision lightly.
Join our new commenting forum
Join thought-provoking conversations, follow other Independent readers and see their replies