Eddie Jones: England head coach will not change overseas rule to include French exiles and hasn't chosen coaching staff
Jones appeared at his first press conference since taking the England job and stressed that 'everyone is starting from zero'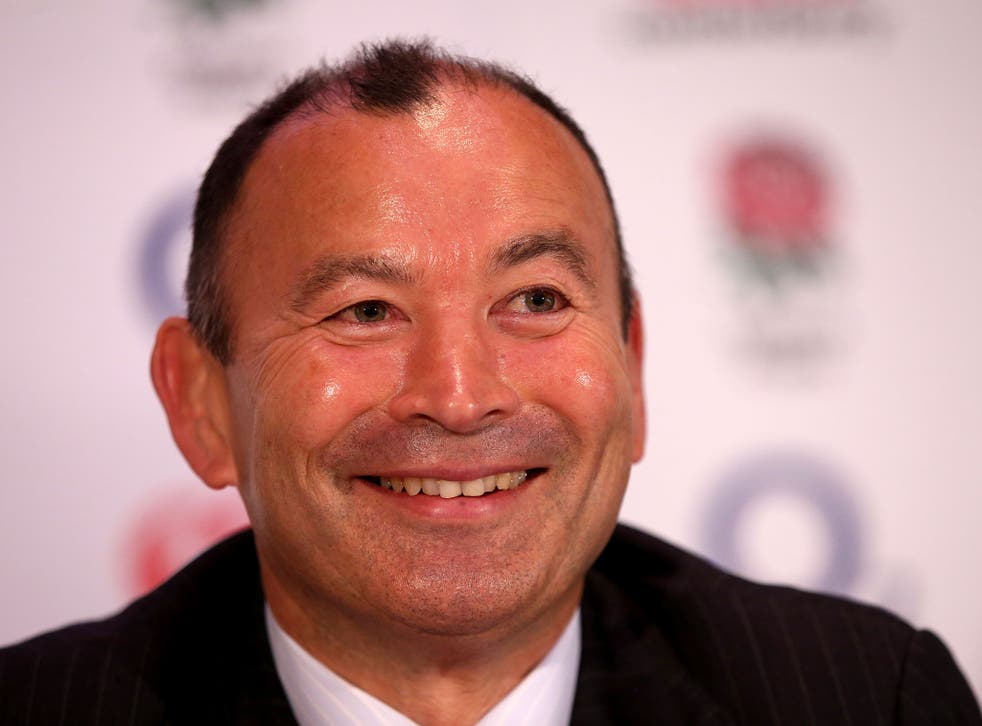 New England head coach Eddie Jones is eager to build on a "great legacy" left by predecessor Stuart Lancaster.
Lancaster was heavily criticised after England became the first nation to tumble out of a home World Cup in the pool stages, which led to him standing down from his role last week.
Yet 55-year-old Australian Jones clearly sees plenty of talent in the current crop of players, believing "at least 70 per cent" of the 2015 squad can feature in four years' time in Japan.
"It's a very exciting opportunity," Jones told a Twickenham press conference on Friday afternoon. "England have won two of the last three under-20s World Cups so there's great talent out there.
"For me, it's a great opportunity to coach these players.
"The last World Cup side in 2015, at least 70 per cent of those guys can go into 2019. It's a great legacy that Lancaster has left, there's an opportunity to build something here."
Who is Eddie Jones, England's new Head Coach?
One issue that reared its head after England's World Cup campaign was the non-consideration of players that do not compete in the Aviva Premiership.
The Rugby Football Union's policy meant that the highly-rated Steffon Armitage and Nick Abendanon were not selected because they play for Toulon and Clermont Auvergne respectively in the Top 14.
In his role as a guest columnist for the Daily Mail during the World Cup, Jones name-dropped Armitage as someone who would bolster England, writing: "Steffon Armitage is pretty hard and handy over the ball and would definitely bring that quality to the England side."
However, England's first ever foreign coach seems content to continue selecting home-based players only.
"You always have a bit of a view when you're outside the tent," he said.
"I want players who want to play for England and to play for England you have to play in the Premiership, and the Premiership is a strong competition.
"Also, I'm happy with what we've got."
While Lancaster stepped down last week, the Cumbrian's lieutenants Andy Farrell, Graham Rowntree and Mike Catt have remained in place.
Steve Borthwick, who distinguished himself working beneath Jones with Japan and is now employed by Bristol, is expected to be recruited as forwards coach.
Yet Jones insists nothing will be decided until he has settled into his role and spoken with all coaches.
"I only started the job today," he said.
"In terms of the coaching staff, they'll start on 1 December and over that period of time I'll assess the coaches that have been here, assess the staff that's been here - I want to speak to them individually - and work out what they can offer going forward.
"If they can offer what I want then they can have the job, if they don't then I'll look at other options."
When pressed for further details, Jones added: "I don't know until I've talked to them and when I've talked to them I'll know."
Highs and lows of Stuart Lancaster's England reign

Show all 14
Jones might just have started his new job but he is already thinking about his eventual successor.
"One of the goals by the 2019 World Cup is to have a couple of the assistant coaches ready to take over as the head coach and I see that as a fundamental part of my job," he said.
Jones also said he would focus very much on young players who could lay a claim to a 2019 World Cup place.
"All we've got to do is systematically over the four years be sure that we bring young players in, give them enough experience so that when they get to the World Cup in 2019 they've got the required amount of experience to be consistent performers.
"You've got to understand what you are good at and you've got to understand where you've got to improve."
RFU chief executive Ian Ritchie said Jones' experience made him the right man for the job.
"International experience and successful international experience at the level that Eddie has got was what we were looking for," said Ritchie.
"In the conversations we've had and Eddie's track record of developing coaches throughout every job he's had has been fantastic so I really do think that whoever Eddie chooses and wants to work with they will be learning a lot.
"I do think it's an enormous plus point that Eddie has this developmental track record of coaches."
PA
Register for free to continue reading
Registration is a free and easy way to support our truly independent journalism
By registering, you will also enjoy limited access to Premium articles, exclusive newsletters, commenting, and virtual events with our leading journalists
Already have an account? sign in
Register for free to continue reading
Registration is a free and easy way to support our truly independent journalism
By registering, you will also enjoy limited access to Premium articles, exclusive newsletters, commenting, and virtual events with our leading journalists
Already have an account? sign in
Join our new commenting forum
Join thought-provoking conversations, follow other Independent readers and see their replies