Emergence of Elliot Daly and Jonny May poses selection headache for England coach Eddie Jones
Up until now the area of strength which had had Jones scratching his head has been the second-row, but there is now a much bigger selection dilemma out wide
Jack de Menezes
Sunday 26 November 2017 21:53 Comments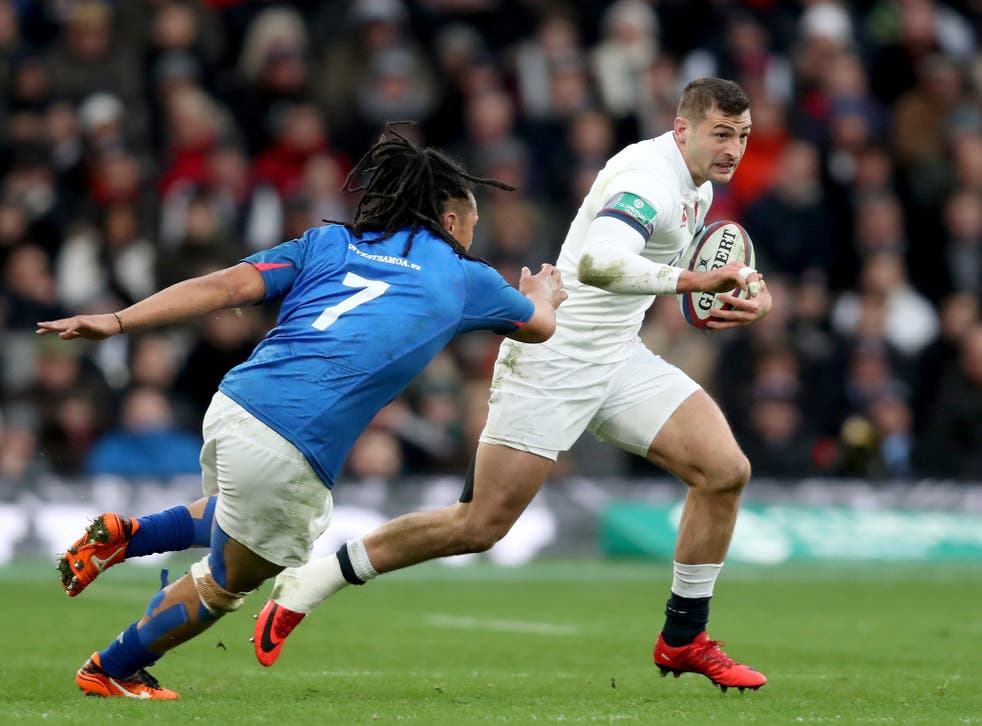 While Eddie Jones may not yet have the full squad depth that he is pursuing ahead of the 2019 Rugby World Cup, there is one area of strength that will have the England head coach scratching his head. Up until now that has been the second-row, but there is a much bigger selection dilemma out wide following the emergence of Elliot Daly and Jonny May.
The former has capped a remarkable year with three tries in his last two matches, producing two eye-catching finishes in Saturday's 48-14 victory over Samoa that brought Twickenham to its feet. The first – and crucial – try saw Daly display the improvement that he's made with his footwork, as the 25-year-old stepped of his left to dance inside two would-be defenders and score.
Daly's second try was a joy to behold, with Henry Slade feeding him the ball on halfway out on the left touchline. The Wasps back stepped inside again, spotted a gap and hit the afterburners, and soon enough he was past the five Samoan tacklers and over the line to roars of jubilation from the 81,000 in attendance.
Not bad for a man who plays his club rugby at outside centre.
Daly's versatility was one of the reasons why he was given his chance by Jones, with his first start in November last year coming at 13 before playing the next week on the wing. Jones has been keen to try Daly out at full-back, too, and had he had all of his options available at the weekend, Daly would have found himself at some point back in the centre.
"I always thought he was a natural winger when I watched him play," said Jones. "Left foot, speed, ability to come in off his wing. Exactly all the things I thought he could do he can do at Test level."
Alternating positions for club and country has proven to be something that Daly can achieve with ease, having been instrumental in Wasps' run to the Premiership final at outside centre before starring for England and the British and Irish Lions on the wing. Part of that is thanks to his creativity and rugby brain enabling him to see where space is to attack where it may be, but it is also borne out of his desire to play at all costs. You get the idea that if Jones asks Daly to pack down in the front-row, he will, but he will not be heading back to Wasps as an out-and-out wing.
"No, but if Dai does put me on the wing I'm happy to play there," Daly said. "I just want to be on the pitch, whatever game it is I just want to be on the pitch: 13, 15, 11, whatever it is, I just want to be there so whatever he wants for the team or what Eddie wants for the team I'll play there."
He added: "Eddie gave me great confidence when I first went there against Fiji. He just said: play as a centre and defend on the wing. That is exactly what I do. I don't try and do anything different that I wouldn't do art centre and just try and get my hands on the ball."
After playing all three autumn internationals, you'd forgive Daly for wanting a breather before returning to club duties. There will be no such chance though, and with Wasps' run of fixtures resembling the who's who of domestic and European challengers, the next few weeks will be tough on the legs.
There will be no time to put his feet up, and equally there is no time to reflect on just how far he has come over the last 12 months. Having been seen as an outsider for the Lions starting XV, Daly forced his way into all three Tests in the summer, and has been a part of every England side in this year's Six Nations and autumn internationals. One day he might get the chance to sit down and think about 2017, but that time is not now.
England vs Samoa player ratings

Show all 15
"I think I will at some point when we aren't in intense games and around this kind of environment, but I'll go back to my club now and we've got three tough games with Leicester, La Rochelle and La Rochelle, so there's no time to reflect on anything at the moment," he added. "It's onto the next game and whether that's for club or country they're big games at the moment so we've just got to keep putting in performances."
Luckily, all of this will not go to waste. Daly may not be the one cutting out the big headlines to keep as memories, but there are family members who are taking care of that for him – no matter how much he hates it. "I think my mum and dad do that. I try not to go round to the house very often for that reason!" he adds, before admitting there could well be the Lions review DVD on when he heads round at Christmas.
"I probably only watch [games] for a couple of days after, then usually you're in camp and you've got the next job. You've got the next job whether that's the next Six Nations game or back at you club, you've got another big game so I want to go back to Wasps now and put in some performances, and obviously we've got three big games now and hopefully we'll put in some performances against good opposition."
Register for free to continue reading
Registration is a free and easy way to support our truly independent journalism
By registering, you will also enjoy limited access to Premium articles, exclusive newsletters, commenting, and virtual events with our leading journalists
Already have an account? sign in
Join our new commenting forum
Join thought-provoking conversations, follow other Independent readers and see their replies