Joe Launchbury urges England to learn from Grand Slam agony to avoid repeat of dirty memories
The similarities to the 2011 defeat in Ireland have been alarming for England, but Launchbury believes the pride they can take from winning the title should avoid any repeat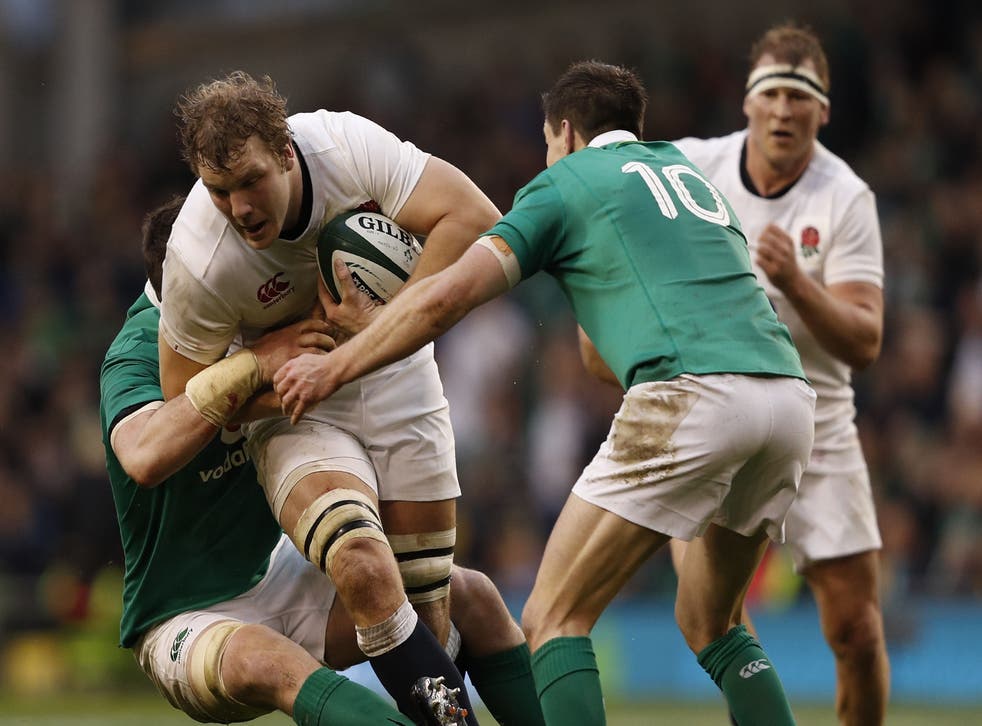 Joe Launchbury has called on England to learn the right lessons from the Grand Slam-denying defeat in Ireland to avoid facing the same dirty feeling that has haunted the side since their 2011 failure.
England may have missed out on a second successive Six Nations Grand Slam on Saturday after the 13-9 loss in Dublin, but there was an undeniable sense of pride among the visitors due to their 18-match unbeaten streak that meant this felt like more of a lesson than a major setback.
Six of the 23-man squad that crossed the Irish Sea at the weekend were there to experience the heartbreak of 2011, which led the current captain, Dylan Hartley, to reveal a "dirty feeling" that he has harboured for the six years that have passed.
Launchbury was not one of those players, but he believes that there is no reason why the current side needs to live with the same negative memories.
"We have to use how we felt," he said. "It is quite a mixed feeling, we are very disappointed to lose today and obviously let the Grand Slam go and slip through our fingers. But I think we have to be happy with a lot of the work we have done. We are back-to-back Six Nations champions and that is something not to be sniffed at and something we are very proud of and rightly so.
"This has hurt but hopefully when we get back together from being at our clubs, how we address it and improve it will be the measure of this team."
The sense of pride came right from the top. The head coach, Eddie Jones, immediately reminded the players of what they have achieved over the last 14 months as soon as they came off the Aviva Stadium pitch, while he stressed to the media just how proud he was in his post-match press conference.
Launchbury admitted that Jones's words, along with a confidence-lifting message from Hartley, helped make the loss that little bit easier to take.
"Eddie has been very sensible around what it is. He takes it for what it is," Launchbury added. "He doesn't need to tell us to be disappointed about the result today but he hit home with us, him and Dylan, about what we have achieved over the last 12 months.
Six Nations team of the tournament

Show all 24
"But we also know we are still quite early on in our journey. It has been 12 months since Eddie has been here and hopefully in 12 months' time you are going to see a different side, probably a more accomplished side and that is what we are building towards.
"Losses don't always have to be the end of the world. You see some of the best teams in the world lose games and pick up on the back of it. There was no sense of complacency coming into this game but a loss can sometimes be a good thing for an environment if you use it the right way."
Register for free to continue reading
Registration is a free and easy way to support our truly independent journalism
By registering, you will also enjoy limited access to Premium articles, exclusive newsletters, commenting, and virtual events with our leading journalists
Already have an account? sign in
Register for free to continue reading
Registration is a free and easy way to support our truly independent journalism
By registering, you will also enjoy limited access to Premium articles, exclusive newsletters, commenting, and virtual events with our leading journalists
Already have an account? sign in
Join our new commenting forum
Join thought-provoking conversations, follow other Independent readers and see their replies