Joe Marler broke his leg a week before being diagnosed and hails 'blue top milk' as the secret to his recovery
Marler will start England's Six Nations opener against France on Saturday, little more than a month after fracturing his leg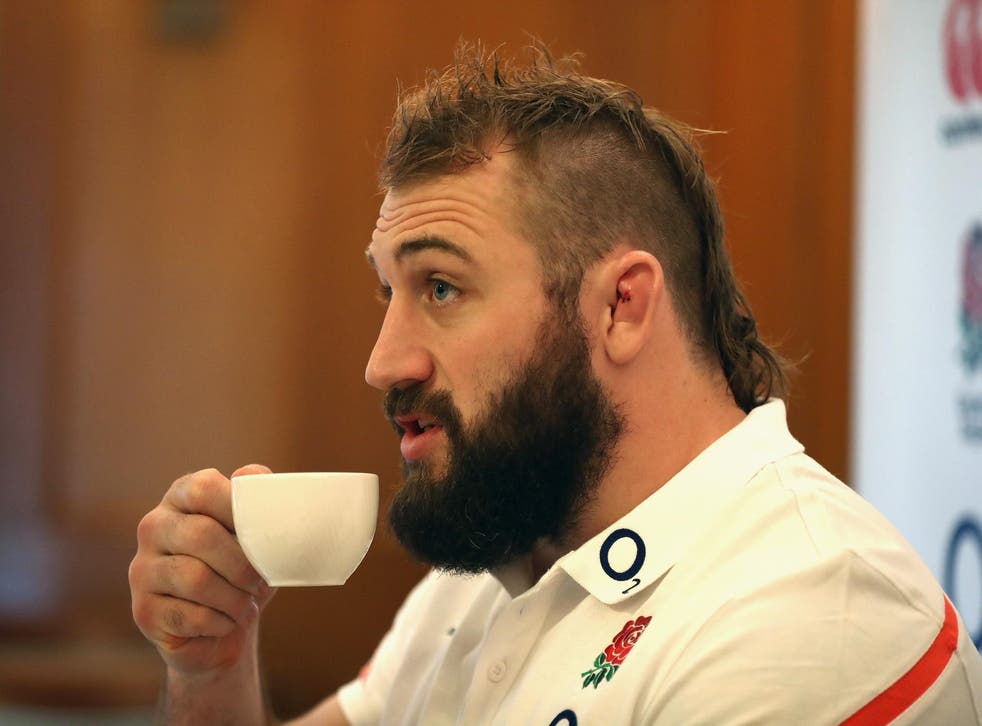 Joe Marler revealed that he played with an undiagnosed broken leg a week before discovering the extent of the injury that threw his participation in England's Six Nations curtain-raiser against France in doubt, and put his astonishing recovery down to drinking "two pints of milk a day".
Marler was this morning named in England's starting line-up for Saturday's encounter with the French, less than a month after it was confirmed he had fractured his lower left leg in the warm-up of Harlequins' 29-26 victory over Sale Sharks. However, the 26-year-old prop actually picked up the fracture six days before during the first half of Quins' 24-17 defeat at Worcester, despite playing on and completing the 80 minutes.
"In the first half against Worcester away," said Marler. "The trouble was I did it in the first half and just thought it was a calf knock and pulled my calf as well so there was a bit of confusion there. I thought I could keep running on it because running is not really my forte anyway so I could get away with hobbling a bit.
"I got to the end of the game and said 'strap it up it's just a tight calf or whatever', and then because of the frozen pitches and the weather, we didn't really get a chance to run it again until the following week's warm-up which I said to them 'I'll be alright, I'll just run it off' but I couldn't run it off because my leg was broken."
For a prop heading into the Six Nations with a leg that has only been tested as fat as training is concerned – Marler took part in his first full scrum last Friday – the Eastbourne native displayed remarkable confidence with his words. He will face the gargantuan French tighthead Uini Atonio, who at nearly 40kgs heavier than Marler will test out his rehabilitated leg better than most.
But Marler had a secret weapon in the locked that both he and head coach Eddie Jones praised the effect of. Giving Marler free rein to guzzle as much milk – even the "gold top" Jersey milk with extra cream – as he could appears to have done the job, along with the benefit of the sea air near his home on the south coast that Jones insists had a positive effect on his three-week recovery.
"I think it's something I'll keep doing because it's really tasty," he enthused. "I always thought green top was good for you because it's reduced fat but they gave me licence to have blue top and the odd day I'd have that gold top stuff, the one with like 1,000 calories. Maybe I won't carry on with that but blue top, it's been really good for me."
"Your mum or whoever says milk is really good for you and you don't really believe it until you really need it because you've got a broken leg, apparently, so I just drank loads of that."
He did also credit the England physiotherapist, Phil Pask, for aiding his swift recovery, but each time he somehow managed to bring the conversation back to a pint of the white stuff.
"I'm not putting it all on that, I'm putting it on Pask as well but yeah, it's helped, I think," he added.
"We considered going in a hyperbaric chamber, but I've got issues with claustrophobia and they found one down in Sussex for me that was a bit bigger which I could use, but you need to use it for 10-14 days to really have an effect and because I was going to go to Portugal we kind of sacked that off. Nothing else other than the milk and Pask."
Marler's return to fitness is a welcome bonus, given England are without recent first-choice loosehead Mako Vunipola for the duration of the Six Nations, and with him fit to start the encounter, at Twickenham, Leicester's Ellis Genge misses out on the matchday squad as Matt Mullan takes his place on the replacements' bench.
Join our new commenting forum
Join thought-provoking conversations, follow other Independent readers and see their replies