Modest Richie McCaw deserves salutes of a grateful nation for world-record haul
View from the Sofa: McCaw fulfils the criteria of having mana, not that he'd ever admit it
Matt Butler
Monday 17 August 2015 11:13 Comments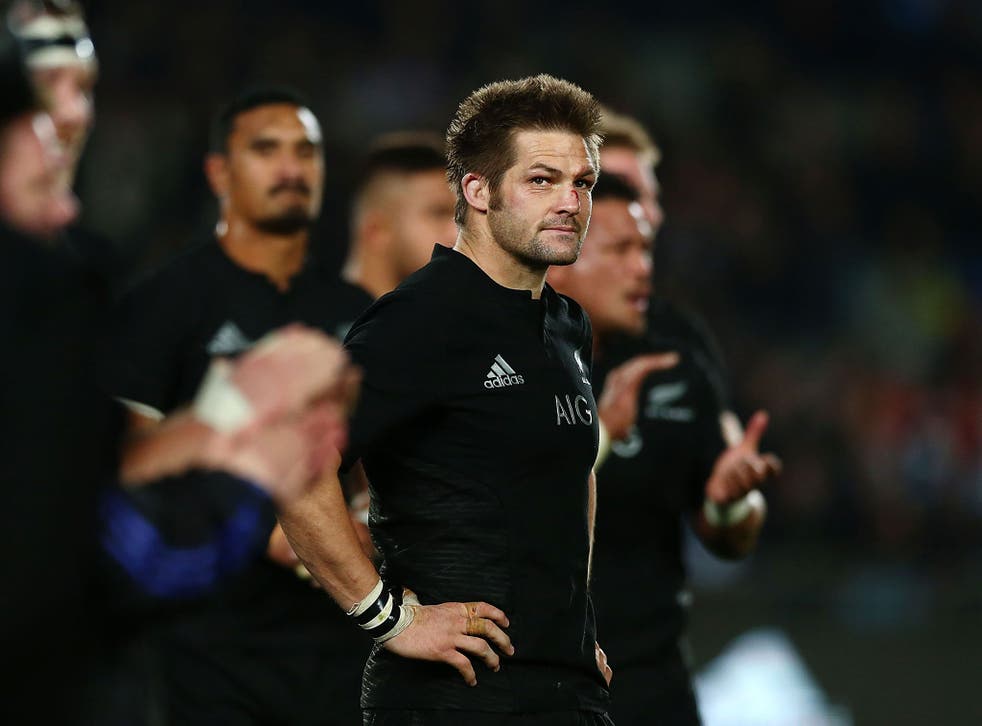 Bledisloe Cup, Sky Sports 3
One of the highest honours you can give a person in New Zealand is to tell them they have mana. The word is widely used down there but unheard of outside the country. It is equally difficult to describe as it is a compliment to the recipient; it is a combination of gravitas, humility and charisma. Few have it. And those who do would never admit to it.
In the world of sport, there are a few candidates. Martin Johnson has it. Steven Gerrard probably does. Paula Radcliffe has it in spades. Joey Barton and Roy Keane both have a lot less than they think.
To go back to the country of the word's origin, captains of the All Blacks are frequently chosen as much on the mana they possess as on their rugby ability. People like Wayne Shelford, Sean Fitzpatrick or Colin Meads – who wasn't nicknamed Pinetree for his affinity to evergreen arbour – no doubt got their team-mates to listen every time they opened their mouths.
You don't have to be loud or overbearing to have mana, as Richie McCaw, the current All Blacks captain, personifies. In fact, as the flanker displays in his pre-match interviews, on the field and after games, you don't even need to raise your voice to command mana.
And in a spine-tingling post-match interview after Saturday morning's thrashing of Australia, which ensured New Zealand retain the Bledisloe Cup (a trophy kind of like the Ashes, except more important), he showed why he will leave a massive void in the All Blacks when he quits, most probably after this year's World Cup.
It is worth admitting, before revealing what McCaw said, that the New Zealand rugby team have long ago been co-opted by marketing claptrap, such as the manufactured aura surrounding the jersey – the nadir of which was the ludicrous adidas "blackest ever" slogan during a recent shirt launch. They are also guilty of playing up to their reputation as egg-chasing Harlem Globetrotters. Why else would they play in Chicago, scarcely a hotbed of rugby, before gracing Samoa, an island with a fierce passion for the game and a generous donor of All Blacks personnel, with their presence?
But when someone like McCaw stands in front of a defeated Australia team (his side hammered them 41-13 on Saturday morning), having become the most-capped player in history with 142 matches under his belt, and says stuff like "the first day I put on this jersey, I just didn't want to let it down – I wanted to add to the legacy of what was a hundred-odd years before", you get the feeling that he wasn't told to say it by an adviser.
As he continued his theme of how much the jersey means to him and his team-mates ("it's the men who fill it that make the difference"), the camera panned to the fans at Auckland's Eden Park. Some were actually saluting McCaw. When your post-match interview has grown men and women standing to attention as if you have just won a decisive battle, rather than come off best following 80 minutes of chucking an odd-shaped ball around a park, that's when you know you have mana. Not that McCaw would ever admit to possessing it.
Register for free to continue reading
Registration is a free and easy way to support our truly independent journalism
By registering, you will also enjoy limited access to Premium articles, exclusive newsletters, commenting, and virtual events with our leading journalists
Already have an account? sign in
Join our new commenting forum
Join thought-provoking conversations, follow other Independent readers and see their replies