Rugby World Cup Sevens: Emily Scarratt rues 'brutal' format as England crash out in first round
England suffered defeat in their opening match against an Ireland side made up of amateur players to end their hopes of winning the World Cup in their very first match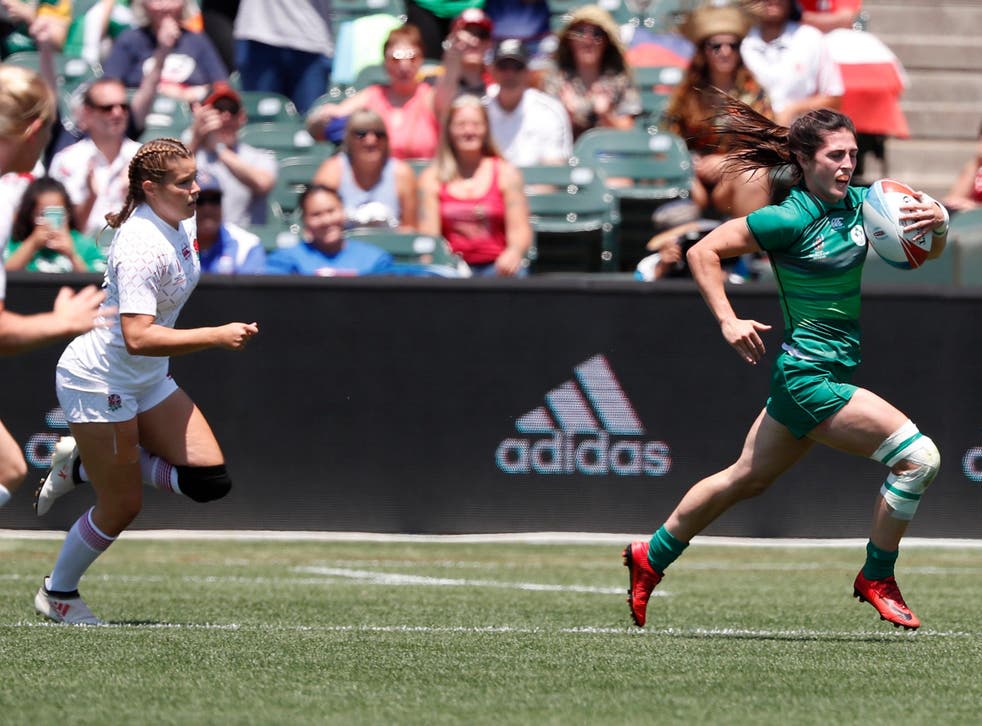 Emily Scarratt admitted that England's opening defeat here in San Francisco was a "brutal" way to see their Rugby World Cup Sevens hopes extinguished in their very first match.
The new format for the tournament sees the regular pool stages, used in the World Rugby Sevens Series format throughout the season, scrapped in favour of a cut-throat knockout style that claimed its biggest victim on Friday as England were knocked out of the Cup by an Ireland side made up entirely of amateur players in a 19-14 defeat.
That sent James Bailey's side into the Challenge side of the draw, setting up a quarter-final with Mexico in which England produced an emphatic nine-try 59-0 victory, recording the biggest win of the day as they surpassed New Zealand's 57-0 win over the same opposition.
"It's brutal if you're on the wrong end of it," Scarratt said. "It's really tough, we didn't come here to lose in the first game of the tournament but the nature of it is we dropped into the next phase of it and Sevens is a tough old brutal game.
"You've got to pick yourself up pretty quickly. Credit to the girls, that's what we did and we haven't played Mexico a huge amount of times, but they showed what they're capable of and we're just really proud that we came back from what was a really disappointing effort this morning.
"Sevens is a really brutal game and you don't get second chances and this morning showed that, but we know what we're capable of and we showed that, going out there and producing that. Unfortunately we weren't able to this morning and Ireland were, fair play to them they're progressing and are in the side of the tournament that we wanted to be in. We can only concentrate on the games that we can control and the ones we've got coming up and what happens tomorrow.
England will take on China in Saturday's semi-finals, with the winner due to play one of Japan and Fiji who make up the other semi-final. However, the early defeat for a side that has not only invested significantly in this year's campaign, but also sacrificed players from the 15-a-side game in order to strengthen the Sevens team with the likes of Scarratt, Jess Breach and Holly Aitchison, raises questions not only of England's performance but also of the new knockout format.
"It did not go our way today but to be honest I like the format," said head coach Bailey. "I like how it is different to any other competition. If it was the same as the World Series it would be difficult to see where it comes but the format is exciting and we have come off second best."
Scarratt was in agreement with her coach, and even if the result of the switch proved costly to England's World Cup hopes, she backed the format to increase the presence of the game around the globe ahead of the 2020 Olympics, where Great Britain will look to go one better than the silver they won two years ago.
"It's a different way of doing it," she added. "It's something we've not experienced before and if you ask a lot of spectators out there it's more of a spectacle for the game and that's what we want, we want to attract as many people as possible to come and watch rugby sevens everywhere we play in the world. So if this format is able to do that I think it's awesome.
"We've got some really young girls, a lot that are playing in their first World Cup – some of have played in a few already! – but so many of them are young and relatively inexperienced on this stage. It's so cliché but things like this are only going to pump them up and give them extra experience for a few years down the line and some of them will be around for a long, long time."
In the Cup competition, New Zealand and Australia remain on course for a shootout in an effort to become the first two-time world champions after both reaching the last four, with the Black Ferns taking the United States and Australia facing France.
Swiss watchmaker TUDOR is the Official Time Keeper of Rugby World Cup Sevens 2018 in partnership with World Rugby. For further information visit www.tudorwatch.com
Register for free to continue reading
Registration is a free and easy way to support our truly independent journalism
By registering, you will also enjoy limited access to Premium articles, exclusive newsletters, commenting, and virtual events with our leading journalists
Already have an account? sign in
Register for free to continue reading
Registration is a free and easy way to support our truly independent journalism
By registering, you will also enjoy limited access to Premium articles, exclusive newsletters, commenting, and virtual events with our leading journalists
Already have an account? sign in
Join our new commenting forum
Join thought-provoking conversations, follow other Independent readers and see their replies