The Independent's journalism is supported by our readers. When you purchase through links on our site, we may earn commission.
Scotland 0 England 20 match report: England pitch it just right to rout sad Scotland
Burrell and Brown both make it two tries in two games as unchanged side atone for France defeat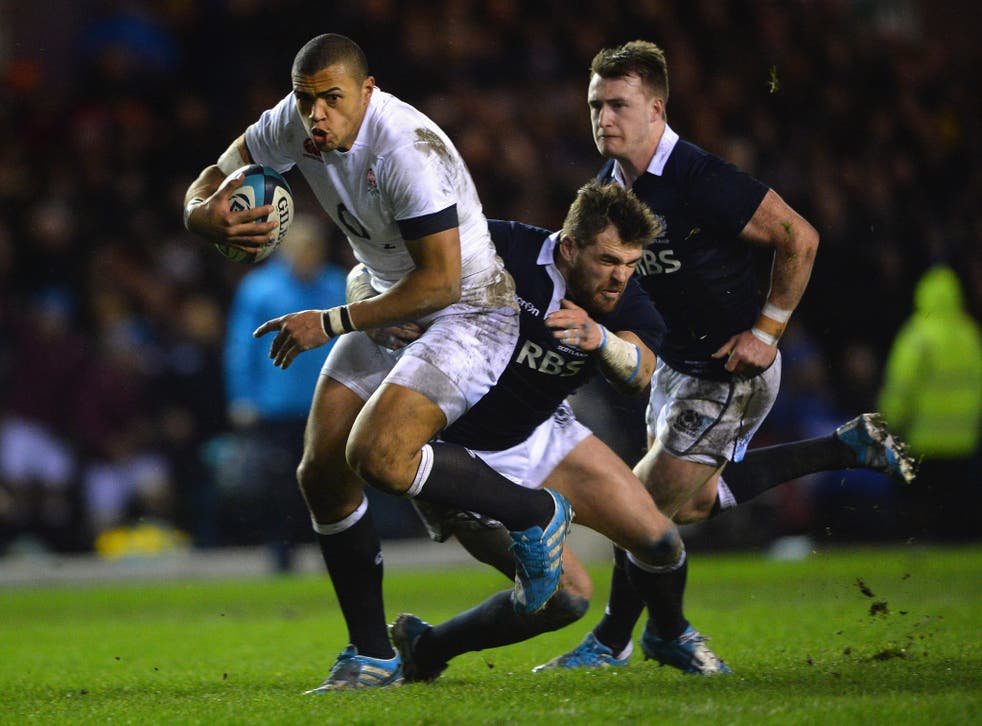 Same try scorers, different result. Luther Burrell and Mike Brown had each run in their first Test tries for England eight days ago in the slender Six Nations Championship loss in France; they did the same at an overcast, thoroughly downcast Murrayfield and led a rout of sad, sad Scotland. Independence in rugby is a simple issue of blue versus white, and the miserable figures wearing navy jerseys were consigned to a first 'nil' against the English since 1978 in the oldest of international fixtures.
England strode uncomplicatedly one step along the road to the four wins following the Paris setback they will need to win the title. Their togetherness, dynamism and alertness at close quarters epitomised by the rejuvenated Danny Care and confident Owen Farrell were the points of difference to add to the 20 on the scoreboard.
Scotland's parasitic worm-infected pitch was threadbare in many areas before kick-off, and appeared likely to only get worse in a steady downpour. The first sign of a malign effect on the play was Farrell slipping slightly as he shanked a simple penalty left of the posts in the fourth minute, given against Ryan Wilson for being offside in front of Stuart Hogg's midair knock-on. But any notion that the Nematode soil invaders were doing Scotland a favour – rain plus churned up turf might equal English discomfort? – was betrayed by the body language of some of the Scots from very early on. Smaller lads like Greig Laidlaw, Duncan Weir and Stuart Hogg rely on footwork as much as anything; the pitch, an aching embarrassment to the Scottish Rugby Union, was no help to them, nor did it nullify England's thundering work at the breakdown.
Six Nations: Scotland v England player ratings

Show all 30
Long cross kicks by Hogg and Weir had an air of desperation about them, even befoe England's opening try in the 15th minute. England were 3-0 up through Care's skilfully dropped goal – the scrum-half, as in France last week, knew he had a penalty coming as he chanced his arm from the 22-metre line. Laidlaw had missed a long-range penalty for Scotland when Jim Hamilton drove into an English maul from the side and Farrell found touch 10 metres from the home goalline. Chris Robshaw caught the lineout at the front, Courtney Lawes was the hub of the drive and sadly for the Scots, Weir picked completely the wrong option as the ball came out. Weir stepped in to anticipate Jack Nowell receiving a short pass; instead Care sent Burrell careering through a gap for the big centre's second try in his first two Tests – he must think this international rugby lark is easy.
Farrell converted, Laidlaw hit a post with a penalty and Scottish calumnies to add to those already by Wilson and Hamilton kept on coming. Lamont kicked the ball out of a ruck but Farrell missed the resulting penalty; Ross Ford overthrew a line-out but England were so laboured shifting the ball wide to Jonny May that they made no ground, then Hamilton went off his feet to allow Farrell to kick England 13-0 ahead. Another Ford overthrow near the English 22-metre line was even more agonising as it represented a rare Scottish foothold in auld enemy territory. And Hamilton, the target, is a rather large one at 6tf 8ins, for goodness' sake. Difficult though it was anyway to envisage a Scottish fightback, they were saved from being further adrift when Burrell should have scored just before half-time but was tackled by Lamont. The break was made by Farrell, reprising the unexpectedly stylish show and go he practised to good effect in Paris.
Laidlaw was newly installed as Scotland's captain after the dropping from the previous week's dispiriting loss in Ireland of the Saracens flanker Kelly Brown, who chose to stay at home in London rather than travel to this match. Hmm.
The high hopes for the centre combination of Alex Dunbar and Matt Scott went unrealised, too. Dunbar's most eye catching contribution was to go to the sin bin six minutes into the second half for killing another English attack at a ruck after a fine run by May, with blood smeared over his face from the broken nose suffered against the French. The stadium announcers chose an interlude soon after this to play a jaunty version of the Bonnie Banks o' Loch Lomond; the only thing bonny on the pitch was Brown's beaming face as he shrugged off Scottish tackles for England's second try on 58 minutes, made by sharp short passing between Care and Nowell. It was Brown's second try in 23 Tests – or the second in two, as he might prefer to put it. When Stuart Lancaster, England's head coach, got on the Harlequins full-back's case after the autumn Tests about doing more in the opposition half he must have hoped for this kind of response.
Farrell converted for 20-0, and Dunbar returned to the field amid the certain scenario of England completing their 22nd win in the 26 meetings since Scotland's 1990 Grand Slam. The choice of Chris Fusaro on debut instead of Kelly Brown might have slowed England a little; it was not a day when the scrummaging battle was hugely influential, other than to say the Scots never looked like getting on top. Hogg, normally the Scottish Baryshnikov, had not beaten a single defender as the clock ticked into the last 10 minutes.
Burrell, Nowell, Farrell – it all added up to Scottish hell. The English substitutions that caused some pundits angst in Paris were easy to make here. True, there was a repeat bungle at an attacking line-out thrown to by Dylan Hartley's replacement Tom Youngs, but overall the red rose was is in clover again. Meanwhile even the worms must have been turning their noses up at the Scots.
Line-ups:
Scotland: S Hogg; T Seymour (M Evans 65), A Dunbar, M Scott (D Taylor 72), S Lamont; D Weir, G Laidlaw (capt, C Cusiter 65); R Grant (A Dickinson 43), R Ford (S Lawson 43), M Low (G Cross 68), T Swinson, J Hamilton (J Gray 70), R Wilson, C Fusaro, D Denton (J Beattie 53).
England: M Brown; J Nowell, L Burrell, B Twelvetrees (B Barritt 74), J May (A Goode 72); O Farrell, D Care (L Dickson 74); J Marler (M Vunipola 65), D Hartley (T Youngs 70), D Cole (H Thomas 76), J Launchbury (D Attwood 63), C Lawes, T Wood, C Robshaw (capt), B Vunipola (B Morgan 70).
Referee: J Garces (France).
Join our new commenting forum
Join thought-provoking conversations, follow other Independent readers and see their replies