Scotland vs Ireland match report: Sean O'Brien stars with two tries to put Irish out in front ahead of England vs France
Scotland 10 Ireland 40: Two tries from O'Brien plus scores from Paul O'Connell and Jaryd Payne gives Irish impressive victory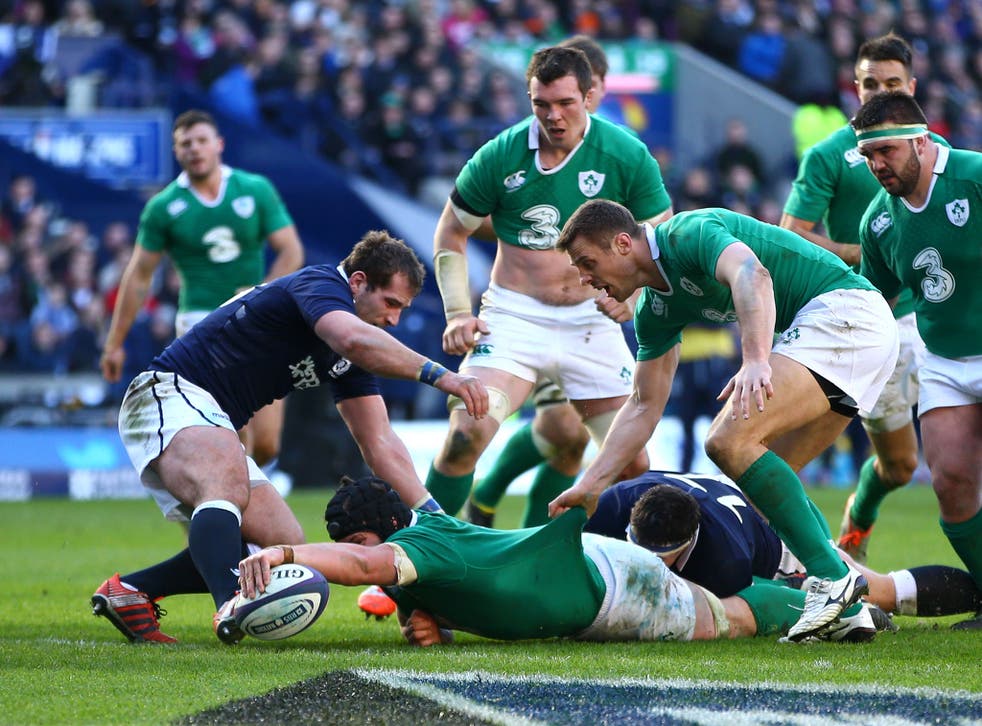 A game within a game which led to a waiting game. Ireland did their maths, beat Scotland – the least complicated part of the equation – overtook Wales and then set a mighty target for England, which ultimately proved just too much for the men in white.
The title could – probably should – have been put well beyond England's reach before they even took to the field at Twickenham, but Johnny Sexton and Ian Madigan missed three simple kicks, nine potentially precious points. In the end it did not matter as Ireland landed their second successive Championship – the first time they have done so since the 1948 and 1949 seasons.
The last miss, Madigan's, was the final act of a breathless match that saw Ireland raise two fingers towards those who said they were too one-track to raise a sweat among the scoreboard operators. Aided by a compliant Scotland, Ireland did their best to retain their crown.
Six Nations 2015 in pictures

Show all 61
Once the scores were totted up, the outstanding, bullocking Sean O'Brien crossing twice to add to tries by his captain Paul O'Connell and Jared Payne, it left England needing to beat France by 26 points. There was a feeling, albeit a nervous one, of job done as the Irish disappeared into the tunnel to watch events unfold at Twickenham.
"It's a rollercoaster," said Joe Schmidt, the Ireland coach, afterwards, moments after France had scored their second try – this was a day to have eyes and ears everywhere. "We are hoping when the ride finishes we are still in front."
Schmidt admitted "regrets" about last weekend's performance in Wales would nag at him wherever they finished but was more than satisfied with what his side did here. Ireland's main men Sexton, O'Brien, Conor Murray, O'Connell, the outstanding leader in northern hemisphere rugby, and Jamie Heaslip delivered from first to last. It was Heaslip who crunched Stuart Hogg, a lonely blue ray of hope, as the full-back crossed the Irish line with two minutes remaining. The ball was dislodged from Hogg's grasp – maybe seven points saved in a Championship being decided on fine margins.
That is why when Ireland were awarded a penalty with a minute remaining instruction came for Madigan to go for the posts. It was a conservative end to a match that had been anything of the sort. From the start this was a different Ireland. Sexton ran the first ball he received, and the second. Before he had it a third time they were ahead, O'Connell plunging over with Scotland's defence around the fringes of a ruck woefully inadequate. Sexton's conversion and a penalty put Ireland halfway towards wiping out the Welsh advantage inside 10 minutes. Ireland were necessarily bold, even if their hosts were generous. Their second try saw O'Brien gallop away from a line-out on the home side's 22. He crashed through Dougie Fife's attempted tackle and no one else laid a hand on him.
It was an open, harum-scarum contest as Ireland attacked and a need to score points is often accompanied by coughing up scores. Tommy Bowe hauled down Tommy Seymour with a try-saving tackle but, from the ensuing ruck, Laidlaw darted down the blind side and sent in Finn Russell. The margin was back to seven and Scotland were back in the contest, although not for long.
Sexton's penalty meant Ireland were again halfway to their Welsh target at half-time. Another Sexton penalty got the scoreboard moving in the second half and he had a hand in Ireland's third try.
O'Connell's line-out was mauled and driven before Sexton's pass sent Payne thundering through more patchy Scottish tackling. Sexton converted to level the scores – against Wales – this match was now a contest against the scoreboard rather than Scotland.
Then came Sexton's two misses, both straightforward. Not quite the perfect 10 then. It took O'Brien's second score, another worked through the phases before he drove over under the posts, to put Ireland into the Championship black. Now came the waiting game.
Scotland: Hogg; Fife, Bennett (Visser, 71), Scott (Tonks, 70), Seymour; Russell, Laidlaw (Hidalgo-Clyne, 57); Grant (Dickinson, 31), Ford (Brown, 53), Murray (Cross, 12), Hamilton (Swinson, 53), Gray, Ashe (Harley, 63), Cowan, Denton.
Ireland: Ireland: R Kearney; Bowe, Payne, Henshaw, Fitzgerald; Sexton (Madigan, 71), Murray; Healy (McGrath, 55), Best (Cronin, 62), Ross (Moore 46), Toner (Henderson, 62), O'Connell, O'Mahony, O'Brien (Murphy, 73), Heaslip.
Referee: J Garces (France).
Register for free to continue reading
Registration is a free and easy way to support our truly independent journalism
By registering, you will also enjoy limited access to Premium articles, exclusive newsletters, commenting, and virtual events with our leading journalists
Already have an account? sign in
Register for free to continue reading
Registration is a free and easy way to support our truly independent journalism
By registering, you will also enjoy limited access to Premium articles, exclusive newsletters, commenting, and virtual events with our leading journalists
Already have an account? sign in
Join our new commenting forum
Join thought-provoking conversations, follow other Independent readers and see their replies