Six Nations 2015: Thrilling finale in store as England, Ireland and Wales target glory
Trio can all claim the crown on Saturday in dream end to a tournament that has hit the heights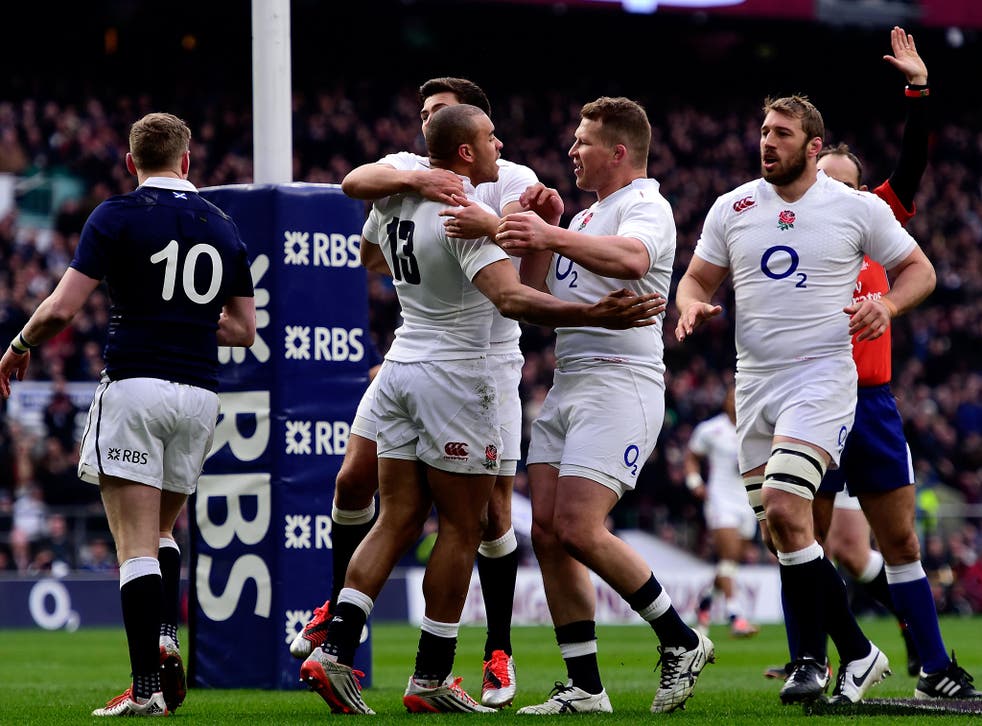 England say it is all about performance, but Saturday's Six Nations performance is definitely not all about England. A decade and a half after the old five-team Championship was expanded to accommodate Italy, rugby folk across Europe have a finale to savour. Four teams chasing one prize in three different capital cities? If this isn't heaven for union aficionados, heaven can wait.
Not even the bookmakers know quite what to make of it: if England have been installed as favourites ahead of their mighty set-to with the French at Twickenham – the last of three back-to-back matches, which undeniably presents Stuart Lancaster's side with an unearned advantage – only a fool or a soothsayer would risk more than a pocketful of loose change in support of their claim.
There have been last-day dramas before. Lots of them. Back in the Clive Woodward era, England made a habit of messing up Grand Slam opportunities – the kind of pratfall that made life in the Celtic lands worth living for at least another 12 months. And then there was the scene in Rome a year ago, when the red-rose players, trussed up in their penguin suits, gathered in front of a television to watch Ireland beat them to the big prize on the final play of an epic encounter with France in Paris.
But Saturday is different somehow: for all the iniquities of a staggered fixture list, which will give Lancaster's men an exact idea of what needs to be done against a tired French side operating on a six-day turnaround and facing their second away game in succession, the broad vista of possibility is captivating. And in World Cup year, too.
Maybe the smartest money is on Ireland, who are so close to England on the points difference front that a fag paper might fall victim to claustrophobia. Yet Paul O'Connell's functional, unfussy side will have to be a whole lot more footloose and fancy-free against Scotland at Murrayfield if they are to wreck England's ambitions before kick-off at Twickenham. They know what it is to prevail in Edinburgh, but their last really big win – the kind of win that would give them a safety net on Saturday – was back in 2005. Since then, the margins have been of the single-score variety. Only if Jonathan Sexton, the world's best outside-half, lives up to his reputation will the champions be remotely confident of retaining their title.
Wales, whose meeting with the Azzurri in Rome will set the drama in motion, are a long way off the pace as far as the numbers are concerned, and rather like the Irish, they have shown little inclination to play an expansive game in pursuit of heavy scoring. Yet without their great No 8 Sergio Parisse, the home side are Italy-lite. If Jamie Roberts and George North get among them early with ball in hand and the punishingly accurate Leigh Halfpenny maximises things with the boot, the pecking order could be turned on its head well before teatime.
As for England, we know this much: they intend to play some football, especially in light of Jonathan Joseph's brilliant form at outside centre. Yesterday, the forwards coach Graham Rowntree spent as much time talking about the attacking options in the back division as he did about the balance of power among the rival packs in the darkened recesses of scrum, ruck and maul. This was unusual in the extreme: running rugby in the wide open spaces has never been Rowntree's province.
Pressed on how England intend to juggle the balls at the back-end of the game if they find themselves in need of a dozen points quickly, the grand old front-rower from Leicester sold his audience the kind of sidestep rarely seen during his playing days at Welford Road. "It's an overused phrase, but this is purely about us and our performance," he insisted. "There's a hunger to play well and there's been a real bite in training, but it's not driven by the fact that we've finished runners-up the last three years. This has been a frustration, of course, but in all honesty, it's not our motivation here."
And if you believe that, you'll believe anything. These England players, not least the captain, Chris Robshaw, are sick to the back teeth of coming up short in this tournament – they've finished second for the last three years – just as the failure to land a Grand Slam back in Rowntree's time had the super-ambitious likes of Matt Dawson, Neil Back and Lawrence Dallaglio climbing the walls.
But the coach was bang on the money in warning that if England go off-script against opponents armed with the match-winning, party-spoiling talents of Yoann Huget and Gaël Fickou – not to mention some heavyweight interventionists off the bench – this could go horribly wrong. And lest we forget, Les Bleus will be even more dangerous in the unlikely event of both Wales and Ireland losing earlier in the day. Under those circumstances, an eight-point victory would see them bag the title for themselves.
Rowntree went further than any of his coaching colleagues in criticising the England backs for frittering away opportunities in last week's Calcutta Cup meeting with Scotland – a contest that was far closer on the scoreboard than it should have been, thanks to red-rose generosity on a jaw-dropping scale. "We've spoken a lot about it," he said. "We see our attacking improvement as the most pleasing aspect of our rugby in this tournament, but we can't waste chances in the way we did against the Scots. The players know that."
Twickenham should be at its most feverish this evening. This may not be saying much, for the sense of entitlement around the stadium remains far greater than the sense of excitement, especially among the many thousands of "corporates". But even in the Bollinger Bar and Garden – yes, it truly exists – the regulars may find themselves treading gingerly into the realm of raucousness.
In a good year, the Six Nations can have this effect. And whatever unfolds across 240 minutes of sporting conflict on Saturday, this has been a very good year indeed.
NatWest are proud to support Rugby. Current account customers can win exclusive rugby experiences. It's not who you know, it's who you bank with. Visit natwest.com/rugbyreward
Register for free to continue reading
Registration is a free and easy way to support our truly independent journalism
By registering, you will also enjoy limited access to Premium articles, exclusive newsletters, commenting, and virtual events with our leading journalists
Already have an account? sign in
Register for free to continue reading
Registration is a free and easy way to support our truly independent journalism
By registering, you will also enjoy limited access to Premium articles, exclusive newsletters, commenting, and virtual events with our leading journalists
Already have an account? sign in
Join our new commenting forum
Join thought-provoking conversations, follow other Independent readers and see their replies