Six Nations 2018: England prepared to adapt to any Italian tricks as Sam Simmonds offers them a Plan B
Exeter Chiefs back-row makes just his second start as England begin their Six Nations title defence looking to make history with a third consecutive outright win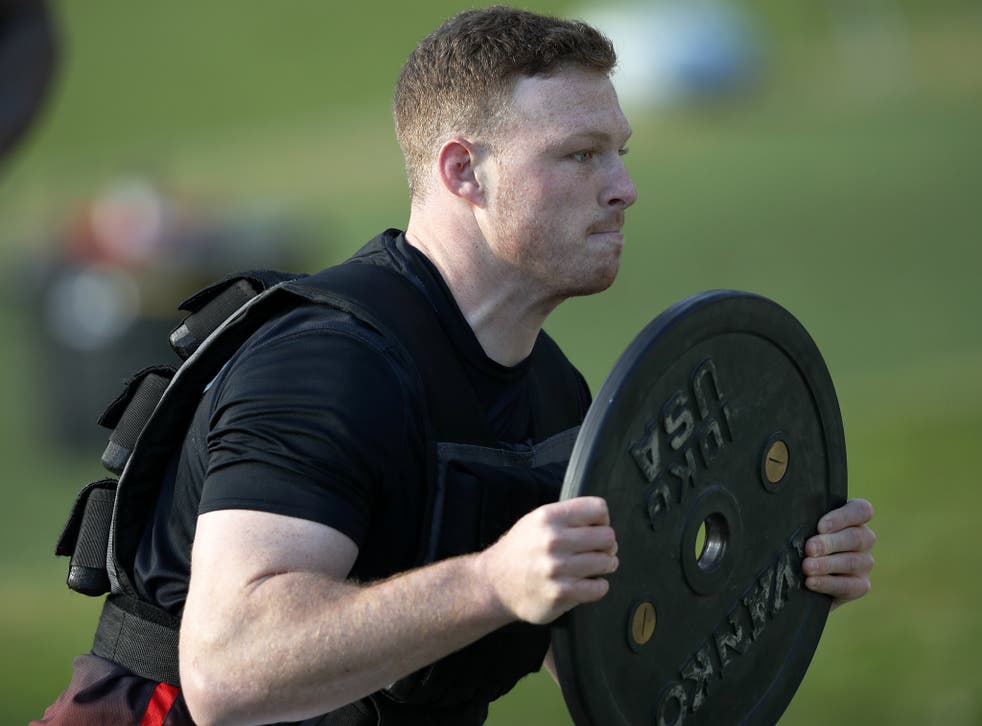 England begin their tilt at history in Rome stepping somewhat into the unknown, if their last Six Nations clash against Italy is anything to go by.
Twelve months ago, Italy flummoxed the reigning Six Nations champions, with the Italian coaching duo of Conor O'Shea and Brendan Venter launching a tactical offensive on England that resulted in their side leading at half-time. It was known as 'The Fox', with Italy's defence refusing to compete for the ball after a tackle and, in essence, removing the offside line that allowed scrum-half Eduordo Gori to stand between the half-backs and prevent any clean, quick ball.
World Rugby has since altered the laws to prevent the same happening again, but Venter is way ahead. Just this week, the South African admitted he has "four or five" tactics up his sleeve to try and put England off their game.
Six Nations injured XV

Show all 15
And that is why Italy are using such tactics. As O'Shea has made very clear in the build-up to this year's championship, if both teams play to their best, England win. Italy need to distract England and put them off their game, and inside the cauldron that is the Stadio Olimpico, they may just make any success last longer than the 68 minutes it did last year.
For England, the test is very clear. Adapt, play what's in front of you and look a little bit more like a human being than a robot whose system is malfunctioning. That's the message that has been relayed to the squad ahead of the opening fixture that, if all goes according to form, will lead to four straight wins and a winner-takes-all shootout with Ireland on 17 March.
"We want our players to see what's in front of them and adapt to whatever is posed," forwards coach Steve Borthwick said in Rome on Saturday. "We want a team that's adaptable."
And boy, do England need it. The true test will not come here, that much is obvious, but if Eddie Jones' side can be put into a problem-solving position in week one, it may reap rewards further down the line. When England played in Dublin last year with the Grand Slam on the line – albeit the championship already in the bag – they could not work out a game plan that negated the Irish lineout and maul nor create quick and clean possession.
The stats from that 13-9 defeat are damning, particularly in the first half. 23 per cent possession, 26 per cent territory in the opponents half, and while things got better in the second half, they couldn't have got much worse. In the entire 80 minutes, England won the ball just three times in the opposite 22. The Irish? 41 times, led by the brilliant Peter O'Mahony and Iain Henderson.
England weren't at their best that day clearly, but there was an evident need for something different, a Plan B that can be deployed when things aren't working out. In Sam Simmonds, the No 8 who starts just his second Test for England on Sunday, they may have just that.
The Exeter Chiefs back-row has enjoyed a phenomenal rise to fame over the last nine months. Having been promoted from the Sevens circuit, Simmonds scored the match-winning try that knocked Saracens out of the Premiership semi-finals in the final minutes at Sandy Park, played a part in the extra-time final victory over Wasps a week later and has now firmly established himself as one of the most watchable players in the top flight – ousting Thomas Waldrom from the No 8 position at Exeter in the process.
Jones has expressed his doubts whether Simmonds is big enough to play at No 8 on the international stage, yet has been forced to pick him their this weekend as both Billy Vunipola and Nathan Hughes are sidelined with long-term injures. Vunipola will not be seen at all this championship, while Hughes is in a race to be fit for the final two rounds, and with Bath's rising star Zach Mercer ill, Simmonds is just about all that's left. However, he is one of the in-form players in the Premiership this season, and there's a reason why fans heading out to Rome are excited to see what he can do.
"Sam did very, very well during the autumn series," Borthwick added. "He's quick off the base of the scrum, he finds space when he carries and is very hard working
"He's quick. He can run with our backs he's that quick. He has some real ability and has a great attitude to go with it."
Simmons' presence does mean that England lose some of the ball carrying power that Vunipola and Hughes bring, but Borthwick believes that England can adapt the way they play their forwards game to utilise other carriers such as Mako Vunipola, Courtney Lawes and the hulking Joe Launchbury, who will no doubt get through another workload that defies belief.
"You need a balance of ball carrying across your back," said Borthwick. "We have Mako, Joe, Courtney as well as Sam, so there's a good mix of carriers there
"Look at Lawes' footwork and the way Sam finds space. There are different types of carriers and that mix is a positive."
This hasn't been lost on Italy, either. For a side that are looking for their first ever victory over England at the 24th attempt, No 8 and captain Sergio Parisse has seen his fair share of hurt over the years. Parisse will win his 130th international cap this Sunday, a phenomenal feat for a great of the game, so given his experience his comments about Simmonds are worth sitting up and taking note of.
"Of course there are differences between Simmonds and Vunipola," Parisse said in Rome. "In terms of carrying, maybe in terms of physicality, they have lost a little bit. But I'm really sure he wants to have a big game tomorrow [Sunday] but we'll have a really good battle with [Chris] Robshaw and Lawes so it will be a big challenge for us as a back-row. I don't think they [England] will miss a lot."
Another of Parisse's teammates has his fair share of experience, with Alessandro Zanni returning to the international team for the first time in 23 months – in the unfamiliar position of lock, rather than in the back-row – to win his 100th cap. It may be something of a sympathy move from O'Shea, but that takes nothing away from the Benetton forward.
"Obviously it's a fantastic feeling for me," Zanni said. "To be honest with you, I don't care too much about the 100 caps but for me the big thing is finally being back in the team after two years where I've been sidelined by a lot of injuries. I will certainly enjoy the moment, it will be great to be back at the Stadio Olimpico, it will be a great atmosphere."
It will, and it will be the first test along the way to see if Italy have made genuine improvements on last year's valiant display as well as England's path to toppling the All Blacks. 2017 at times hinted that Jones' side could well veer off that path, but if they can show the signs that they have learnt from last year's encounter and adapt to "batter" Italy – as the Australian so kindly put it – it will be a big step towards a record third Six Nations crown.
Register for free to continue reading
Registration is a free and easy way to support our truly independent journalism
By registering, you will also enjoy limited access to Premium articles, exclusive newsletters, commenting, and virtual events with our leading journalists
Already have an account? sign in
Register for free to continue reading
Registration is a free and easy way to support our truly independent journalism
By registering, you will also enjoy limited access to Premium articles, exclusive newsletters, commenting, and virtual events with our leading journalists
Already have an account? sign in
Join our new commenting forum
Join thought-provoking conversations, follow other Independent readers and see their replies