Six Nations: England face forbidding test against Wales to land historic Slam
Robshaw confident his side can cope with hostility of Cardiff crowd but rejuvenated Wales have weaponry to take the title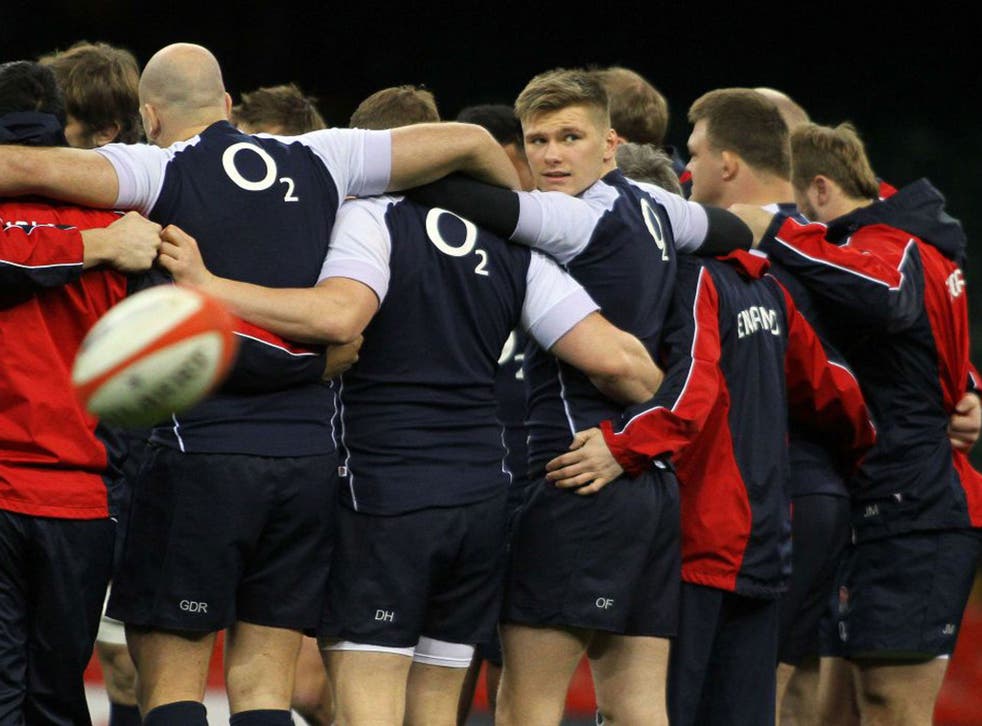 England have found themselves in some dark places in the 15 months since Stuart Lancaster took over as head coach with a brief to restore the team to something approaching international respectability, but they have yet to pass through a long, dark night of the soul.
That dubious pleasure awaits them in Cardiff on Saturday, when they attempt to break new ground by securing a Grand Slam on Welsh soil.
A cursory reading of the runes suggests that the odds are stacked against them, for they have no obvious reference points. Only twice in championship history have England gone in search of a clean sweep against their nearest and less-than-dearest, both times in London. More pertinently, only a handful of the starting line-up know what it is to play a Test match at the Millennium Stadium – or, in most cases, a match of any description there.
"I watched a game there when I was about 15," said Chris Robshaw, the England captain, "and the ground wasn't even close to being full. As I remember it, the bottom tier of seats was the only section open to supporters. I think it will feel a bit different this time."
His thinking was absolutely spot on. Some 75,000 spectators will fill the place for this Six Nations title decider – corporate types in England have been paying four times face value for their tickets – and with the roof drawn across the most imposing city-centre venue in world rugby, the noise level will be off the scale. By comparison, a reformed Led Zeppelin would sound like a barbershop quartet rehearsing quietly in the village hall so as not to interrupt the whist drive.
Yet England have been in a similar hell hole, albeit far away from the hills and valleys of the red-dragon lair, and just about emerged with their spirit unbroken and their self-respect intact. If they prevail over the reigning champions and land themselves a first clean sweep in a decade, they will look back fondly on a match they lost, honourably and courageously, against the Springboks at Ellis Park in Johannesburg last June.
"That was the most hostile place I've experienced," said Robshaw, "and the same goes for most of the people in this team. They may not have played at the Millennium Stadium, but they were there that day in Ellis Park."
Had he gone into the fine detail of the occasion, he would have identified it as the point when this England team found itself, after a truly horrible shellacking in the opening quarter, able to recover and run the South Africans close. Very good All Black and Wallaby teams had cracked in the face of such adversity up there in the heartland of the Boer. That England did the opposite said much for their collective resilience.
They will need every last drop of bloody-minded cussedness on Saturday, because Wales have the weaponry to blow holes in their defences. Leigh Halfpenny may have slipped off his kicking standard briefly at Murrayfield last weekend, but the full-back from Gorseinon has both the range and technique to punish even the slightest error by the men in white. Alex Cuthbert and, in particular, George North are looking ever more threatening on the wings; Gethin Jenkins and Adam Jones, the two Lions Test props, are beginning to operate at full throttle; Alun Wyn Jones, Ian Evans and Sam Warburton give the back five of the scrum a menacing look.
Robshaw, more animated than in any eve-of-match address, acknowledged all that and more. "Wales have been very clear about the kind of hospitality they want to show us," he said with a knowing glint in his eye, indicating that the first three syllables of the h-word were the ones that really counted. "We'll just have to soak it up and try not to give the Welsh crowd a chance to get into the game. We've been in intimidating environments before. We understand what's needed."
According to Graham Rowntree, the England forwards coach, there has been no discernible change in mood among the red-rose players, despite the unexpectedly sharp hurry-up they received from Italy at Twickenham six days ago and the scale of the prize on offer if they can just get things right tonight. "The mood hasn't been edgier at all," he said, "and that pleases me. You don't want anything to affect your focus at this stage of proceedings."
All the same, it will be astonishing if the hard men in the England team – the centre Brad Barritt, the No 8 Tom Wood and, especially, the fire-and-ice outside-half Owen Farrell – do not turn up in full war paint. Farrell, first out of the trenches against France last month, is a natural tone-setter; when the players go into their final huddle ahead of kick-off, it will be he who does most of the talking.
He will also be doing the goal-kicking, always assuming his dodgy thigh muscle holds up under the guaranteed assaults of Warburton, Toby Faletau and company. This much, at least, is reassuring for England. Over the course of his short international career, Farrell's kicking has improved as the pressure gauge has headed northwards. It will be no great shock if he presents England with a 100 per cent return when it matters most.
But it is Wales who start as favourites, if only marginal ones. Robshaw did not acknowledge this in so many words, but he hinted at it when asked how much it would mean to him to end England's long wait for a Grand Slam – a prize that eluded two head coaches in Andy Robinson and Brian Ashton, a manager in Martin Johnson and an entire generation of players.
"Of course it would be nice to play a part in history," the captain said, "but it's one thing saying that here, or in a team meeting at the hotel, and quite another doing it on the pitch."
Closed contest: stadium roof shut
The Welsh Rugby Union has confirmed that the Millennium Stadium roof will be closed for today's Six Nations decider. With bad weather forecast in the run-up to the 5pm kick-off in Cardiff, and so much riding on the match, both teams have agreed to the closure – as they must under the rules.
Aussie puzzle: three confrontations that have lions connotations
Sam Warburton v Chris Robshaw
Warburton started the season as favourite for the dual Lions role of open-side flanker and captain, but was overhauled by the Englishman in the space of a dramatic few weeks either side of Christmas. If Robshaw is just a notch off his game today and Wales prevail, all bets will be off again.
Adam Jones v Dan Cole
The venerable tight-head prop from Abercrave is back at his most commanding, just in time for the summer trek around Wallaby country, and that means Cole will have his work cut out to see off the threat, especially as his scrummaging is now less convincing than his work in the loose.
Mike Phillips v Ben Youngs
Phillips is the reigning Lions scrum-half and his rugby is every bit as belligerent four years on. Youngs cannot match his rival's physicality, but he has strengths of his own and can be a key shaper of England's attacking game today if he keeps his temper. A classic clash of styles.
Chris Hewett
Join our new commenting forum
Join thought-provoking conversations, follow other Independent readers and see their replies