Eddie Jones begins to buy into England's greatness but won't take the credit if they beat Ireland and win Grand Slam
The England head coach sent out mixed messages, but even he believes his side are now on the verge of something incredibly rare with the All Blacks creeping onto the horizon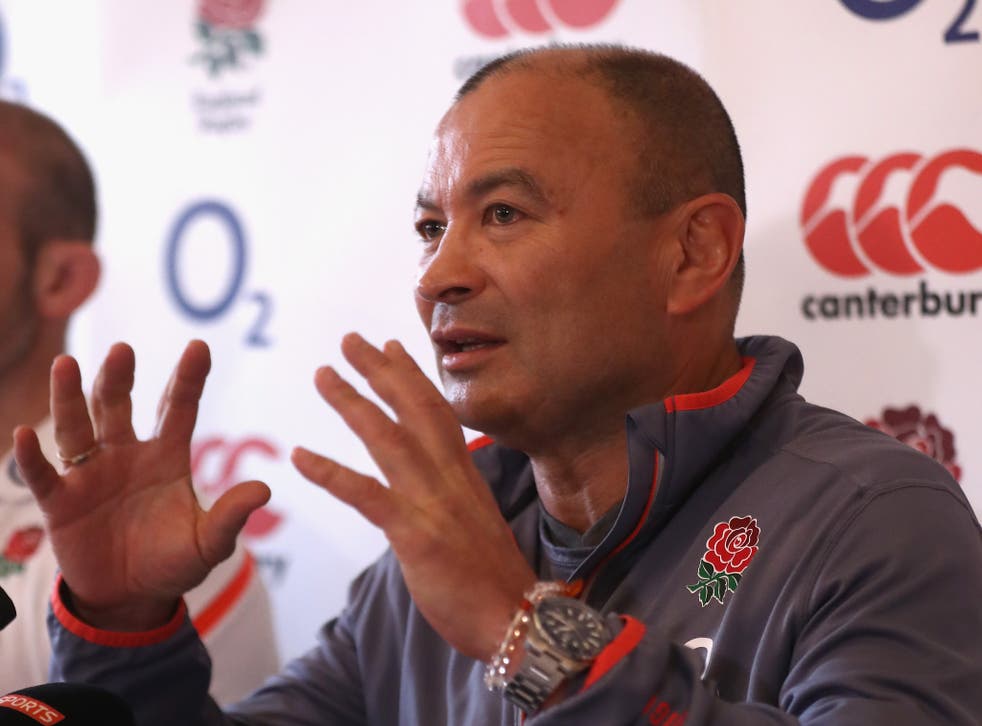 There have been plenty of 'great' sides in rugby union in its 146-year international history, a handful of 'great' England sides during that time and just three 'great' English teams that have secured back-to-back Grand Slams, but this Saturday that club can grow to four and the feeling that what Eddie Jones is currently achieving with his side is not so much great as it is legendary.
England have not lost since 2015, they have the chance to break the record number of consecutive Test wins and, behind the scenes, they are trying to structure a last-minute deal that could trigger the end of New Zealand's reign as the dominant force in world rugby.
That last point may be pushing it one step too far, but it's worth noting that England's next match with their full-strength side after Saturday's Six Nations finale against Ireland could be an almighty collision with the All Blacks on 4 November, should the Rugby Football Union reach an agreement with their New Zealand counterparts for an additional autumn international this year.
Whether England head into that proposed match as a 'great' unbeaten side, or as Six Nations champions looking to get back to winning ways, depends on this weekend's events – as well as a two-Test summer tour of Argentina that coincides with the British and Irish Lions schedule. Jones takes his side to Dublin looking to take the next step towards his target of winning the 2019 Rugby World Cup, though the short-term plan is to add the Grand Slam clean sweep to the championship they already have in the bag thanks to their unassailable lead in the table.
Yet Jones is sending out mixed messages. He was quick to talk up England's chance to become great if they triumph at the Aviva Stadium, yet claimed "we're not good enough" to win the World Cup yet. He was happy to praise the team's preparations this week, and then laid all the credit at Stuart Lancaster's feet, his predecessor who led England to four consecutive second-place finishes in the Six Nations and their worst ever Rugby World Cup performance.
"It won't be an achievement for me, it will be an achievement for the team," Jones said on Thursday. "We are in this together, coaching staff, staff and the players, we all work together. The guy I think again that should get a lot of credit for the team's success is Stuart Lancaster. He was the guy that brought this team through, went through some hard yards with them, most of the players are still the same."
That record is harsh on Lancaster, as though he was unable to see England over the line, Jones is right in crediting the current Leinster senior coach with planting the roots of this potential record-breaking team. "I know he's batting on the other side now so I don't know who he's barracking for on Saturday," Jones added, smile firmly on display.
"I don't deserve the credit because I'm honoured to coach England and I got them at a good stage. A lot of the groundwork has been done. We have a fantastic group of players and the credit belongs to them."
But something is clearly different. A team has never gone 18 Tests without a blip along the way apart from the All Blacks, the side that has won the last two World Cups. So what is England's secret?
"I think as a team it is definitely the best team I have ever been a part of," scrum-half Danny Care said. "You look around the changing room and there are a lot of world class players in a lot of positions. But we won't get ahead of ourselves and the aim is to be No 1 and we still have a lot of work to do for that. Winning that next game will be a huge achievement for us first.
Care adds: "Everything seems to be clicking and going in the right direction. It's not just our attack or our defence, it's everything. The set-piece, the boys up front are doing an unbelievable job setting the bar there, giving us some fantastic ball.
"The boys just set the standards on and off the field, I've never seen such hard work from the lads, from the coaches and the backroom staff, everyone who's on this journey to try and be the number one team in the world. To try and leave no stone unturned to get there."
Of course, England haven't really won anything yet. Eddie Jones may have disagreed this week with Sir Clive Woodward's admission that not winning the Grand Slam would feel like failure, but it would for this team, and Jones knows it. But midway during his press conference on Thursday, the Australian allowed himself to open up to the media and offer a glimpse of the character that has transformed this side.
Six Nations team of the weekend - round four

Show all 15
It came in a telling few minutes where he wrote off their chances of challenging for the World Cup if it were to be played now, before revealing what England need to do to take the next step towards that very target.
"We don't have the density that we need to win a World Cup in terms of leaders," he said. "Having said that we've progressed a long way in the 14 months we've been together.
"We've gone from a team that had one or two self-reliant players to maybe three or four, going up to five or six, so we're getting there. It's going to take a lot of work to get a team good enough to win a World Cup because we're not good enough at the moment."
Less than five minutes later, and faced with a question on how the side is dealing with imminent "greatness", Jones added: "I think the team has embraced it. To go from where we go to greatness takes another step of endeavour. It takes greater focus, it takes greater persistence, it takes greater emotional output.
"It is like climbing up a mountain; every time you go to another level of the mountain it becomes more unstable. The ground becomes more unstable, your ears hurt, your nose hurts. It is exactly the same when you are climbing the ladder of success - everything becomes a bit harder. And sometimes you have got to just stop and say, 'Right, this is what is ahead of us.' And probably we weren't very good at that. In retrospect, that's my fault. We have done that and I think the players have understood the challenges ahead and re-equipped for the challenges ahead."
He spoke as if the journalists in the room at England's Pennyhill Park training base were facing Ireland this weekend, and the way he detailed where his side now find themselves made it easy to understand why professional players would buy into his mantra. Jones took a spiky approach last week and got the response from the team he wanted by thrashing a rapidly improving Scotland side. This week, he was far more assured, responsive and revealing, and while he has also spoken of the risk of complacency, you sense that the overwhelming feeling inside the head coach, and the squad, is one of imminent greatness.
Join our new commenting forum
Join thought-provoking conversations, follow other Independent readers and see their replies