Six Nations: Weight of Manu Tuilagi squashes French cockerel
England 23 France 13: England centre tips balance against improved France to keep Lancaster's side on course for Grand Slam
Hugh Godwin
Sunday 24 February 2013 01:00 Comments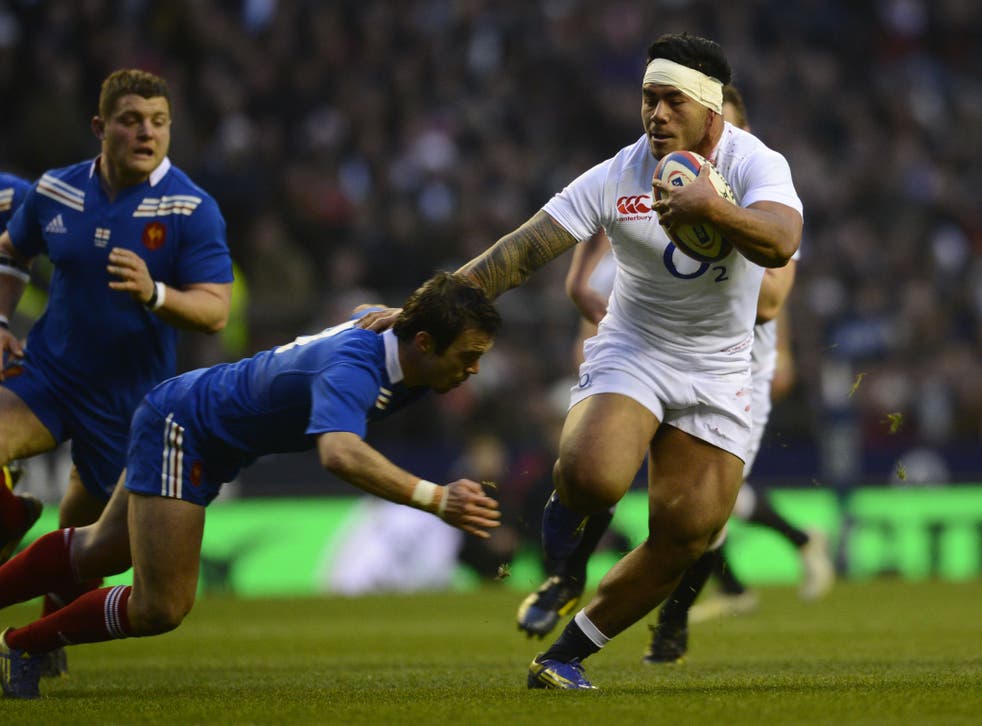 England came through as searching a tactical test as they had faced in any of the wins on their recent run to remain top of the Six Nations table. Theirs is the AAA status, in rugby terms at least, while a bankrupt France and a fading Italy from the eurozone bring up the rear.
The scintillating prospect of Wales and England meeting on the Championship's final day in Cardiff in three weeks' time with the title at stake has come that bit closer thanks in part to Manu Tuilagi's try on the dynamic centre's return to the England starting line-up.
Tuilagi had done a half-hour shift on his comeback from injury in England's 12-6 win in Ireland a fortnight ago. When he scooped a lucky – not to say illegal – ricochet off his team-mate Mako Vunipola to score in the left-hand corner it put his team 17-10 ahead and signalled a long second half for France who had, thankfully, arrived ready to play: rejigged and rejuvenated, skilful, committed and more sensibly selected. But they were unable to sustain a fine start that had its apotheosis in a coruscating try by Wesley Fofana in the 30th minute.
In beating New Zealand here in December, followed by Scotland at home and Ireland in Dublin in this Six Nations, the most significant English advance of many under the post-2011 World Cup regime has been generating quick ball from the breakdown and stopping their opponents playing there.
France were ready to play England at their own game. So François Trinh-Duc – praise be, a French fly-half picked in his specialist position – was able to bring the variety and verve that Freddy Michalak miserably failed to in supine losses to Italy and Wales of late. Opposite him, Owen Farrell did not have his best day: sucked into some initial silliness that included knocking over Morgan Parra – France's other recalled half-back – off the ball, and getting tripped himself by Louis Picamoles. Ultimately Farrell hobbled off, leaving Toby Flood to knock over penalties after 72 and 76 minutes that rewarded a dominant final quarter and left France winless in their opening three Six Nations games for the first time since 1982.
The biggest billing had been for the big centres Mathieu Bastareaud versus Tuilagi. A collision of prime Samoan-English beef and whatever it is French meat-makers are turning out these days: cheval supreme? On attack off line-outs, Bastareaud ran first into Brad Barritt at inside-centre, then into the captain Chris Robshaw and Farrell in the narrower channel. Tuilagi slipped past his opposite number once and was held once as the battle developed.
But Fofana is a midfielder cut from a silkier cloth, and his was the most exciting contribution. England were leading 6-3 with two penalties from Farrell to one by Parra when Vincent Clerc caught an up-and-under on Les Bleus' right wing. The ball went left via a ruck, and passes by Trinh-Duc and Bastareaud fed Fofana on his own 10-metre line and near the touchline.
It was hardly a direct result of the manager Philippe Saint-André belatedly bowing to seemingly every pundit in Europe and moving Fofana to centre from the wing but, no matter, the 25-year-old Parisian who has been wowing the Massif Central for Clermont Auvergne was off and dancing past Courtney Lawes and Chris Ashton, surging away from Joe Marler and Ben Youngs and doing well to keep his feet as Ashton made another last desperate lunge.
'La Marseillaise' was vying for song space with 'Swing Low' in the stands, and Parra converted for France to lead 10-6 – soon reduced to 10-9 when Farrell kicked a penalty harshly awarded against Thomas Domingo for not rolling away.
Parra fell short with two difficult shots from distance either side of half-time. Robshaw's men knew they had to mix hard work with brain power. France's forwards led by a resurgent Thierry Dusautoir had been good at the breakdown. With Dylan Hartley and Lawes recalled, England's line-out improved from Dublin but fitness and luck were to come into it too.
Michalak came on for a wilting Trinh-Duc in the 53rd minute, drawing sarcastic cheers, and within 60 seconds, England had their try. Alex Goode's high ball was caught by France but it squirted out under pressure and Tom Wood's hack bounced off Vunipola in front of him, not spotted by the referee, to Tuilagi who had a difficult pick-up and an easy run-in for his 10th try in 19 Tests.
Farrell missed both the conversion and a 50-metre penalty either side of Michalak's penalty, then Flood trotted on with a four-point England lead and 20 minutes to play. Michalak and Clerc sprayed passes around like Banksy gone ga-ga. Robshaw caught one at full stretch; Flood put two dabs in behind the tiring Clerc and Benjamin Fall that were not quite on the money. England's replacements played a significant part and the heavy brigade had their last laughs as France's giant Yoann Maestri was jogged off an attacking line-out and Robshaw and Dan Cole put in extraordinary cover. Cole collected a last-minute yellow; he deserved to be scribbling celebratory drinks orders on it last night.
England: A Goode; C Ashton, M Tuilagi, B Barritt, M Brown; O Farrell (T Flood, 61), B Youngs (D Care, 58); J Marler (M Vunipola, 51), D Hartley (T Youngs, 51), D Cole, J Launchbury, G Parling, C Lawes (J Haskell, 51), T Wood, C Robshaw (capt).
France: Y Huget; V Clerc, M Bastareaud (F Fritz, 53), W Fofana, B Fall; F Trinh-Duc (F Michalak, 52), M Parra (M Machenaud, 66); T Domingo (V Debaty, 55), B Kayser (D Szarzewski, 55), N Mas (L Ducalcon, 64), C Samson (J Suta 64), Y Maestri, Y Nyanga (A Claassen, 68), L Picamoles, T Dusautoir (capt).
Referee: Craig Joubert (South Africa).
Register for free to continue reading
Registration is a free and easy way to support our truly independent journalism
By registering, you will also enjoy limited access to Premium articles, exclusive newsletters, commenting, and virtual events with our leading journalists
Already have an account? sign in
Join our new commenting forum
Join thought-provoking conversations, follow other Independent readers and see their replies