Stuart Lancaster backs Chris Robshaw as captain - but opens door to others
England coach stands by Harlequins flanker despite tough summer yet will try out alternatives before 2015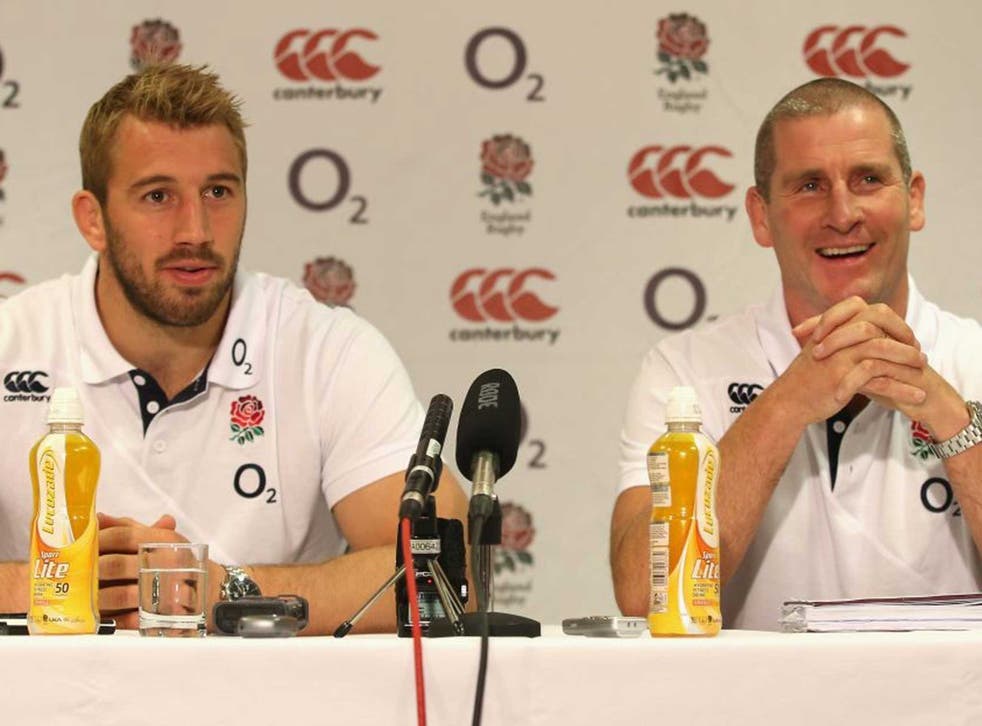 As major sporting decisions go, it was the equivalent of falling off a log. Stuart Lancaster, the England coach, always said he would need a very good reason to relieve the Harlequins flanker Chris Robshaw of the red rose captaincy, and Robshaw has been in no mood to provide him with one. Outstanding for his club at both Premiership and European levels, he was duly reappointed and will lead the national team through the forthcoming Tests against Australia, Argentina and New Zealand.
"It was a pretty easy call to make," Lancaster said in making his announcement at the England camp in Leeds. "I select on form and fitness – that's why I always wait for the players to gather together, to sit down with them and talk things through. Chris is fit, he's in form and he was the stand-out candidate. The job requires someone with presence, someone who commands respect. I spoke about this with both Tom Wood and Dylan Hartley [the two other players to have led England during Lancaster's tenure] and Chris has their respect."
Robshaw might easily have arrived in Leeds in low spirits. He was not the first England captain to be overlooked by the British and Irish Lions – the Bath centre Phil de Glanville and the Saracens lock Steve Borthwick both experienced the ultimate rejection during their time as skipper – but it was a hard slap in the face nonetheless. To make matters worse, he was then advised to sit out the simultaneous red rose tour of South America and presented with a list of technical issues he might like to address.
"He's responded extremely well," Lancaster reported. "The Lions decision obviously hurt him, but equally, it happened at a time when he had an opportunity to get away from rugby, to go abroad and get the sun on his back, to put things in perspective. Yes, we gave him some 'work-ons', and he's worked on them. He needed to be playing at his best to be made captain again, but he understood that: he had to fight hard to get into the team in the first place. I'm 100 per cent confident that it was the right thing for him to miss the Argentina trip and come back fully refreshed."
All season, there has been a good deal of chatter about Robshaw being overhauled by one of his principal rivals. Hartley's credentials took a blow when he was sent off during the Premiership final last May, but during the Lions tour the Leicester lock Geoff Parling emerged as a leadership candidate. And then there was Wood, the Northampton flanker. Tough, ultra-committed and a great deal more outspoken than the notoriously cagey incumbent, he had a good deal of support.
But Robshaw's current form for Quins, allied to injuries and form issues elsewhere, reinforced his claim, which by any objective measure was barely in need of reinforcement anyway. Not that he has been given a job for life. Lancaster will push others into the captaincy role between now and the home World Cup in 2015.
"Gone are the days when one player leads a team," the coach said. "We've put together a leadership group because in today's rugby, a side cannot be driven by a single individual. And besides, we wouldn't want to find ourselves a week out from our first World Cup game and have Chris break a leg when he's the only man to have led us. If you look at the All Blacks, they now have Kieran Read with all his captaincy experience, as well as Richie McCaw. It doesn't take much of a stretch of the imagination to see that we want to be in a similar place."
With Robshaw confirmed, Lancaster turned his attention to a serious injury issue – not quite a crisis, but certainly a drama – in the front row ahead of the meeting with the Wallabies at Twickenham in nine days' time. Hartley has an ankle injury, while the Bath prop David Wilson, in the form of his life, has a calf strain. With the first-choice loose head Alex Corbisiero already crocked, England need both players to make significant improvements by next Monday at the latest.
Join our new commenting forum
Join thought-provoking conversations, follow other Independent readers and see their replies