Wales star Gethin Jenkins relieved to join the exclusive 100 club at last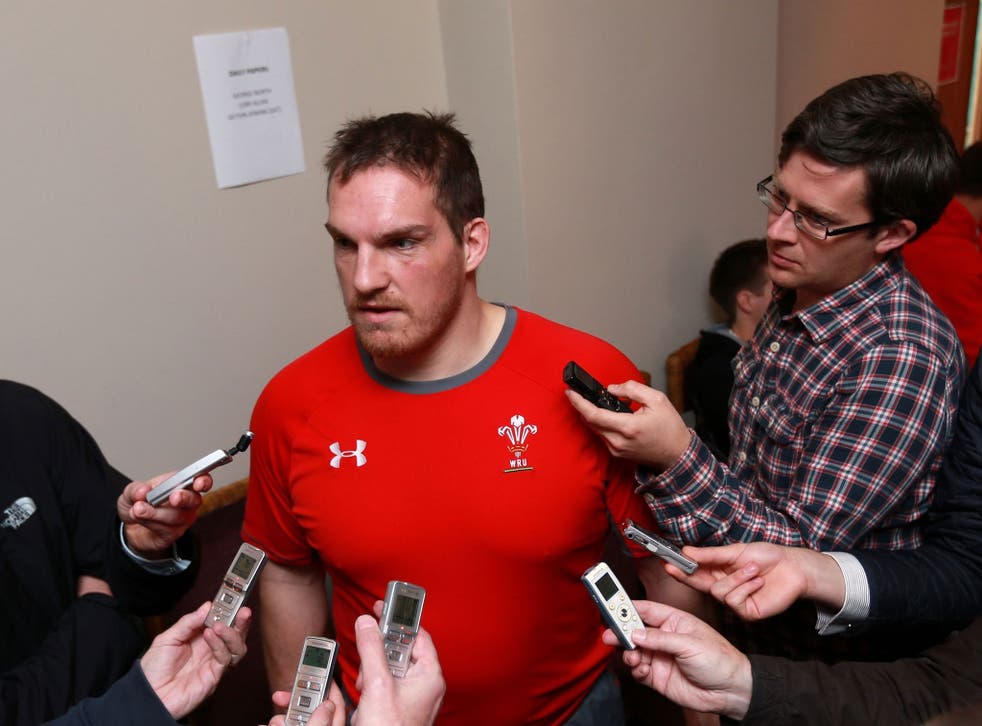 It was an inauspicious start to an international career. On a cold Friday November night in Wrexham, Gethin Jenkins pulled on a Wales jersey for the first time in a sloppy but comfortable 40-3 win over Romania.
Just 9,448 spectators were there to see what would prove a historic event. Later today, there will be far more people present as Jenkins, who turns 34 tomorrow, becomes only the fourth Welshman to earn 100 caps, the others being Stephen Jones, Martyn Williams and Gareth Thomas.
The loose-head prop – affectionately known as "Melon", a nickname that begun as "Melon head" but has since been shortened – has little reason to dwell on that first cap 11 years ago.
"I don't remember a lot about it really," he says, his face more battle-hardened than that first day, his limbs more sore, the fitness sessions that big tougher. "It was up in Wrexham and I was pretty nervous. I can't remember anything about the game, I can't remember who even played tighthead. But it was a proud moment for me, as will be Saturday."
In terms of playing prowess as well as numbers, Jenkins is truly one of the greats of Welsh rugby and last weekend against South Africa he was among Wales' best players. But he will give himself little time to dwell on his achievement as he prepares to take on Argentina except for that moment of relief at finally making it to the illustrious century mark.
"It's a weight off my mind," he admits. "The nineties have been quite slow for me with injuries for the last year or two and I've been fighting to get back to full fitness. I'm feeling pretty good now, I'm just glad to get through last week and get to this week.
"There's no greater feeling than running out on a Saturday in front of all those supporters at the Millennium Stadium. Any player that's played a few times for Wales says that's the big buzz, the biggest thing you'll miss when you finish.
"After the game you'll perhaps think about it a bit more. I'm trying not to think of it too much. Afterwards you look back and think, 'I got to 100'."
Jenkins never dreamed that he might make that mark, particularly with the increased physicality of modern-day international rugby as a front-row forward. There is a palpable relief just to be playing at present, having thought he had recovered from a calf injury to make the British and Irish Lions tour to Australia only to be ruled out and fly back to Wales without having played a game on tour.
"There's definitely been some lows," he reflects. "In a Wales jersey we've had quite a lot of low points in the early part of my career. New Zealand away when Colin Charvis got injured, that was a long day [Wales suffered a record 55-3 defeat in 2003]. After a quarter of an hour I looked at the clock thinking we're in for a long day. But this summer, when I had to go home from the Lions tour, that was probably been my lowest."
Wales have recently been riding the crest of a wave with an impressive showing at the World Cup in 2011 followed by two Six Nations titles including a Grand Slam. But his personal highlight predates all that.
"It was the Grand Slam match in 2005, just because of the simple fact that I scored a try and I don't score very often," he says. "Jamie [Roberts] was saying that he was sitting outside City Hall drinking and watching the game. I said to him that was bigger – not to take away from the last Grand Slam – but that day was massive as it was the first time we'd done it for 20-odd years. So to be a big part of it and score a try was probably my best memory really."
Just 24 hours off his 34th birthday, more chapters look likely to follow, although he just doesn't know how many. "You never know, it's such a physical sport," he says.
Wales: L Halfpenny; G North, C Allen, S Williams, L Williams; D Biggar, M Phillips; G Jenkins, R Hibbard, R Jones, B Davies, A W Jones, S Warburton (c), J Tipuric, T Faletau. Replacements: K Owens, P James, S Lee, L Charteris, R Jones, L Williams, J Hook, A Beck.
Join our new commenting forum
Join thought-provoking conversations, follow other Independent readers and see their replies