Youngs brightens heavy weather
Argentina 9 England 13: Scrum-half scores vital try and shows lumbering England the way to play with pace and verve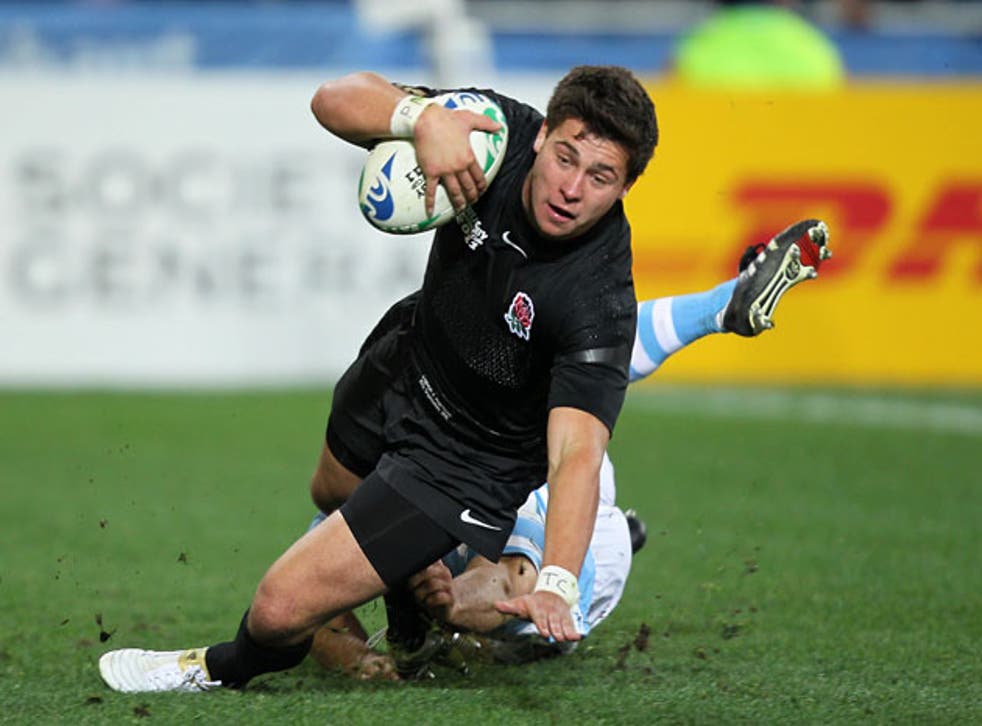 By the light of a silvery moon, refracted through a hundred see-through panels in the roof of a futuristic stadium, England's limitations as contenders for the World Cup were transparent. If Jonny Wilkinson's dodgy goal-kicking can certainly be remedied, other failings will be less easily dealt with.
The fright in the Dunedin night could have been worse. As Martin Johnson, the England manager, put it, referring to Argentina's first fixture in the previous tournament: "In 2007 France would have bitten your arm off to win that game, and we would say the same." By sneaking a 13-9 win despite Wilkinson's five missed kicks from eight shots, England still have their destiny in Pool B in their hands, if not quite reassuringly at the blond maestro's feet.
"We could easily have lost that game, that's blindingly obvious," said Johnson. "You do think, 'Christ, it's going to be one of those days,' but World Cup games are about finding a way to win." He has said it before, he said it yesterday and no doubt he will continue saying it during the matches with Georgia on Sunday and Romania six days later – both here in Dunedin's £100 million indoor stadium – before the joust against Scotland in Auckland on 1 October. As a mantra it may not sing like Adele but it is the straw Johnson will continue to cling to.
England's smart-alick choice of black kit will not be seen again in the World Cup. Let us be clear, if the colour meant nothing, why choose black; if it meant something, then choosing it was either designed to cock a snook at New Zealand sport or break down some mental barrier: neither of which England have admitted to. They need also to abandon the second-rate skills and straining to make things happen that cost them penalties in double figures and might have been a hundred-fold more calamitous if Martin Rodriguez had been any more reliable than Wilkinson. The Pumas' full-back had five kicks off target, from mostly long range; Felipe Contepomi also missed once before joining another key Puma, Gonzalo Tiesi, in going off injured before the first half was up.
The means to learning the lessons will be to give attention to why the New Zealander referee, Bryce Lawrence, pinged England loud and often, including showing a yellow card to Dan Cole for an innocuous grapple in the maul after 38 minutes. And then take a guess as to whether Mr Lawrence's counterparts on the World Cup panel will take the same decisions. Sorting out the Eurozone economy would be easier.
Much more usefully, they can take the substitute scrum-half Ben Youngs' lively introduction for his first action since the end of last season as the cue for the way ahead. When an unusually discombobulated Wilkinson snubbed the kicking tee and went for the corner with Argentina 9-3 up and 13 minutes left, Youngs finished off a try made by an assured line-out catch by Tom Palmer and dynamic pick-and-goes infield. Simple, eh?
These two countries are marked out by the vastly different resources at their disposal – Argentina's mostlyFrench-based team had played one semi-serious Test in 10 months – but they share an agoraphobic mistrust of the wide game. Twelve-thousand miles is a long way to come if you are going to be scared of flinging the ball a few yards to the wing. Ben Foden's return to making line breaks offered hope but his 29th-minute raid ended cringingly when he appeared to know neither when nor how to get the obvious pass to Delon Armitage.
If England simply aim to outlast opponents – which was more or less what Johnson admitted got the finalists of the last two World Cups through this challenge – it is a policy with a limited shelf life. They need to spend the 160 minutes against the Georgians and Romanians exploring the capability of Manu Tuilagi, Armitage and Chris Ashton to attack at pace and with a variety of angles. It is asking too much for the creativity and teamwork to match that of the authentic All Blacks – those fielded by the host country – but as a complement to the grunt up front it is non-negotiable if England are going to do anything here.
In the short charges of Andy Sheridan, the scrummaging (mostly) of Dan Cole and Matt Stevens and the enforcer acts of Courtney Lawes, there was the requisite hard edge. That is a given. What was faintly worrying was that the anger-ometer flickered close to the red zone for Lawes and Armitage in the tense minutes leading up to half-time. Lawes's blind-siding of Tiesi was either a "hit" to add to the young lock's hall of fame or a punishably late tackle. At the last knockings, as breaks by Marcelo Bosch nearly turned England over after Wilkinson's penalty in the 74th minute, Tuilagi hauled Juan Imhoff down after the wing had kicked ahead. Imhoff wailed at the lack of a penalty; Tuilagi slunk away, relieved, as did all of England.
Argentina M Rodriguez; G Camacho, G Tiesi (J Imhoff, 36), S Fernandez, H Agulla; F Contepomi (capt; M Bosch, 27), N Vergallo; R Roncero (M Scelzo, 16-20; Figallo, 77), M Ledesma (A Creevy, 55), J Figallo (Scelzo, 57), M Carizza, P Albacete, J Farias Cabello, J Leguizamon (M Galarza, 78), J Fernandez Lobbe.
England B Foden; C Ashton, M Tuilagi, M Tindall (capt), D Armitage; J Wilkinson, R Wigglesworth (B Youngs, 49); A Sheridan (M Stevens, 61), S Thompson (D Hartley, 61), D Cole, L Deacon (T Palmer, 65), C Lawes, T Croft, N Easter, J Haskell.
Referee B Lawrence (New Zealand).
Argentina
Pens: Contepomi, Rodriguez 2
England
Try: Youngs
Con: Wilkinson
Pens: Wilkinson 2
Register for free to continue reading
Registration is a free and easy way to support our truly independent journalism
By registering, you will also enjoy limited access to Premium articles, exclusive newsletters, commenting, and virtual events with our leading journalists
Already have an account? sign in
Register for free to continue reading
Registration is a free and easy way to support our truly independent journalism
By registering, you will also enjoy limited access to Premium articles, exclusive newsletters, commenting, and virtual events with our leading journalists
Already have an account? sign in
Join our new commenting forum
Join thought-provoking conversations, follow other Independent readers and see their replies