How rugby is aiming to rewrite its soundtrack on inclusivity
Homophobic language has long caused LGBTQ+ players to feel uncomfortable but the likes of Harlequins are hoping to help create a better environment from the grassroots up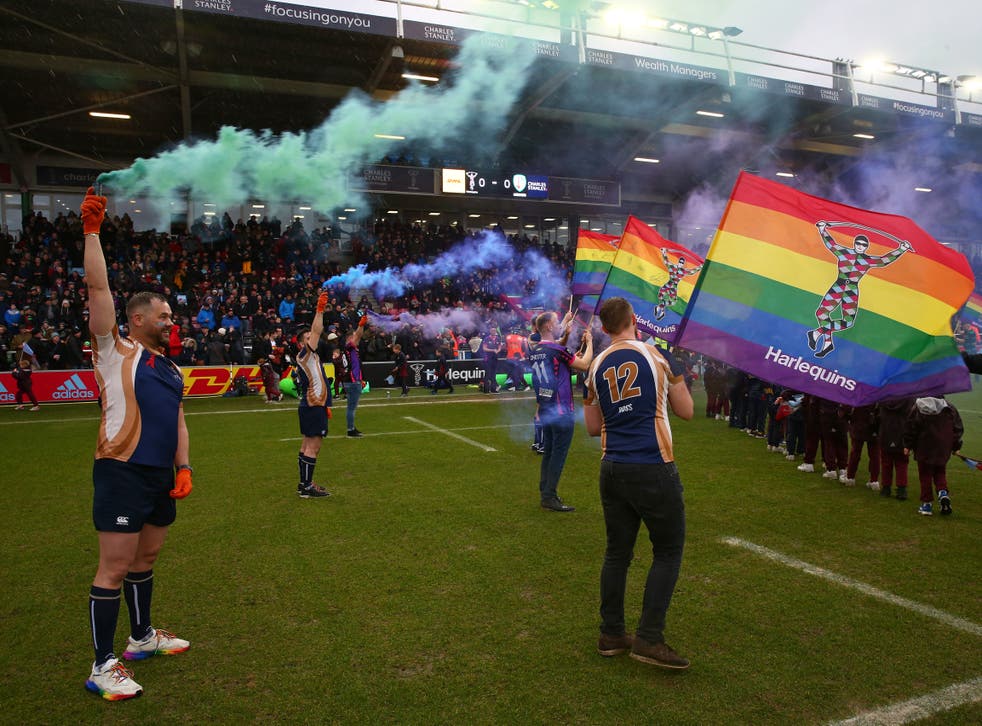 Devin Ibanez is reluctant to use grandiose terms like epiphany or near-death experience, but it's hard to understate quite how profoundly one tackle in March 2017 altered his outlook. Playing for Scarborough RUFC in the seventh tier of English rugby, a shoulder caught his Adam's apple and left him gasping for air. After being taken to A&E, where they discovered a puncture in his airway, Ibanez was told by the doctor that he was lucky to be alive. "In that moment, I took stock of everything that was meaningful to me," he says. "I thought about what I wanted from my life beyond rugby and that's when the seed was planted that I'd become an openly gay player." 
Three years later, having signed for the New England Free Jacks while constantly weighing the threat of what felt like global judgement against one man's hope, Ibanez became the first active Major League Rugby player to come out. "Signing that professional contract felt like my ultimate career accomplishment," he says. "I didn't want coming out to be the only part of my identity." The response to his Instagram post was unexpected and overwhelming, a tide of support that washed away his fears of being cast as an outsider. "You tend to only focus on the negative outcomes and almost become obsessed with them," he says. "I didn't take time to consider the positives. Hopefully, now, that's one less fear someone else will have as well."
While Ibanez's fears were proven incorrect, they were founded in harsh truths throughout his career. At Scarborough, he had kept his sexuality secret only for his teammates to find out he was in a relationship with someone living in the small town. Soon, a "banter culture" emerged, with some players making derogatory remarks, once even as Ibanez was coaching a group of children.
In February 2020, a study by Harlequins and Monash University found that two-thirds of players had heard homophobic abuse during training or matches in the space of a fortnight. It also found that 31 per cent of players didn't want that culture to change.
"[At one club] I had a coach who, if you made a mistake, would say 'you should go and play for the Ironsides'," Ibanez says. "They were the local inclusive club. Subconsciously, it gave that message that lesser players play with the gay players, there's a constant link being thrown around that you're less of a man. Even though I've had extremely supportive teammates and coaches, the same care doesn't go into creating an environment where people actually feel safe to come out."
At the peak of the English game, Harlequins are successfully attempting to change that. A year ago, they hosted the sport's first Pride Game with the aim of celebrating LGBTQ+ participants and a guard of honour featured amateur players from gay-inclusive clubs like the King's Cross Steelers. Recently, the Harlequins Foundation also launched an LGBTQ+ supporters' association, becoming the first Premiership club to do so.
"Our intent has been to spark conversations so people can feel more comfortable being themselves," says James Swanson, who has been instrumental to the project. "The Pride Game galvanised people and gave them the confidence that they'd be welcomed wholeheartedly. They weren't sure where to go or if there was a place for them but now they know there's a safe environment where they can be themselves."
For the Steelers, the world's first gay-inclusive rugby club, that has always been their guiding principle. Founded over a conversation between friends at a pub in Kings Cross in 1995, they offered a sense of community bereft of the usual stereotypes that left many players feeling scared or unsupported. Back then, their inception was greeted by the tabloid headline 'Harliqueens'. Now, they are the subject of a critically acclaimed documentary that will air on Amazon Prime on Friday, charting the personal journeys of three players.
"As Drew [a Steelers' prop] says in the film, you can come to the rugby club and still be brutal on the pitch but then be flamboyant as a drag queen or be able to talk about mental health," says Matt Webb, the club's chairman. "I think it's helped people to realise that there are different facets to rugby. It's not just about toxic masculinity. We have straight players who've joined us because they don't like the culture at some clubs. If say they're a teacher and they're telling children to be polite and friendly, they don't feel comfortable being in an environment where language is being used that wouldn't be accepted anywhere else." 
It might only be one element, but changing rugby's soundtrack is vital to it becoming a voice for inclusivity. "If there is ever homophobic language used and we're made aware of it, we'll always investigate it and take action because it's so important to set that example," says Sue Day MBE, a former England international who now serves as the Rugby Football Union's chief finance officer. 
Even with role models like Gareth Thomas, the former Wales international, and the now-retired referee Nigel Owens, Day stresses that it's just as important to ensure that coaches at grassroots level understand how to include players so rugby's next generation can benefit from a prevailing culture that's more open and accepting. "It's programmes like that which we're working hard to promote," she says. "So when you're a kid at a club for the first time, it's more talked about and relevant. It can feel like people in positions of power care about you and want to make things better. People like the Steelers have really helped to make it part of the conversation. How to include LGBTQ+ people is not a new idea, it's on everyone's agenda."
That's a sentiment echoed by Webb, who's worked closely with the RFU, the Harlequins Foundation and the Exeter Chiefs in order to put those aims into practice. "Rugby has always been tolerant, now it needs to be welcoming and inclusive and celebrate the diversity in it," he says. "I've been called all sorts of things on the pitch but it's not me I'm worried about. It's the 13-year-old who hears it after training. They're the ones that could end up captaining England 15 years later. You've got to focus on the grassroots that feed into the clubs, the professionals and the England camp. If inclusion and tolerance and diversity are at the forefront of everything they do, someone can come out and be authentic throughout their whole rugby journey."
"By doing that, we can also take away the media sensationalism around who's going to be the first [active Premiership player to come out]," adds Swanson. "Then, if they want to be on that platform, there's an environment in place to support them."
For much of his career, when he wrestled with the idea of coming out publicly, Ibanez doubted whether that type of welcoming structure could ever be in place. "There's a reason those hesitations exist but it gives me hope," he says. "I hope other people see the response I got and think they can still be celebrated for being a talented rugby player. It is possible to come out and be celebrated and not be alienated in the way you fear."
Join our new commenting forum
Join thought-provoking conversations, follow other Independent readers and see their replies