New Zealand 28 England 27: All Blacks' masterful success is a matter of mind over muscle
Lancaster will seek in vain for a magic wand to develop similar experience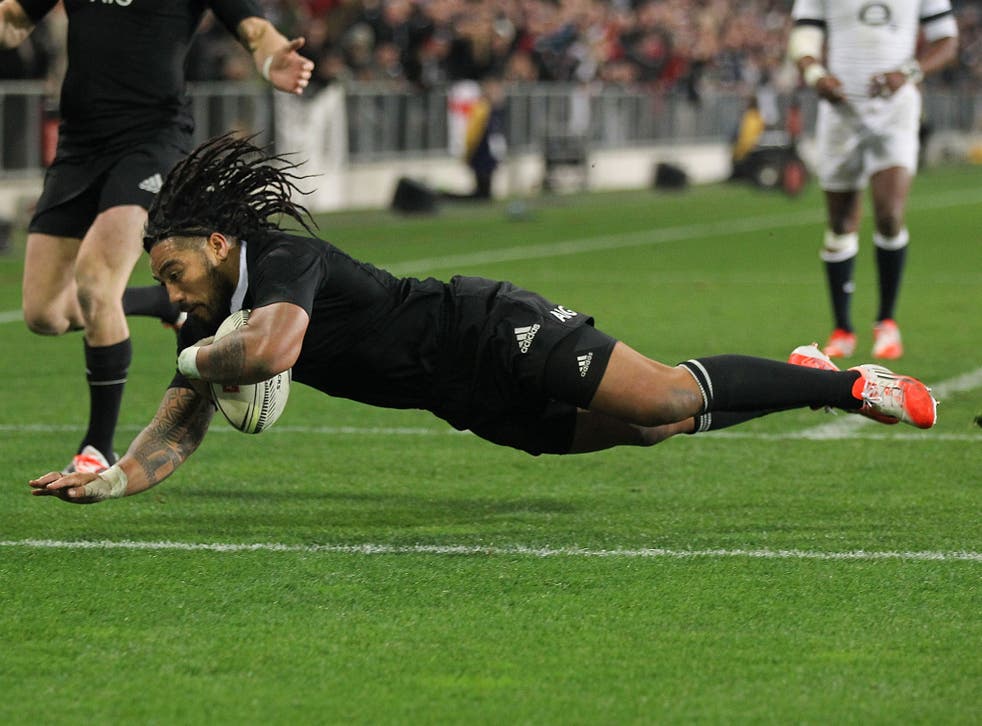 An unusually wise man once described simplicity as "the ultimate sophistication" and, while there is no firm evidence that Leonardo da Vinci ever had the good fortune to watch the All Blacks play the rugby of the gods, the point is well made in their connection.
The three tries New Zealand put past England in the space of 20 spellbinding minutes in Dunedin on Saturday confirmed, as if confirmation were needed, that at its highest expression the union code remains a sport of mind over muscle.
It is not quite true to say that the tourists offered nothing but brawn while the world champions had the monopoly on brains, but for the whole of the third quarter – so often the exclusive preserve of outstanding New Zealand sides – and the first few minutes of the fourth, England did not have the foggiest idea what was being done to them by whom, or for what reason.
The fact that Stuart Lancaster's charges responded with two late tries and somehow finished within a point of their hosts at 28-27 is another story entirely – a creditable one, to be sure, but of questionable relevance.
New Zealand 28 England 27: Second test player ratings

Show all 32
All of which begs a serious question of England as they move ever closer to next year's home World Cup: does Lancaster possess enough players blessed with the rugby intellect to out-think opponents as clever as, say, the three unrelated Smiths who have made such a startling impact on the current three-Test series? A series already lost with one to play, it should be added.
The scrum-half Aaron Smith, such an influential figure in the opening match in Auckland, did not wield the whip to quite the same effect here in the South Island, although he looked extremely good at times. There again, he could afford a night off.
The multi-tasking full-back Ben Smith was, according to Lancaster, the "difference between the two sides", while the centre Conrad Smith cut so many geometrically precise lines, and ran them with such exquisite timing, that any lingering argument over the identity of the world's best No 13 was rendered null and void.
Throw in an outside-half as street-smart as Aaron Cruden and a powerhouse wing who combines ferocity with finesse as captivatingly as Julian Savea and you have quite a back division. And we have yet to mention Ma'a Nonu, who might be described as a billionaire's version of the much-vaunted Northampton midfielder Luther Burrell, or Beauden Barrett, a substitute playmaker who would not spend too much of his career slumming it on the England bench… or, indeed, a character by the name of Daniel Carter, who ended his sabbatical at the weekend with an outing for Southbridge, his hometown club in rural Canterbury.
When the All Blacks set the game ablaze in the minutes after half-time, England melted away like cheap candlewax. And if the red-rose hierarchy are honest with themselves, as they must be, can they legitimately argue that Owen Farrell, furiously combative but clearly ready for a long rest, has the skill set to flummox opponents in the way Cruden did in creating the first New Zealand try for Ben Smith? Or that any midfielder in this vast tour party of 47 players might run the angle that allowed Conrad Smith to free Nonu for the third touchdown? England have not had that kind of weapon in their outside-centre armoury since Jeremy Guscott packed it in, a decade and a half ago.
None of this is to belittle the parts of the game that went well for the visitors. Teams do not smash the All Blacks out of their stride from the kick-off, go 10 points up with well-executed plays straight off the training field and put themselves in a position to turn round 17-3 to the good – as they surely would have done had Manu Tuilagi been enough of a sprinter to maximise his own lone-wolf attack from 80 metres out – without doing something right.
But as Lancaster acknowledged yesterday after re-running the game on the video, chewing the fat with his fellow coaches and then watching it over again, the clean, uncluttered simplicity of the All Blacks' attacking game, executed at extreme pace, is devilishly difficult to emulate.
"I think individual talent comes into the equation," he said. "When you replay the match, you see there were certain people performing at the highest level. A lot of the big-game players turned up for them and when the opportunities came, they took them.
"I'd like to think there is a magic wand I could wave to develop the kind of experience that might move our decision-making forward, but I don't suppose there is such a thing. I look at the strides we've taken, but I recognise we have further to go.
"When you're dealing with players who are in single figures in terms of caps, you support them as best you can and do everything to ensure that they learn from what happens to them. Ultimately, there is no way to develop experience other than to do what we're doing. The All Blacks have an average of 50 or 60 caps per player. We're not quite up to that level."
Another thought occurs: having selected the most physically intimidating back division available to them, why was it that England spent parts of the contest attempting to beat the All Blacks at their own quicksilver, space-aware game? Cruden, Savea and all those Smiths must have thought they were in seventh heaven. Certainly, they would not have tried anything remotely as daft had the boot been on the other foot.
Even now, it is possible to see how Lancaster's side can prevail over the New Zealanders. It is, however, extremely difficult to work out how they can do it by playing an Anglo-Saxon version of all-singing, all-dancing rugby. Dominance up front, an accurate kicking game and a much higher ratio of sound man-management decisions is patently the way forward. It may not be fun, but it will be a whole lot simpler than rediscovering the lost art of alchemy and turning base metal into gold.
Join our new commenting forum
Join thought-provoking conversations, follow other Independent readers and see their replies