Alun Wyn Jones: laying down the law
The Lions Lock can't remember a more exciting time for Wales. But the second-row with a law degree is bright enough to know the regions are in trouble. He talks to Chris Hewett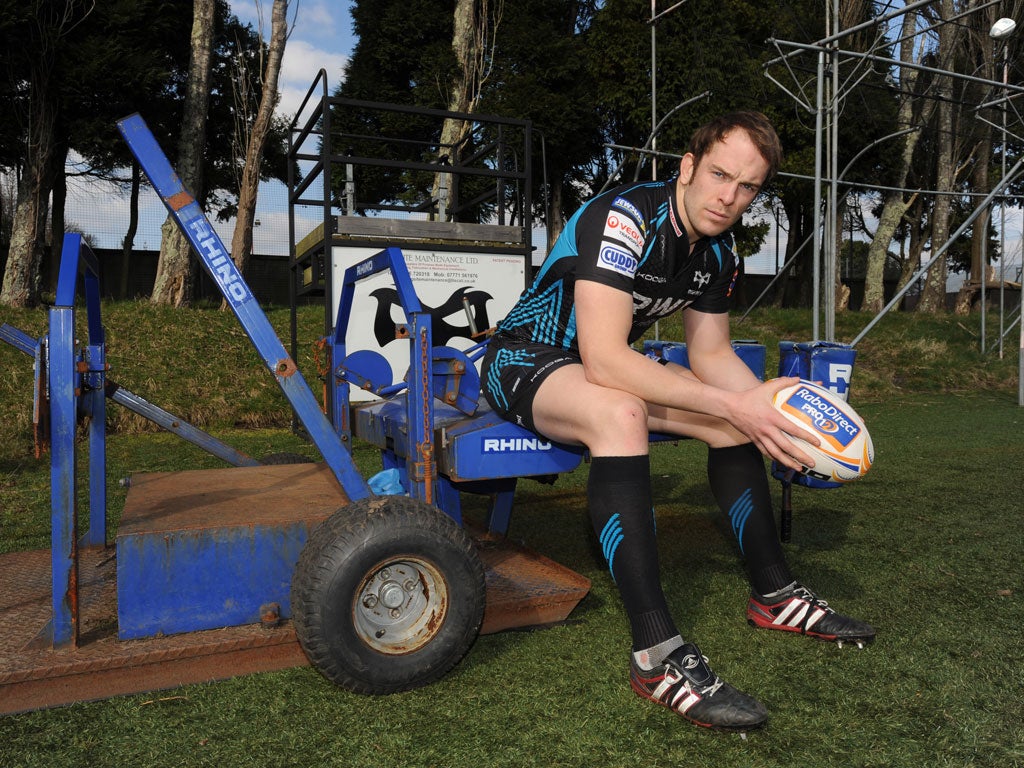 Strictly speaking, the team list for last weekend's Grand Slam game between Wales and France should have referred to Alun Wyn Jones LLB. "No one ever puts that in the programme, not that I've ever made a point of asking," says the Lions lock after dragging himself away from the familiar comfort of a crummy old sofa at the Ospreys training ground in Llandarcy. "It took me five years to finish that law degree, thanks to rugby. Will I put it to use when I retire? Dunno, really. I might go into conveyancing, or maybe probate: land and death are two things that will always be with us. There again, I might do something else. The law's an ass."
It is an immutable law of the union game in Wales that regardless of the scale of the achievement on a Saturday, someone will be moaning come Sunday. After Jones and his countrymen secured a third Grand Slam in eight seasons by beating Les Bleus in a seriously tough encounter before a rapt capacity audience at the Millennium Stadium, a clean-sweeping Welshman of another sporting age, the great 1970s full-back JPR Williams, could be heard calling for the country's regional teams to be disbanded, dismissing the system as "dire" and branding it "a disgrace".
Jones rolls his eyes. "I'm essentially a foot soldier," he says, "and when it comes to the politics, foot soldiers tend not to get involved. I think a big part of the problem is the failure of the four regional teams to do as well as people think they should, especially at European level, and if you're asking why that is, I don't have an answer. But when you weigh everything up, you have to think something's going right if you move from a club structure to a regional one and then win three Grand Slams in a short space of time. "
What about the argument that the fabric of the domestic game in Wales is being irreparably damaged by regionalisation – a policy under which traditional rugby communities like Bridgend, where Williams played his bread-and-butter rugby, have been not so much marginalised as left to rot? "I come from the generation that broke into the senior game with a region rather than a club," Jones replies. "I think there were two players who came out of the Ospreys academy at the time – one was James Hook, the other was me – and we didn't know any different. I'm sure there are quite a lot of people who mourn the loss of the old local rivalries, but the way I look at it, the only thing that's changed is the geography. When I play for Ospreys against Scarlets, or travel a few miles along the motorway for a game against Cardiff Blues, I regard it as a derby. It might be a hybrid derby, but it's still a derby."
Great things were predicted for Jones after his initial appearances on the international stage – he made his Test debut as a 20-year-old on the tour of Argentina in 2006 – and for a while, it was assumed that he would captain his country on a long-term basis. He can probably kiss that idea goodbye, thanks to the vagaries and vicissitudes of form and fitness and the emergence of the remarkably assured flanker Sam Warburton as a natural leader, but at his best, the Swansea-born lawyer's son is a rare old handful. Some of his rugby on the British and Irish Lions tour of South Africa in 2009 was exceptional and he would have played in all three Tests, but for the fact that he was competing for the same shirt as the tour captain, Paul O'Connell. "Never easy when you're up against the skipper," he acknowledges with a rueful smile.
He is, however, captain of Ospreys: a very different Ospreys team this season and a side who will look different again come the start of the new campaign in September. Last summer, they lost three front-line international players – the scrum-half Mike Phillips, the full-back Lee Byrne and the aforementioned midfielder Hook – to the vast sums of money on offer in France, and will see a few more regulars, including the Lions Test wing Tommy Bowe, disappear in various directions over the coming weeks. There has also been considerable movement amongst the coaching staff: no more Scott Johnson, no more Sean Holley. All changed, changed utterly.
"We're not the galacticos any more – not the glitterati," Jones acknowledges. "But that may be no bad thing. In recent seasons we were definitely a team of 'names', but sometimes you have to be careful with that because people who join the club, especially from overseas, come for different reasons. We have Steve Tandy in charge now and I see that as a positive: it's good to have someone making decisions who was here as a player right from the start and really understands the place. And while I have to accept that we've regressed in terms of Heineken Cup performance, it's not as if we won the thing when all the big names were here. And anyway, we're still in double figures when it comes to Wales call-ups and we have our play-off chances in the Rabo [the Rabo Direct Pro12 league]. Things are always a little edgy and uncertain in times like these, but I'm quite happy with the way it's shaping up here. If I wasn't, I would not have stayed."
Like so many of his fellow internationals, Jones was a target for the euro-spinning clubs across the water. "I had my opportunities," he says, "and I might well end up going to France some day. But this is home – this city, this team – and at the moment, that's important to me. Most significantly, this is where I have my support network, and without that network I'm not sure I'd have played any part in that Grand Slam (Jones suffered a fracture dislocation of the toe in training after returning from the World Cup in October and missed the first two Six Nations games).
"I'd like to experience the French scene in the future, but I don't sit around worrying that it might not happen. No disrespect to the clubs over there, but I'd rather give of my best here than shoot off too soon. I'm 26 now and I'll be 28 when my contract expires. Let's see what happens after that."
What happens next, on the international front, is a three-Test trip to Australia in June. "Never set foot in the place," Jones says. "Apart from Sydney Airport, that is." Is it fair to assume that Wales, having eased the pain of the near-miss at the World Cup by beating all and sundry in the Six Nations, will for once fly south in expectation rather than hope? "Definitely," he responds. "I see this Grand Slam as vital to our development, because following the World Cup we placed a huge importance on underpinning and reinforcing what we'd achieved down in New Zealand. If we hadn't won the Six Nations, that work wouldn't have been done. As it turns out, we're in a better place now than we could possibly have imagined a year ago.
"It's funny the way things turn out, isn't it? We lost to France by a point in that World Cup semi-final, but beat them at the weekend to win the title. Now, we play Australia three times – four, if you count the game in Cardiff in November – and have the chance to pay them back for that defeat in the World Cup third-place game. If I believed there was such a thing as divine fixture retribution, I'd see this as proof.
"I can't remember a more exciting time for the Wales team. One of the things regional rugby has given us is real scope when it comes to players, real pressure for places: if you look at my position, there are half a dozen of us chasing two starting spots. We're finally in a position to do things the way the big southern hemisphere nations do them: use tours and autumn internationals to look at options and combinations, then work towards achieving critical mass for tournament rugby.
"What I want now – and I'm not being greedy – is to move in the same direction with Ospreys and turn ambition into success. Now that I've been involved in a couple of Grand Slams, a question occurs to me: is it better to win the same thing over and over, or win everything once?" Instead of giving an answer, he reserves judgement. It must be the lawyer in him.
RaboDirect, the straight-talking savings bank, are sponsors of the RaboDirect PRO12. Visit www.RaboDirect.ie and follow them @RaboDirectIE
Join our commenting forum
Join thought-provoking conversations, follow other Independent readers and see their replies