Brian Ashton: It's the crash, bang, wallop that's damaging our clubs
Tackling The Issues
Brian Ashton
Saturday 28 January 2012 01:00 Comments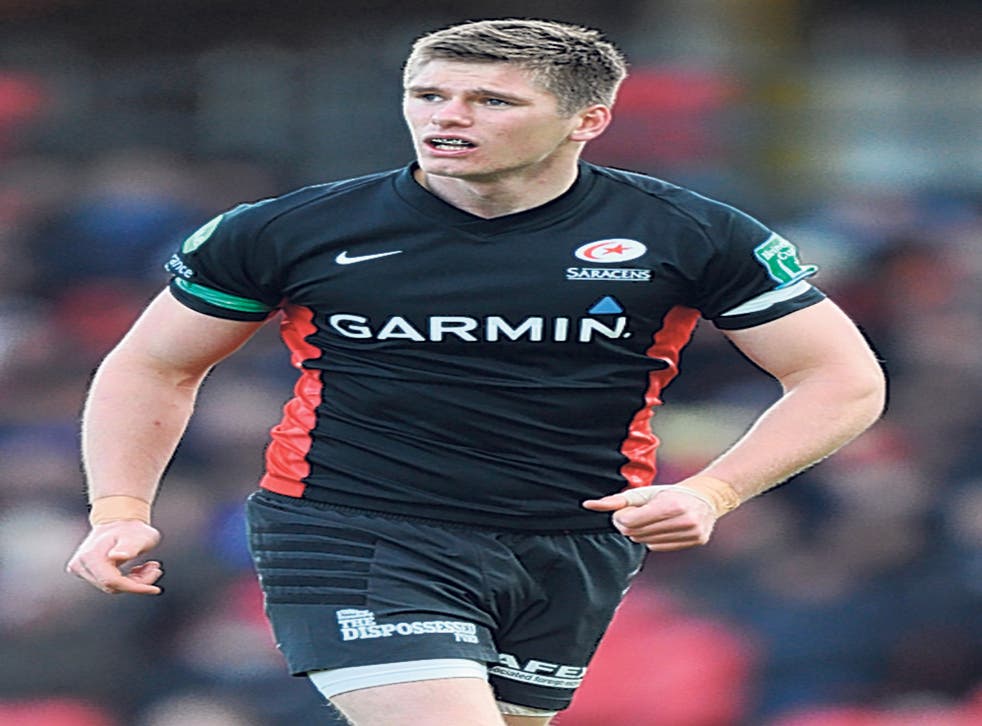 Top viewing, edge-of-seat stuff...the last round of Heineken Cup pool games lived up to its billing in many ways, producing a good deal of tough yet innovative and ambitious rugby to lift the spirits of all genuine union followers.
Only those with a particularly tribal mindset could have been disappointed – together, of course, with the Premiership grandees, who are now pushing for a change in the qualification rules to give more English clubs access to the elite European competition. Can this be right? Please, let's not go out of our way to appear arrogant in this country.
Saracens were the only Premiership side to find a way into the knockout stage and even they spent a large part of their weekend scrabbling indecisively before beating Treviso, one of those pesky Italian teams who, according to some, should not be in the tournament at all. In the event, Treviso were more than a match for the English champions in a number of areas and it was pure inexperience in the dying minutes that prevented them causing an upset many would have seen as seismic.
This English qualification struggle is in danger of becoming part of the fabric of the sport and the explanations – some would call them excuses – have been trotted out ad nauseam. There are elements of truth in all of the reasons put forward for repeated Heineken Cup failures: financial problems surrounding salary caps and contract issues; the imbalance in squad sizes; the presence of relegation in England and its absence in the Celtic lands; the intense physicality – something spoken of with pride when it suits the people involved – of the week-by-week proceedings in the Premiership. But are these things really as they seem? Are we honestly claiming that squads in England are smaller and of lower quality than elsewhere? Does not the fear of relegation enhance the competitive mindset of any player worth his professional salt? Just wondering aloud.
To my mind, the problems are elsewhere – not least in what seems to me to be the official designation of rugby, at least in England, as a "collision sport" rather than a "contact sport". The art of evasion is passé; heavy objects running into each other has become endemic. I swear there is another form of football, played with crash helmets and protective padding, and extremely popular in a very large and powerful corner of the free world, where this approach is embraced more completely.
The "collision" obsession has had a massive knock-on effect on rugby and, while it was interesting to read the recently published research indicating that injury levels have stabilised over the past two or three years, I am tempted to suggest that, although this is a feather in the cap of conditioning coaches, who have clearly been redoubling their efforts in pursuit of ever-bigger, ever-stronger players, it is not necessarily a triumphant reflection of the way the union game is going in these parts.
English rugby's gym culture begins at a very early age, with those youngsters fortunate enough to have been identified as having potential soon enjoying (if that is the right word) the benefits of a specialised development programme in which 50 per cent of practical work is carried out amid the dumb-bells and leg-press machines. Add to this the huge emphasis on core skills, an area traditionally taught exceptionally well by schoolmasters, and it makes you wonder how much time is spent actually playing games.
I'm the first to acknowledge the importance of good technique and conditioning at the base of the performance pyramid, but it strikes me as downright crazy that young players are not encouraged to move a little further up the structure during their most formative and naturally creative years. Why is this happening?
Let us ask ourselves where most of our sporting population, be they rugby enthusiasts or not, first experience the thrill of playing games with and against one another. For those of my generation, it was in the street; for others, it was in the park; for all of us at one time or another, the school playground was the place. At my junior school, rugby league was played across the yard, football was played up and down it, and there was skipping and hopscotch going on smack in the middle of it all. We made it work, because that's what kids do.
And what did this game-playing give us? Enjoyment, for a start: children run around (in an evasive way, not a collision-based way) because it's natural to them. They explore their creativity without the heavy hand of "he who knows all" interfering with the process. It may appear chaotic from the outside, but the youngsters involved make sense of unstructured environments by showing a degree of discipline – by behaving responsibly and accepting that someone in the group will emerge as an organiser, a leader. The mavericks? Peer-group pressure sorts them out. Order is imposed on chaos as the participants learn to handle themselves in a maelstrom of uncertainty. In short, they develop an awareness of how games function, without the input of a coach or referee.
And then? Then the man in the tracksuit comes along: whistle at the ready, coaching badge on chest, certificate in pocket. All too soon, the sense of freedom becomes nothing more than a distant memory. Drills abound – the military would be proud – and training fields are covered with the widest possible array of artificial aids. I have personally witnessed, just recently, the sight of under-10s running into (rather than around) tackle shields as big as they are.
As things progress, for want of a better word, the focus shifts: to the closed world of set-piece perfection and to the collision-based game, which makes obsolete the evasive skill of the playground. And, of course, there is the worship of defence as key.
Over the past three years, I've discussed these issues with coaches of every level. More often than not they prioritise the factors just mentioned over any consideration of the attacking game. It defies belief. God forbid that a team should even think of running the ball from their own 22.
Still, I suppose none of the above had an impact on the failure of all but one of England's seven Heineken Cup clubs to reach the quarter-finals.
Register for free to continue reading
Registration is a free and easy way to support our truly independent journalism
By registering, you will also enjoy limited access to Premium articles, exclusive newsletters, commenting, and virtual events with our leading journalists
Already have an account? sign in
Register for free to continue reading
Registration is a free and easy way to support our truly independent journalism
By registering, you will also enjoy limited access to Premium articles, exclusive newsletters, commenting, and virtual events with our leading journalists
Already have an account? sign in
Join our new commenting forum
Join thought-provoking conversations, follow other Independent readers and see their replies