Scotland Six Nations: We must keep the faith and hope for Scotland the brave justice prevails
Just imagine if England had authored Scotland's 21-phase try against Wales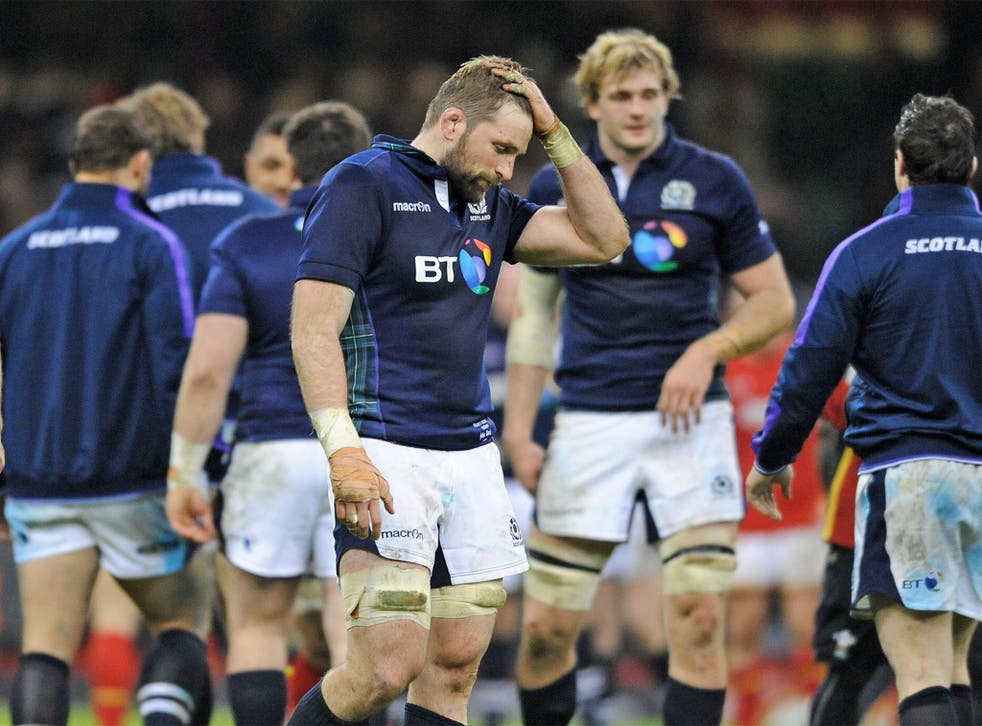 For all the verve of the Scotland backs under Vern Cotter, it is instructive that not even Hogg or Visser has yet managed a sprint quite as unswerving as Craig Joubert after blowing his whistle in the World Cup quarter-final. The referee fled the scene like a welshing bookie, unable to shed a comically furtive mien though perfectly aware that everyone was staring at him.
Joubert's failure even to proffer a handshake to either captain was widely interpreted as an admission of guilt over the penalty that had just denied Scotland their due as the only northern hemisphere team in the last four. On the face of it, his bolt from the blues perfectly condenses the paradox that this side could become Scotland's best of the professional era – and yet finds itself in an excruciating Six Nations rut. They return to Rome next weekend seeking a first success in the competition since a 21-20 win there, two years ago. And a last-minute drop goal that day is all that restricts their barren run to nine, rather than 14.
Last Saturday (once again) Scotland played some terrific rugby in Cardiff, a narrow defeat contingent (once again) on an official's blunder. But you know what they say about making your own luck. The whole Joubert debacle, for instance, could have been avoided but for a ham-fisted line-out with just two minutes to see out. Scottish friends, that evening, were candid that the Culloden narrative held good: heroic underdogs brought down by the callousness or cynicism of power. Far better, they said, to feel robbed than to have deeper issues ruthlessly revealed in a semi-final.
It's a perilous mindset: Scotland the brave, but only because the odds are always against her. But the present political dysfunctions between Edinburgh and London, arguably consistent with a broader hysteria infecting democratic discourse either side of the Atlantic, will never dilute a personal attachment to Murrayfield.
This was forged by the last great team of the amateur era, at a time of corresponding freedom from care in our own lives, with an annual pilgrimage of friends either to Dublin or Edinburgh for the most convivial international fixture in all sport. And, above all, in the ritual odyssey from the sumptuous Café Royal, hidden up the steps opposite Waverley, hither and thither until our blurred homing instincts took us unerringly, via cobbles and mews, to Kays Bar, that snug national classic, where I always preserve the memory of one departed friend, as invulnerably mellow in the malty sepia of whisky and wood as she could hope to be in any afterlife.
Sometimes we buttoned our coats in astonishment, as we emerged from some dark smoky lair or other, against a sudden Friday afternoon blizzard, so that the distant hills were flecked white as we walked out to Murrayfield next day, clutching my usual, incorrigible betting voucher on a Scottish Grand Slam. (Including 1990? Oh yes.) Oh, my Rutherford and Laidlaw, my Calder and Jeffrey, of long ago...
The Irish, of course, have thrived incomparably in the transition to professionalism. Despite the draw of Gaelic games, Scotland has less than half the Irish male adult playing population – 11,000, as against 25,000; fewer even than Italy, never mind the six-figure pools of England and France.
There was a moment in Cardiff last weekend when John Barclay, fine player that he is, irresistibly evoked the old days in his despairing grubber into touch: a moment of authentic panto, as Hogg tore into his slipstream for the lay-off. (He's behind you!) Finding himself leading a breakout, Barclay exuded a corporate dismay – on behalf of flankers everywhere – with this tiresome modern assumption that every player in every XV should be able to barrel 100 metres in 11 seconds, while pulverising any bison straying into his path.
Glasgow's success against Munster in the Pro12 final last season sets a heartening template. And just imagine if England had authored Scotland's 21-phase try, in response to that flying start by Wales.
You suspect there may be a self-fulfilling quality to the one or two little steps still dividing Scotland from their potential. Flaws in the line-out and overall game management, for instance, may simply reflect a chronic lack of confidence. Eleven of the 23 in Cardiff have still to win a Six Nations match. Rome is both the best and very worst of next opportunities: a game they should be favourites to win, but one that conjures some very recent demons.
If there is any justice, things will fall into place for the one team whose intentions keep faith with that extraordinary climax to the last tournament, when the stronger teams exposed their inveterate dread of risk in a 27-try carnival – even this, as the title came down to points difference, a consequence of dogged pragmatism. That showed how fraudulently they rein in their capacity for adventure; what the game could and should be like.
There is no justice, of course. But if that can be something of an article of faith with Scotland, it should not be confused with a reason to despair.
Join our new commenting forum
Join thought-provoking conversations, follow other Independent readers and see their replies