Welsh Rugby Union considers microchipping mouth-guards in effort to reduce incidents of concussion
The cutting-edge technology, already being worn by all Ospreys players as part of a pilot trial, could be rolled out across the four Welsh regions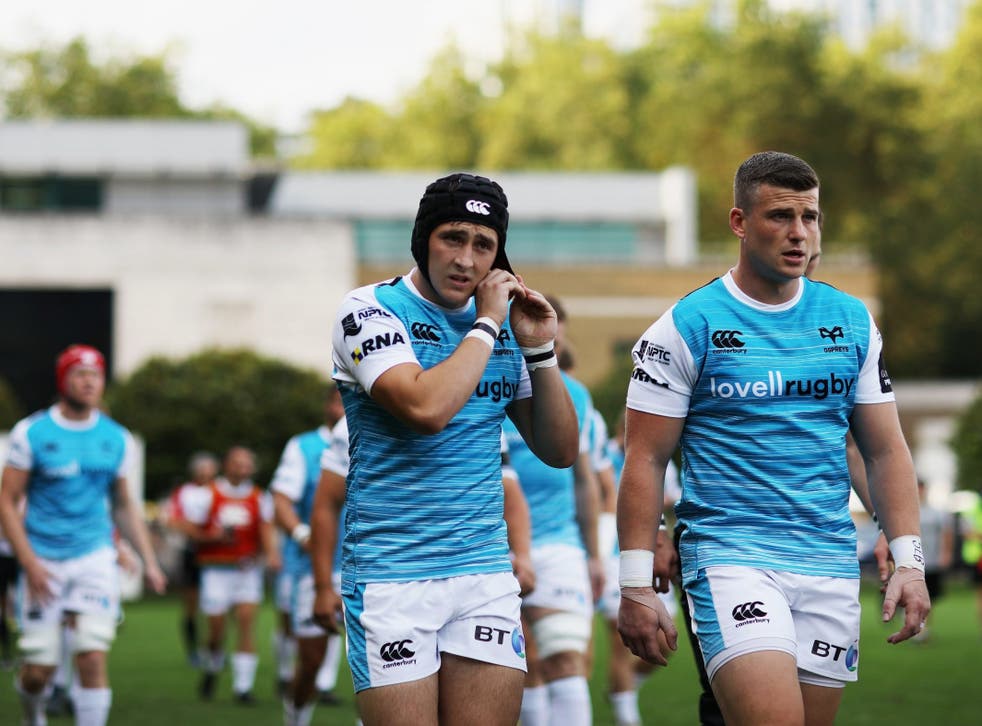 The Welsh Rugby Union is considering a proposal which would see all top-flight players in Wales asked to wear microchipped mouth-guards as part of a huge data gathering exercise aimed at reducing concussion and other injury rates.
The cutting-edge technology, already being worn by all Ospreys players as part of a pilot trial, could be rolled out across the four Welsh regions after WRU national medical manager Prav Mathema met with manufacturers and was impressed by initial findings.
Mathema and his medical department are set to monitor the Ospreys trial with a view to introducing the mouth-guards across the professional game if real-time data demonstrating the force of impacts players sustain in training proves effective in pinpointing where and when injuries occur.
Six Nations Team of the Tournament

Show all 24
"The main driver for us here is player welfare," Ospreys chairman Roger Blyth, who is an investor in the technology, told The Independent. "Given our background we see this as an integral part of where the game is going. The more we can do to get more informed data to make more informed decisions about training loads, games etc and each individual player's welfare the better.
"The key to this is that it provides actual data, not speculation which shows that an impact was real. It's up to the administrators to demonstrate they are making a genuine effort to make their sport safer. If you want to grow the sport you've got to be seen to care and make it as safe as possible. Obviously there is a commercial element because without that we wouldn't have the wherewithal to drive the project."
Professional rugby union has seen a significant spike in reported concussions in recent years with head injuries now the most prevalent injury in a sport searching for ways to reduce the number of concussions suffered by players.
A trial is set to be introduced in the Championship Cup in England this season, in conjunction with the RFU and World Rugby, which will see the legal height of the tackle reduced from above the line of the shoulders to above the armpit. Some feel the move is too little, too late and that more radical action is needed to improve player welfare.
However, there remain concerns over the accuracy of data generated by on-field data in a sport where huge collisions are routine.
Three years ago English Premiership giants Saracens launched a trial to great fanfare using microchipped adhesive patches which players wore behind their ears. The trial was shelved with less fanfare because the data generated was not deemed accurate enough for serious analysis.
No data has ever been published from the study, which was run in conjunction with the Drake Foundation, and Saracens players no longer wear the patches in training or in matches.
The latest mouth-guard design being worn by Ospreys players, has been tested on crash-test dummies in laboratory conditions and passed all safety tests, and the manufacturers have assured the WRU the data generated by their trial, run in conjunction with Swansea University, is generating sound data.
With data generation playing a huge role in determining the future of professional sports, the microchipped mouth-guards, could help shape changes to training methods and matchday loads for top players.
"The information will hopefully give the whole management team better information on each individual player around how they plan their training weeks," said Ospreys CEO Andrew Millward.
"If the players are being managed in a better fashion, with a long-term view, if it affects season structure where we know there are too many games going on and we need to shorten the season then we'll need to work together between the clubs and international unions to get a properly structured season to achieve that.
"It's inevitable it's change is going to come and it's important we're part of the solution. We shouldn't shy away things. If things need to change then they're going to change."
The mouth-guard technology, known as PROTECHT has impressed Dr Barry O'Driscoll, who resigned his position on World Rugby's medical board in 2012 in protest at the introduction of the controversial pitch-side Head Injury Assessment.
O'Driscoll has been a vocal critic of World Rugby's response to concussion concerns in rugby which have heightened significantly in recent years following studies in the United States which have identified Chronic Traumatic Encephalopathy (CTE), formerly known as Punch Drunk Syndrome, in retired and deceased NFL stars.
But he is cautiously optimistic the proposed mouth-guard trial in Wales could help provide answers to rugby's most difficult question; how do you reduce concussion without changing the fabric of the sport?
"This mouth-guard technology looks to be backed by science and is a serious attempt to address what is an extremely serious issue for rugby," Dr O'Driscoll said. "There is no eureka moment here but from what I have seen this is a serious attempt to reduce the amount of concussions players suffer in matches and training and get a better picture of their injury load."
Join our new commenting forum
Join thought-provoking conversations, follow other Independent readers and see their replies