Kyrgios & Kokkinakis vs Ebden & Purcell LIVE result: Special Ks win Australian Open men's doubles final
The all-Australian battle for the men's doubles title plays out on Rod Laver Arena
Dan Austin
Saturday 29 January 2022 14:08 Comments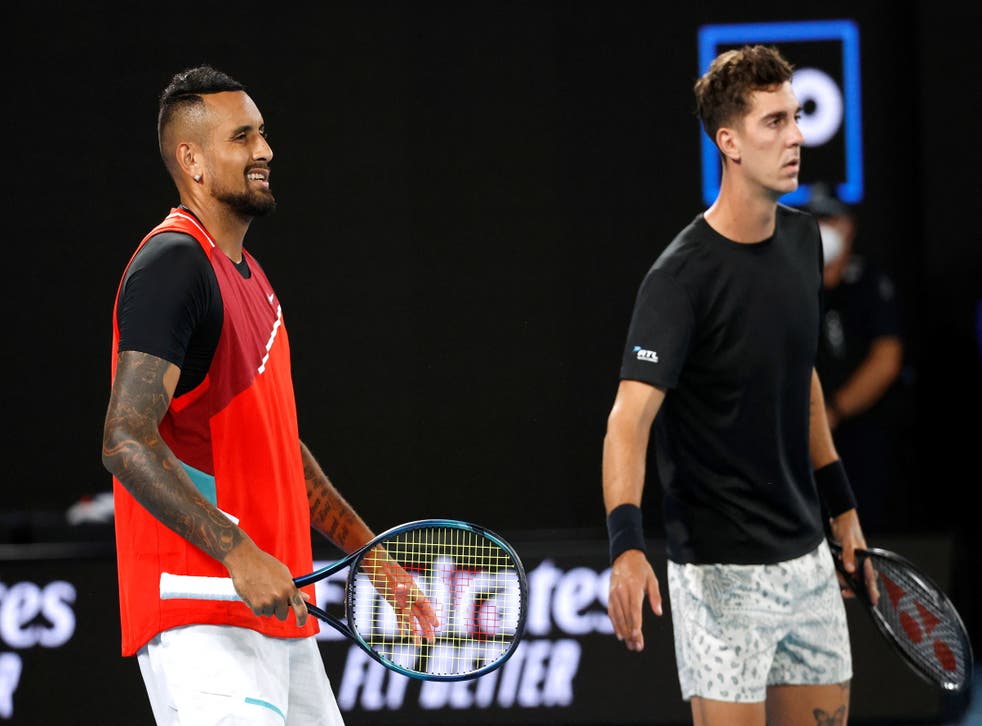 Nick Kyrgios and Thanasi Kokkinakis battle Matthew Ebden and Max Purcell in the 2022 Australian Open men's doubles final.
The enigmatic Australian has found new life in the doubles format this year, having battled hard but ultimately exited in the singles to men's singles finalist Daniil Medvedev in four sets in the second round.
The pair have brought a fresh attitude to the game, prioritising entertainment and fun each match, with Kokkinakis saying after their semi-final win over third-seeded pair Marcel Granollers and Horacio Zeballos: "It sounds stupid, but winning has been our second priority every time," Kokkinakis told reporters. "We hope to have fun, enjoy ourselves, enjoy our time on court. Hopefully they (crowd) feel like they've paid good money to watch us."
While Kyrgios, a controversial figure in the game, is eager to bring new fans to tennis: "If they flick on a match and they have Thanasi and I playing in an entertaining doubles match, they know nothing about tennis, if they watch that match just then, they probably would tune in next time. That's what I'm about. That's what I want to bring. I think that's how the sport is going to survive."
Follow all the live action from the men's doubles final below:
1643462775
Legend Laver congratulates Aussie pair
Tennis legend Rod Laver has congratulated Kokkinakis and Kyrgios on their superb debut Grand Slam victory.
The court the pair took victory on this afternoon is named after the 83-year-old Aussie, who won 11 Grand Slam singles titles in the 1960s.
Dan Austin
29 January 2022 13:26
1643462210
Kokkinakis and Kyrgios victory was long in the making
Thanasi Kokkinakis and Nick Kyrgios have been friends since they were nine-years-old, after meeting on the junior tennis circuit and attending the same tournaments across Australia.
Kokkinakis said earlier this week he remembers Kyrgios as "the chubby kid from Canberra", while Kyrgios said in the aftermath of their victory this afternoon that he "wouldn't want to do this with anyone else".
Both men talked up the prospect of competing together at more tournaments in the future.
Dan Austin
29 January 2022 13:16
1643461647
Amazing day for Australian sport
What an amazing day this has been for Australian sport.
First up, Ash Barty beat Danielle Collins to become the first Aussie to win the Australian Open in 42 years. The 25-year-old is without doubt the best women's player on the planet right now and will go into the rest of the year's Grand Slams as a strong favourite.
While Barty was celebrating her triumph, four more home favourites took to the court at Rod Laver Arena to contest the men's doubles final. Matt Ebden and Max Purcell are a smart pair of specialist doubles players, but in the end the pure talent of Nick Kyrgios and Thanasi Kokkinakis took hold.
A stunning few hours of success for everyone Down Under to revel in.
Dan Austin
29 January 2022 13:07
1643461323
Kyrgios has Grand Slam glory talent deserves
Nick Kyrgios is one of the most entertaining tennis players to have ever played the game, and the incredible level of talent he possesses is unquestionable.
His best results in Grand Slams had been underwhelming though, with quarter-finals singles appearances at Wimbledon in 2014 and in Melbourne in 2015 all he could muster.
Here, he played the best tennis of his career and harnessed the power of his world-class serve and superb forehand to finally take the major championship his ability deserves.
Dan Austin
29 January 2022 13:02
1643460996
Kokkinakis and Kyrgios delighted after Australian Open victory
Thanasi Kokkinakis and Nick Kyrgios are delighted out on the court at the Rod Laver Arena as they collect their trophies.
"What a week!," Kokkkinakis says. "First of all we'd like to congratulate Matt and Max. Great doubles pairing, difficult opponents. Secondly, Nick... I love your brother! I can honestly say we didn't expect to get anywhere near this. But thanks to your support we did. Couldn't ask for anything more." The atmosphere, the crowd, you set such a high standard and I love coming back here."
"This week has been a dream come true for me. I wouldn't want to do this with anyone else. I'm just super happy. I wouldn't have been here without my team and my beautiful girlfriend. I know this big boy [Kokkinakis] is going to be out tonight, so ladies... let's go! I've got to stop now, I've crossed the line!"
Dan Austin
29 January 2022 12:56
1643460763
Purcell and Ebden react to Australian Open final defeat
Max Purcell and Matt Ebden have bee reacting to their loss as they collect their runner-up trophies. "Firstly we have to congratulate our opponents, they played too well today," Ebden begins. "We had a great couple of weeks and didn't too much wrong tonight, but they played really well and I'm very impressed [by them]."
"Hopefully we'll see you more on the doubles court this year because it's hella fun to watch you two play," purcell adds. "Thanks to Matty too, I can't wait to pair up with him again. This is the biggest crowd I've ever played in front of and I hope to do it again."
Dan Austin
29 January 2022 12:52
1643460504
Purcell impress but Ebden struggles
The highly-rated Max Purcell did his reputation no harm here despite the defeat, serving well throughout the match and demonstrating plenty of smart play at the net to win a fair few points after being on the back foot.
34-year-old Matt Ebden, though, looked slow to react to often when volleying close-up, and struggled with his serve. Kokkinakis and Kyrgios targeted his service games and broke in each set, which was the difference in the end.
Dan Austin
29 January 2022 12:48
1643460364
Kokkinakis and Kyrgios fully deserve win
This was an excellent performance from Kokkinakis and Kyrgios against a pair of experienced, specialist doubles players with plenty of nous and skill in their locker.
The Ks have known each other since they were nine-years-old and their combination of superb serving and pristine shot selection saw them through in the end.
Dan Austin
29 January 2022 12:46
1643460222
*Kokkinakis/Kyrgios 6-4 Ebden/Purcell (7-5)
Kyrgios' serving hits an unreturnable serve and two aces to race into a 40-0 lead in the deciding game, before Kokkinakis slams a volley down the middle to take the championship!
A superb performance from both men, and what a moment for the two childhood friends.
Dan Austin
29 January 2022 12:43
1643460185
Nick Kyrgios and Thanasi Kokkinakis win the Australian Open!
Nick Kyrgios and Thanasi Kokkinakis are Australian Open champions!
They have beaten Matt Ebden and Max Purcell 7-5, 6-4 to take the championship.
Dan Austin
29 January 2022 12:43
Register for free to continue reading
Registration is a free and easy way to support our truly independent journalism
By registering, you will also enjoy limited access to Premium articles, exclusive newsletters, commenting, and virtual events with our leading journalists
Already have an account? sign in
Join our new commenting forum
Join thought-provoking conversations, follow other Independent readers and see their replies