Can Rafael Nadal - the king of clay - keep hold of his crown?
As his clay-court season starts today, Rafael Nadal tells Paul Newman in Monaco that he's just happy to be back from injury and able to play on his favourite surface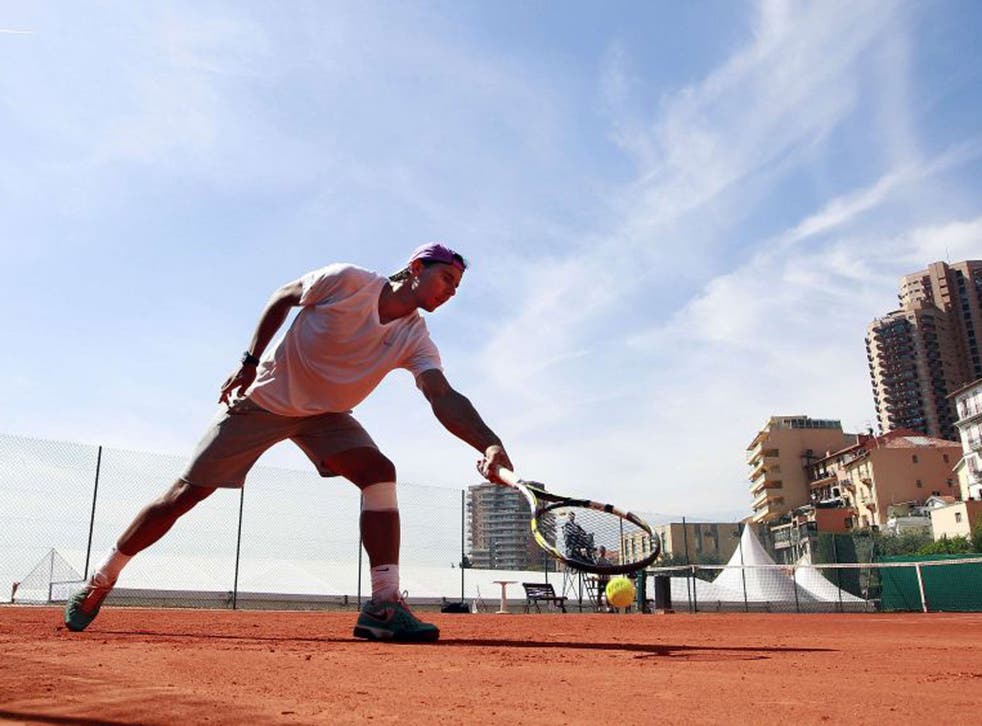 Rafael Nadal and his descendants will have to reign here for another 708 years to match Prince Albert II and his ancestors, but in one respect the Spaniard can already out do the family which has ruled Monaco since 1297.
The Grimaldis are a line of princes and princesses, whereas nobody would dream of calling Nadal anything but the king of clay. Of all Nadal's extraordinary records on his favourite surface, none can match those he has established here at the Monte Carlo Masters.
He is attempting this week to win the title here for the ninth year in succession, his only defeat having come in 2003, when he lost in the third round to Guillermo Coria. Since then he has won 42 matches in a row at this most special of tennis venues, perched on a steep hillside overlooking the Mediterranean. In his last 15 matches he has lost only one set, to Andy Murray in the 2011 semi-finals.
This year, nevertheless, feels different for the 26-year-old Spaniard, who until his return to the court in February had spent seven months watching the rest of the tennis world pass him by as he recovered from his latest knee injury. Even if his subsequent comeback was spectacularly successful – he has already won more titles this year (three) than any other player on the men's tour despite having returned only after the Australian Open – Nadal still has to nurse his body through every day.
"I've experienced a lot of big emotions in the European clay-court season in the past, but this year is probably more special," Nadal said yesterday as he sat back in a chair in one of the marquees overlooking the courts here.
"I have had a really tough year. Just to be back and playing in these places is fantastic news. I don't feel the pressure that I felt these years in the past because I know that after all that has happened the normal thing would be not to repeat all of this. But I'm going to try to be competitive and try to give myself chances to play well."
Nadal did not want to dwell on another medical bulletin but admitted that he had not practised much since his astonishing victory – on a hard court no less – at the Indian Wells Masters a month ago.
"I tried to recover well and tried to do the right things to be here in competitive condition," he said. "I have to take care about my body. I have to be careful about the knee and about other things too because after seven months without playing and practising I need time.
"But I am happy to be back on the tour and I want to enjoy the chance to work hard every day – and talking about the knee every day is not helping me. I prefer to be focused on the tennis. If something goes very wrong that doesn't give me the chance to compete, I will let you know," he added. "Today I want to be focused on the tennis, not on my knee any more. Because in the end if the knee is 50, 90, 80 or 100 per cent, it isn't going to change the situation."
While the bookmakers see him as the favourite here and at next month's French Open, where he will be attempting to win the title for the eighth time, Nadal does not agree. If there is an upside to his lengthy absence it is that the Spaniard feels less pressure to maintain his domination on clay than he has in recent years.
He explained: "When I won my first Monte Carlo title and my first at Roland Garros, in that moment I thought: 'Now I will have the chance to play for the rest of my career with more calm. I have realised my dream.' But it was completely the opposite. When you come back the next year, you feel more pressure than before.
"It's true that you need to feel that pressure to play well, but at the same time you don't want to stop, you want to keep winning and that always worries you, because you don't know when that's going to stop. You have to take care all the time, because if you're not trying to improve every day, your chances of stopping this success earlier than you would like are much higher."
Of all the venues where he has ruled, the Monte Carlo Country Club holds a special place in Nadal's heart. He recalled his debut 10 years ago, when at the age of 16 he made his first appearance at a Masters Series tournament.
"To be here in 2003 was a really big dream," Nadal said. "It was a tournament that I had seen on TV. I had seen Spanish players having big success here. Just to be here was amazing. Ever since I arrived I have loved the tournament, loved the place, loved the conditions to play tennis."
While Murray, who plays his first match tomorrow against France's Edouard Roger-Vasselin, will be aiming to cut Novak Djokovic's lead at the top of the world rankings as the clay-court season unfolds, Nadal will need to defend successfully his titles here, in Barcelona next week, in Rome next month and at Roland Garros just to maintain his present points total. If he is still world No 5 at the French Open, his seeding is likely to leave him open to the possibility of having to beat Roger Federer, Murray and Djokovic to win the title.
Nadal, however, insists he is not even thinking about the rankings. "It's [an achievement] to be in the top five after seven months out, so I am very happy for everything," he said. "If I have to play against top players before the semi-finals, it's going to be fantastic news because that means I am in quarter-finals."
Nadal is getting to the point in his career where he knows he will have to think of life after competition. "I'll be involved in sport, I am sure of that, because I love sport," he said. "If not tennis, it will be in other sports. I love being in Majorca, but I need to be doing things, doing projects and to have motivations. I really hate being on the sofa watching the TV."
He hopes there is plenty of tennis to play before then, but knows it was important never to lose perspective. "It's not possible to win here every year," he said. "Some day that's going to stop. I'll do my best to make that not happen, but that's life and that's sport. Not everything is forever and everything in this life finishes one day, but that doesn't mean I'm [not] very excited to be here with high motivation to play well."
Prize increase softens blow of early exit
Next month's French Open will continue the trend towards awarding more prize-money to less successful players. Those knocked out in the second, third and fourth rounds will earn 25 per cent more than they did last year.
Prize-money overall at Roland Garros will go up by more than €3m (£2.6m) to a total of €22m (£18.8m), with the men's and women's singles champions each being paid €1.5m (£1.3m), an increase of 20 per cent on last year. The plan is to increase total prize-money by a further €10m (£8.5m) to £32m (£27.3m) by 2016.
The totals, nevertheless, are less than those announced recently by the US Open, which will offer $33.6m (£21.9m) this year and $50m (£32.6m) by 2017. Wimbledon, which increased its prize-money by 10 per cent to £16.1m last year, will announce its plans for 2013 next week.
Join our new commenting forum
Join thought-provoking conversations, follow other Independent readers and see their replies