Cilic thanks Ivanisevic for making US Open triumph so much 'fun'
He said: 'Go out there and enjoy it. You have deserved it'
Paul Newman
Tuesday 09 September 2014 22:50 Comments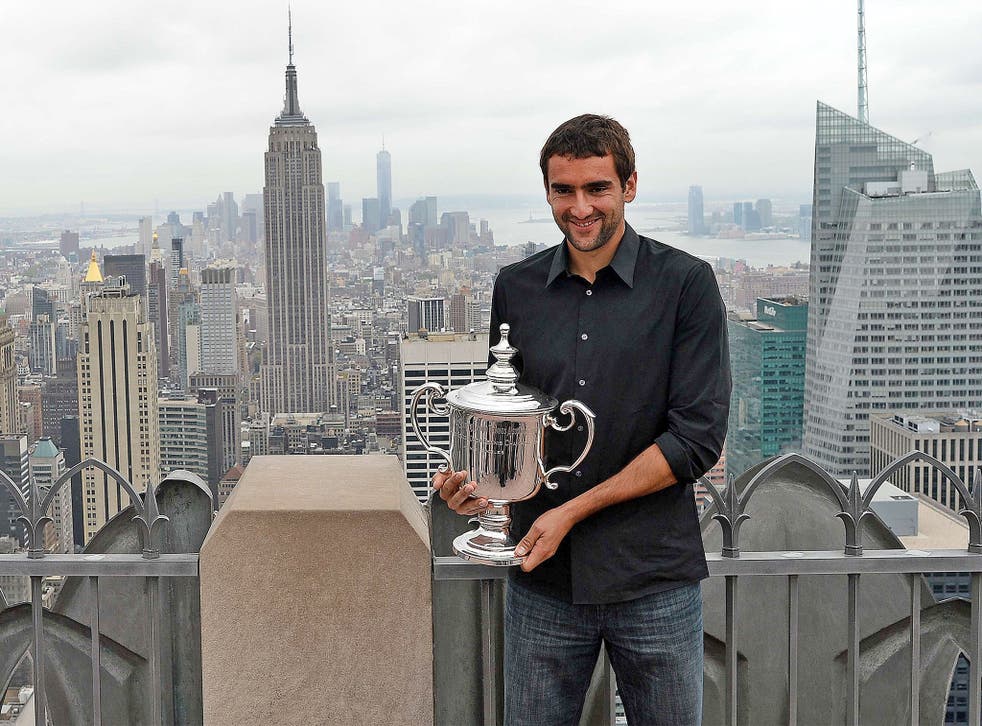 For a quietly spoken and modest young man who grew up in a small town in Bosnia -Herzegovina, it was all rather unreal. Marin Cilic, having won the US Open by beating Kei Nishikori in the final here on Monday night, spent Tuesday morning doing a series of interviews in the studios of some of America's biggest television stations.
Having appeared on the ABC morning show Live with Kelly and Michael, he moved on to PBS and the talk show Charlie Rose, to CNN and then to CBS for Late Show With David Letterman.
"It's life-changing, like I'm on a different planet," Cilic said in a break between television appearances. "It just feels incredible. So far, of course, I still haven't realised how much it means. The feelings haven't sunk in yet so I can't really understand yet what I've done."
The post-match celebrations the night after his 6-3, 6-3, 6-3 victory over Nishikori began in a Croatian restaurant and ended in a Manhattan nightclub at 5am. He had just three hours' sleep, though that was three hours more than his coach, Goran Ivanisevic, enjoyed after his 2001 Wimbledon triumph.
Cilic has only two more days to recover before he represents Croatia against the Netherlands in a Davis Cup World Group play-off in Amsterdam this weekend, but is in no doubt that winning his first Grand Slam title will help his future career.
"I don't know if it will be easier to win [Grand Slam titles] again – I hope it will for sure – but it will be easier for my mindset," he said. "The best guys on the tour know that if they are playing well they can beat anybody. When they play their A game they don't need to think about anything.
"For me that's what I think will be the huge gain from this. I can go on the practice court and I know that if I do those things well, it's fine. You don't have any doubts."
Cilic's career took a decisive upturn when he appointed Ivanisevic as his coach last summer, though his fellow countryman had been advising him for several years. Bob Brett, who used to coach Ivanisevic, worked with Cilic throughout the early years of his career and always welcomed the former Wimbledon champion's advice. Although it had been only recently that Cilic had fully taken on board Ivanisevic's advice about being more aggressive on the court, it was a message that he had heard for many years.
Cilic recalled: "I can't remember how many years ago it was, but I remember sitting with him and he was saying to me: 'Things will never change unless you change it completely. You will always have trouble and always be in that process of searching for something and never finding it.'
"You listen to it and you hear it, but you can't do anything about it. It took a lot of time for me [to change] but when we started to work together it came along."
Ivanisevic has long been a Croatian sporting hero and Cilic recalled the first time he met him. "I was ballboy for him and Thomas Muster in an event in my home town when I was eight or nine," Cilic said. "Then in Zagreb in 2002, when I was 14, he was there recovering from shoulder surgery. He played with me several times. It was a huge moment for me at that time to be with him, to play with him, to get some advice."
Cilic said the best part of working with Ivanisevic was the fact that he made playing and practising so much fun. Even in the moments before he went on court for the final, Ivanisevic was telling him to enjoy the experience.
"We just spoke for a couple of minutes in the locker room before we went out, about what I should do, how I should play, the tactics," Cilic said. "He said: 'Go out there and enjoy it. You have deserved it. Have fun. You're going to be shitting your pants but just try and enjoy it'."
Ivanisevic said he had always believed that Cilic had the talent to get to the top. "The first time I saw him, I knew he was special," Ivanisevic said. "But he always had a wall in front of him – a thin wall, but sometimes this thin wall can be a very thick wall. You can't break through. Now he just went through this thick wall and he didn't even look back. He just went forward and forward."
Asked what his contribution to Cilic's triumph had been, Ivanisevic said: "I just told him to have fun. He enjoys playing tennis. Before, he had 50 kilos on his back. I told him to just go and play, show the world what you can do. He is just more relaxed. Everything is relaxed. My approach is more relaxed. We have fun, we joke around. I am not a guy who is a general, pushing. I was a player so I know when to back off, when to push him. You have to know. And this is the result."
Register for free to continue reading
Registration is a free and easy way to support our truly independent journalism
By registering, you will also enjoy limited access to Premium articles, exclusive newsletters, commenting, and virtual events with our leading journalists
Already have an account? sign in
Join our new commenting forum
Join thought-provoking conversations, follow other Independent readers and see their replies