Marin Cilic crushes Loucas Pouille to seal historic Davis Cup win for Croatia
The powerful world No 7 was relentless as he snuffed out any hope of a famous French fightback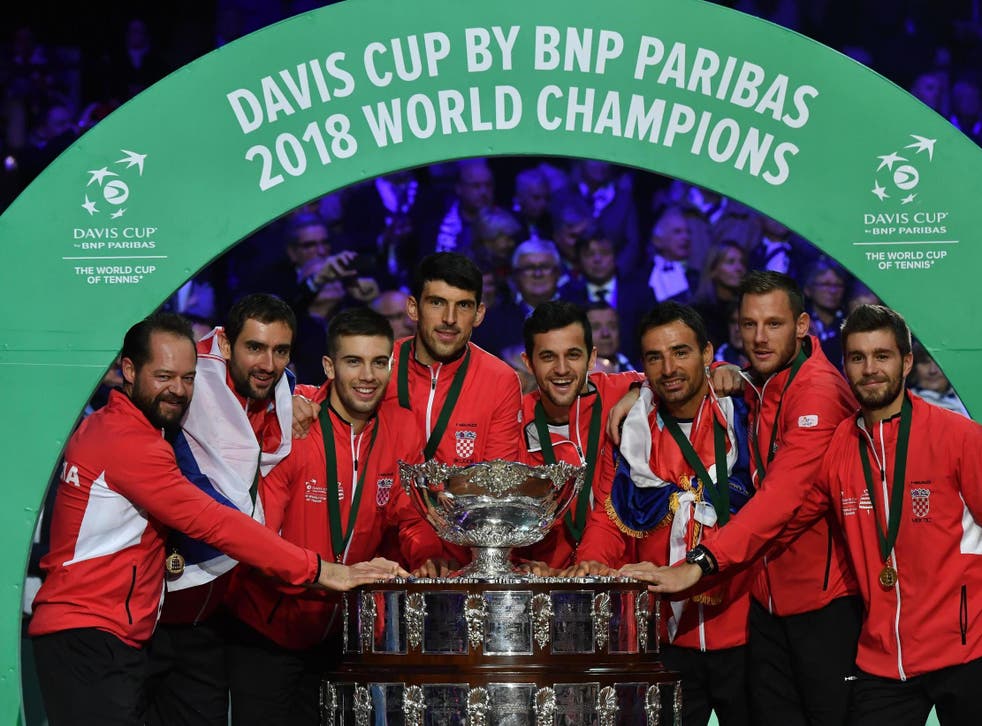 Marin Cilic clinched Croatia's second Davis Cup title by crushing France's Lucas Pouille 7-6(3) 6-3 6-3 to give his side a decisive 3-1 lead in an historic final at Lille's Stade Pierre Mauroy on Sunday.
The powerful world No 7 was relentless as he snuffed out any hope of a famous French fightback - giving Pouille little chance of extending the last final in the 118-year-old competition's current guise into a deciding fifth rubber.
Pouille, 24, did not have a single break point and despite pushing Cilic hard in the first set, he lost the last four points of the tiebreak and never threatened a comeback.
Cilic wasted four set points when Pouille battled back from 0-40 down at 2-5 in the second set but with his own serve rock-solid he calmly moved into a two-set lead.
The mainly French 22,000 crowd kept roaring their support for Pouille, but it was the Croatia contingent, decked out in their distinctive red and white, who would soon be celebrating.
Cilic broke for a 3-2 lead in the third set and then closed in for the kill when Pouille served at 3-5.
The Frenchman saved two match points from 0-40 but Cilic would not be denied and finished it off with a delightful lob.
Immediately the 30-year-old former US Open champion was swamped by a swarm of his team mates as Croatia could begin the party after emulating their triumph of 2005.
Croatia's sports-mad President Kolinda Grabar-Kitarovic was among the fans at courtside to savour a landmark title which offered a measure of consolation after France beat Croatia in this year's soccer World Cup final.
"It's not every day that you become a world champion," Cilic, draped in a Croatian flag, said on court.
"For us it's a dream come true, for this nation. You can see the fans are so passionate and they are here enjoying themselves. In Croatia it's going to be incredible too."
Whatever happens in the future Croatia's win will have a special place in the record books as this was the last 'one on one' final before the competition undergoes a major revamp.
The 16-team World Group, established in 1981, will be scrapped next year in favour of an 18-nation World Cup-style finals week that will take place in Madrid.
Join our new commenting forum
Join thought-provoking conversations, follow other Independent readers and see their replies