Greatest hit by a member of Fab Four: Rafa Nadal's US Open win has to go down as the finest feat of a golden era
Spaniard's victory over Novak Djokovic, just months after his career was threatened by injury, is surely the most extraordinary triumph of all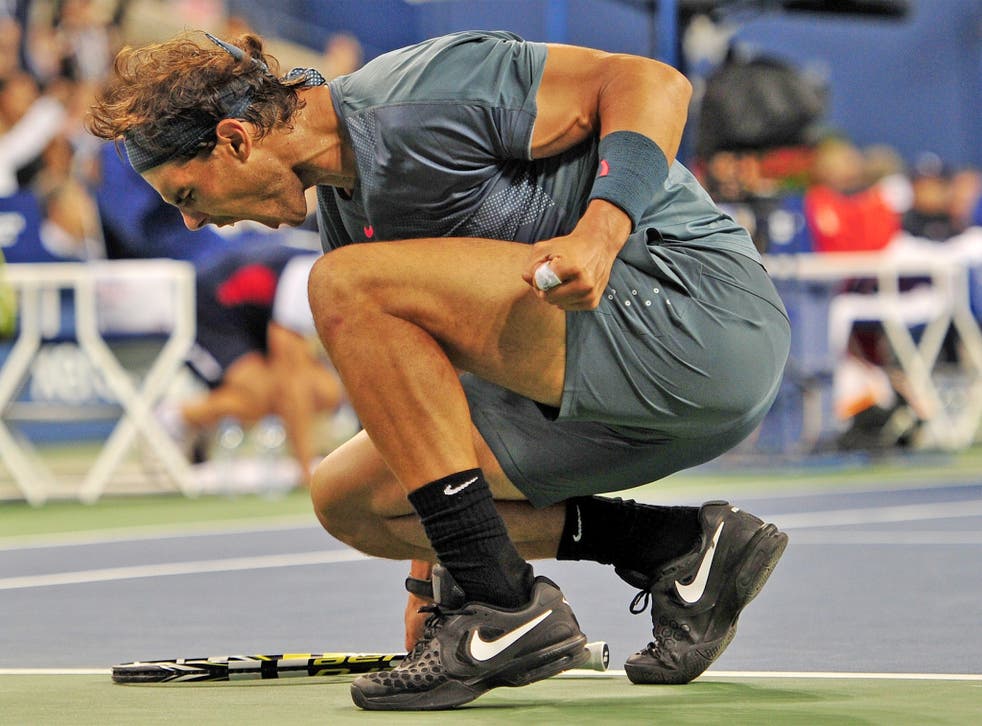 In a golden era for men's tennis, dominated by supremely gifted players, it is hard to imagine anything eclipsing this. Recent years have featured some remarkable feats by the Big Four who have so lit up their sport, but Rafael Nadal's comeback from injury, which reached a new peak with his victory over Novak Djokovic in the US Open final here on Monday night, is surely the most extraordinary triumph of all.
Eight months after returning from the knee problem that had threatened his career, Nadal won his second Grand Slam title of the year and his 13th in total when he beat Djokovic 6-2, 3-6, 6-4, 6-1 in a final of the highest quality. It has been an astonishing comeback by the 27-year-old Spaniard, who has played 13 tournaments this year, won 10 of them and finished runner-up in two more.
"For a few reasons this season is probably the most emotional one in my career," Nadal said afterwards. "It means a lot for me to win this trophy. It's just amazing. I'm very, very happy.
"I never thought something like this could happen. I was excited to be back on the tour, trying to be competitive, but I never thought about competing for everything I have this year – all the Masters 1000s tournaments, three Grand Slams. It's more than a dream."
As if Nadal's return had not been stunning enough already, the world No 2 has surpassed himself with his performances this summer. The north American hard-court season is normally a period when his form dips, but Nadal has utterly dominated this campaign, winning Masters Series titles in Montreal and Cincinnati and now claiming his second US Open title. He has played 22 matches this year on hard courts and won them all.
The latest triumph puts Nadal just behind Djokovic in the world rankings. He looks certain to overhaul the Serb in the coming weeks, while he now lies third in the all-time list of Grand Slam singles trophy winners behind Roger Federer (17) and Pete Sampras (14).
Nadal has time to rewrite all the record books, but for now he wants to relish the moment. "Let me enjoy today," he said with a smile when asked what he might go on to achieve. "This is much more than I could ever have dreamed of.
"The only thing I can say is what I say every time. I'm going to keep working hard. I'm going to keep doing my things to have more chances in the future to be competitive and to produce more chances to win tournaments like this one. You never know when you will win your last one, but 13 is an amazing number."
Nadal and Djokovic set a record with their 37th meeting as professionals – John McEnroe and Ivan Lendl played each other 36 times – and provided a thriller in their third US Open final in the last four years. While the contest did not match the epic drama of their 2012 Australian Open final, which Djokovic won after nearly six hours, the quality of some of their tennis was outstanding.
The Spaniard and the Serb, both wonderful athletes and ferocious competitors, treated the crowd to a succession of stunning rallies. There were several exchanges of more than 20 strokes and one spell-binding rally of 54 shots which will go down as one of the best in history and earned a prolonged standing ovation.
Nadal had dropped his serve only once en route to the final, but Djokovic broke him three times in a row during a stunning passage of play at the end of the second set and the beginning of the third. Nadal, who had made an electrifying start to take the first set in 42 minutes, hung on and the match turned when he broke back to level at 3-3 in the third set. The Spaniard still had to fight back from 0-40 down when he served at 4-4, but after breaking in the next game to take the third set he ran away with the fourth as Djokovic faded.
"When Novak plays at that level, I am not sure if anybody can stop him," Nadal said of Djokovic's purple patch. "I knew that it was really important to stay only one break behind in the third set. If I had lost a second break, then the set would have been over. I kept fighting for every ball, and tried to be focused in every moment and wait for my moment.
"Novak has the best return on tour, one of the best that I've ever seen. It's difficult to make the right decision when you are facing a player who is able to return very aggressively, very long. He was able to return winners from every place, so it was difficult."
Djokovic, who appeared to be close to tears during the final ceremony, said that Nadal had simply been too good. "He definitely deserved to win this match and this trophy," the world No 1 said. "Obviously it's disappointing to lose a match like this, but it's an honour and a privilege to be fighting for this trophy."
Nadal said there had been no particular secret behind his remarkable success on hard courts this summer. "I am playing a little bit more aggressively than before, more inside the court, closer to the baseline, going more for the points," he said. "That's possible because I am playing well and I am confident. But I can't really see a big change in my game. I'm just confident, playing with a lot of passion, fighting for every ball, feeling good emotionally. That's what brings success."
Nadal said the only doubt in his mind when he began his comeback in February had been whether he would be fit enough to play. "Even though I was out for seven months, I was sure that I hadn't forgotten how to play tennis," he said. "If you are healthy and if you have already been at the top of the game for eight or nine years and you stop for seven months, why will you not have the chance to be back there?"
He gave credit to his entourage, family and friends who had encouraged him throughout his most difficult moments. "When you go to the gym every day and you don't see a positive result, then you lose a little bit of energy," Nadal said. "Having those people around me during this period of time was decisive. They give me that positive energy to keep working hard. Without them it would have been impossible to have the chance to be here today."
Rafa return: Nadal's amazing comeback year
Vina del Mar Runner-up (lost to Horacio Zeballos in final)
Sao Paulo Champion (beat David Nalbandian in final)
Acapulco Champion (beat David Ferrer in final)
Indian Wells Champion (beat Juan Martin del Potro in final)
Monte Carlo Runner-up (lost to Novak Djokovic in final)
Barcelona Champion (beat Nicolas Almagro in final)
Madrid Champion (beat Stanislas Wawrinka in final)
Rome Champion (beat Roger Federer in final)
French Open Champion (beat David Ferrer in final)
Wimbledon First round (lost to Steve Darcis)
Montreal Champion (beat Milos Raonic in final)
Cincinnati Champion (beat John Isner in final)
US Open Champion (beat Novak Djokovic in final)
Nadal's Grand Slams
Australian Open 2009
French Open 2005, 2006, 2007, 2008, 2010, 2011, 2012, 2013
Wimbledon 2008, 2010
US Open 2010, 2013
Join our new commenting forum
Join thought-provoking conversations, follow other Independent readers and see their replies