Johanna Konta targeting the world number one spot after beating Caroline Wozniacki in Miami Open final
Konta claimed the biggest win of her career at the Miami Open and is now targeting the world number one ranking, currently occupied by Angelique Kerber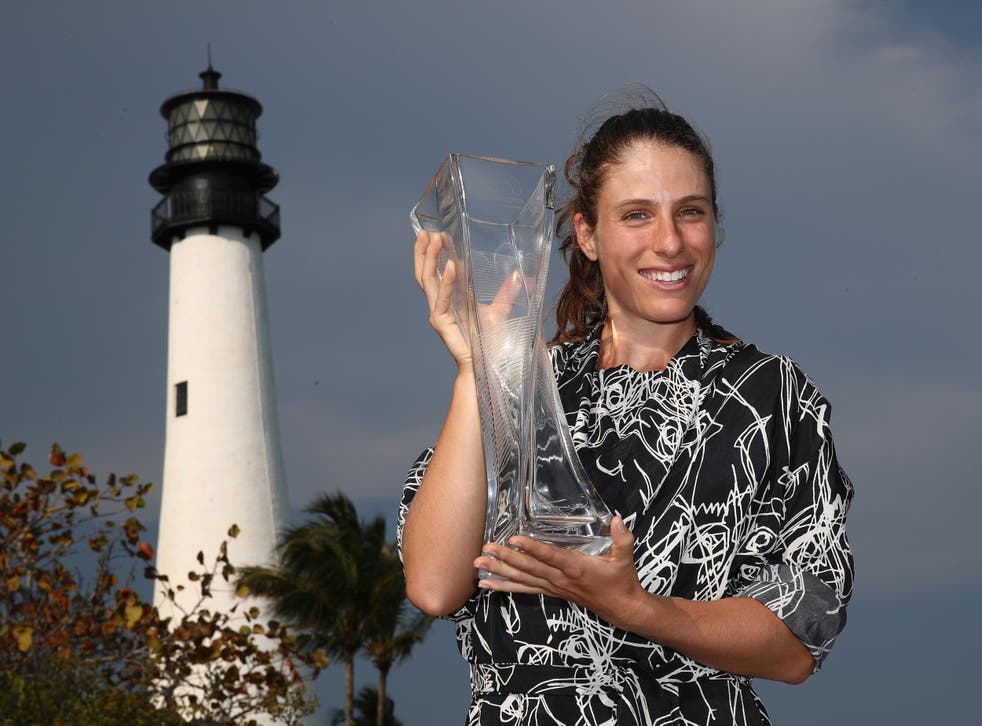 Johanna Konta has declared that she is targeting the world number one ranking, after becoming the first British woman to win the Miami Open.
The 25-year-old claimed the biggest title of her at the Miami Open, beating Caroline Wozniacki 6-4 6-3 on Saturday to move to a career-high seventh in the world rankings, beating her previous best of ninth last autumn.
Konta became the first British woman to win a prestigious WTA Premier Mandatory event and says she believes the number one ranking, as well as a maiden Grand Slam title, are realistic targets for the coming season.
"The belief has been there since I was a little girl, I would like to be the best player in the world but there's a lot of work to be done between now and then.
"Everybody's journey is different. I needed a little more time and a little more experience to accumulate the knowledge that I have and re-use it in my matches.
"I play smart tennis and calmer tennis I think. It just took time. On paper it looks like a quick turnaround but it's been a long time coming."
Konta was the world number 146 as recently as June 2015 and suffered a heavy defeat in Great Britain's Fed Cup loss to Belarus, a result Konta described as a "bit of a horror" and which Judy Murray suggested was the start of Konta's turnaround.
She responded with an impressive run at the Eastbourne International before reaching the semi-finals of the 2016 Australian Open, where she lost to the eventual winner Angelique Kerber.
"I think it was probably a combination of everything, but also a question of maturity," Konta told wtatennis.com when asked about her rapid surge up the rankings.
"I needed to go through certain life experiences, not just on court, off court as well, to I think make me into the competitor that I am, and also the person off court.
"I think a lot of things go very hand and hand when I it comes to sport. It's not just a job. It's your life. It's your lifestyle. I think you have to grow up in a lot of different areas for it to transfer on court as well."
Konta got off to the dream start with a break of Wozniacki's serve in the first game of the match and then held her own to take a 2-0 lead with an ace.
The Dane, who was contesting her third final of the year after Doha and Dubai, got into her groove with her next service game to hold, but called over her father for a coaching session just 10 minutes into the match during changeover.
Whatever was said seemed to make a difference as the former world number one hit four points in a row to break back and level at 2-2.
The duo had a closer battle in the fifth, but Konta found her way to break Wozniacki's serve for the second time to edge back ahead before the next two games went with serve.
The Briton still had the upper hand, though, but Wozniacki pushed her repeatedly to advantage on her next service game before claiming a break which levelled the opening set up at 4-4.
Konta hit back quickly though and again broke her opponent before firing in some great serves to clinch the set.
The Sydney-born player, who made it to the quarter-finals of the event last year on her debut, broke in the first game of the second set but 26-year-old Woznizcki immediately broke back before holding to take a 2-1 lead.
The Dane received attention and had her right foot and ankle strapped in a medical time-out, but continued with the match, which went with serve to see Wozniacki 3-2 ahead in the second.
Konta held her next serve before breaking Wozniacki and holding again to lead 5-3, putting her one game away from the title.
The pressure was all on Wozniacki's service game and Konta moved to championship point with a blistering return before claiming the title after a Hawkeye check on her winning lob.
Konta praised her team after the victory.
"I was very fortunate that throughout the years I've managed to have some very, very good people around me," she said.
"I think the more I was able to absorb from them, their knowledge and wisdom, and the more I was able to reinvest that into the matches that I played, and on a consistent basis, I think that's part of reason I'm here now."
Additional reporting by PA.
Register for free to continue reading
Registration is a free and easy way to support our truly independent journalism
By registering, you will also enjoy limited access to Premium articles, exclusive newsletters, commenting, and virtual events with our leading journalists
Already have an account? sign in
Register for free to continue reading
Registration is a free and easy way to support our truly independent journalism
By registering, you will also enjoy limited access to Premium articles, exclusive newsletters, commenting, and virtual events with our leading journalists
Already have an account? sign in
Join our new commenting forum
Join thought-provoking conversations, follow other Independent readers and see their replies