Maria Sharapova breaks her silence on French Open rejection
The former world No 1 was unexpectedly denied entry to this year's French Open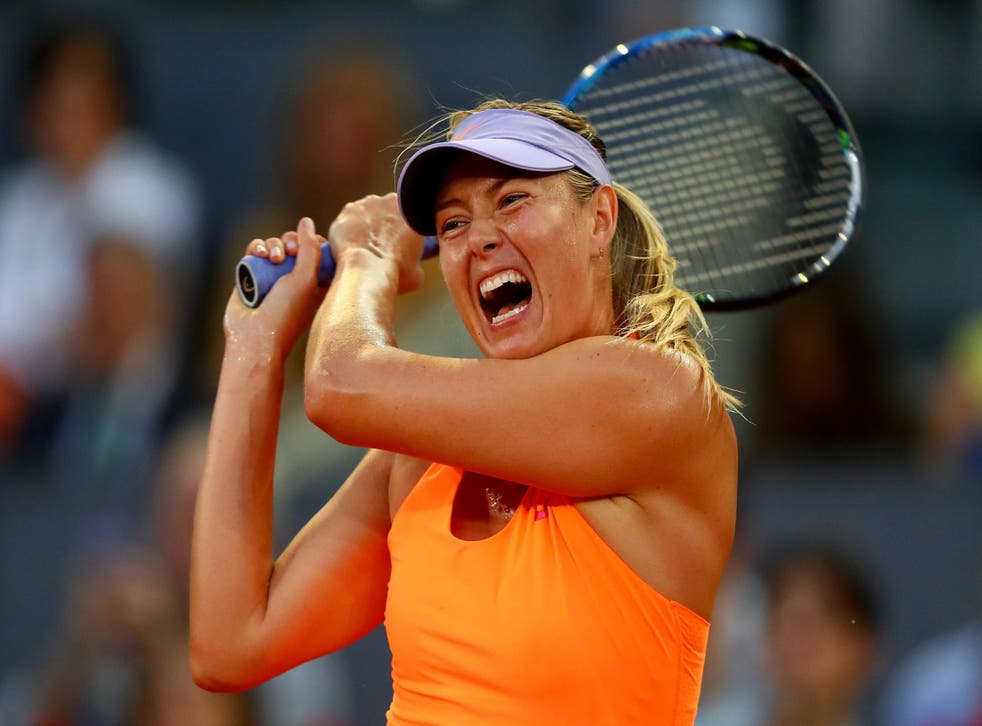 Maria Sharapova has broken her silence after being denied a wildcard to this month's French Open, insisting "no words, games, or actions will ever stop me from reaching my own dreams".
Sharapova was widely expected to be fast-tracked into the second Grand Slam of the season, which she has won twice, but the French Tennis Federation (FFT) took the unexpected decision on Tuesday to refuse her entry.
A wildcard invitation was her only hope of featuring at Roland Garros given she does not have enough ranking points to go straight into the main draw in Paris, nor the qualifying event.
"If this is what it takes to rise up again, then I am in it all the way, everyday," Sharapova said on Twitter on Wednesday. "No words, games, or actions will ever stop me from reaching my own dreams. And I have many."
Maria Sharapova's comeback divides opinion

Show all 17
This follows FFT president Bernard Giudicelli's public statement on Tuesday in which he remarked he had a "responsibility to protect the high standards of the game".
"If there can be a wildcard for the return from injuries, there cannot be a wildcard for the return from doping," he said.
"They [Sharapova's fans] might be very disappointed, she might be very disappointed, but it's my responsibility, my mission, to protect the high standards of the game played without any doubt on the result."
Sharapova's return from a 15-month ban has split opinion in tennis circles, with some players arguing she is being given special treatment after receiving wildcards for tournaments in Stuttgart, Madrid and Rome.
The Russian's involvement in those three tournaments has seen her subsequently rise to 211 in the world rankings.
Accepting the decision to bar her from the French Open without rancour would give the Russian a chance to rise above the furore, according to former world number three Pam Shriver.
Shriver said Sharapova needed to come to terms with what had happened and turn her attention to preparing for Wimbledon, where she is already one of the bookmakers' favourites for the title.
"She's smart and savvy," Shriver, who won 21 grand slam women's doubles titles, said on ESPN. "She needs to take a step back and reconcile that her return to major tennis is going to have to wait and not be bitter about it.
"It's a chance to be above it all and complimentary."
Sharapova tested positive for meldonium, a heart disease drug, at last year's Australian Open.
The Russian said she had taken the drug "legally" throughout her career to treat medical conditions and had not realised it had been added to WADA's banned list a few weeks before the tournament began.
She was initially banned for two years but the Court of Arbitration for Sport reduced the suspension to 15 months on appeal after finding she was not an "intentional doper".
The five-time Grand Slam champion is guaranteed a place in the Wimbledon qualifying event but will need a wildcard to get straight into the main draw at the All England Club.
Additional reporting by Reuters.
Register for free to continue reading
Registration is a free and easy way to support our truly independent journalism
By registering, you will also enjoy limited access to Premium articles, exclusive newsletters, commenting, and virtual events with our leading journalists
Already have an account? sign in
Register for free to continue reading
Registration is a free and easy way to support our truly independent journalism
By registering, you will also enjoy limited access to Premium articles, exclusive newsletters, commenting, and virtual events with our leading journalists
Already have an account? sign in
Join our new commenting forum
Join thought-provoking conversations, follow other Independent readers and see their replies