Maria Sharapova hits back: warnings were buried
Sharapova insists the media distorted the facts and 'it's wrong to say I warned five times'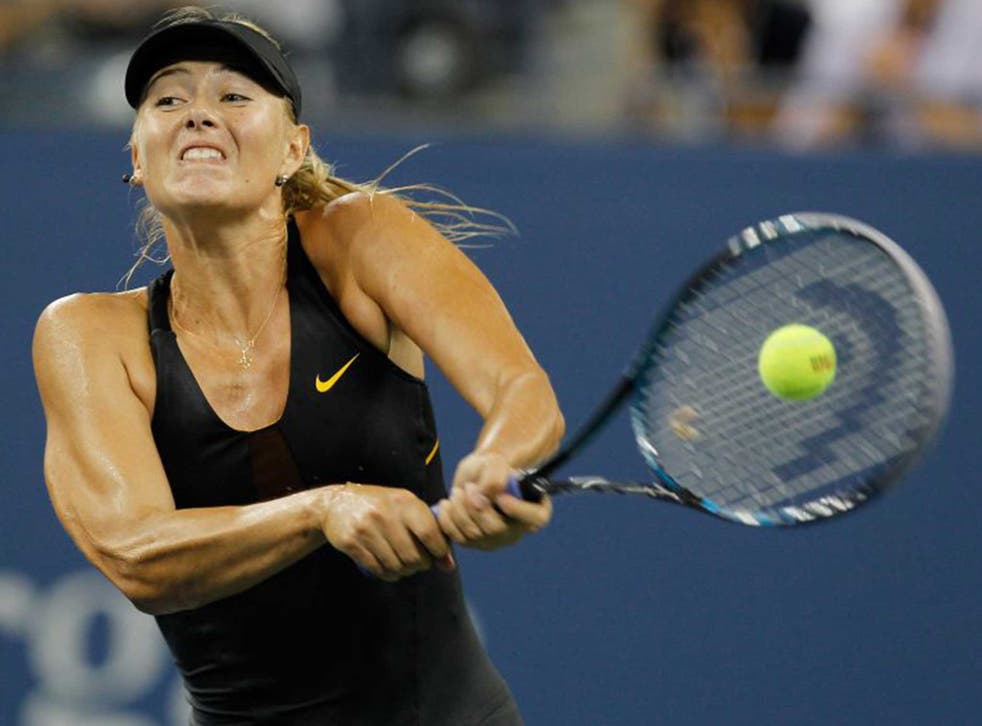 Maria Sharapova has hit back at reports that she was warned five times that the drug Meldonium she was taking had been added to the banned drug list.
Writing on her Facebook page, the Russian, who tested positive at the Australian Open in January, described the reports as "a distortion of the actual 'communications' which were provided or simply posted on to a webpage".
The five-time Grand Slam winner also vowed to "fight back" after criticising elements of the media who "distort, exaggerate and fail to accurately report the facts".
The 28-year-old world No 7, who could now face a long ban, said: "I make no excuses for not knowing about the ban", but then appeared to do just that. She admits she failed to open one email she received on 22 December, but said "of the 'communications'? They were buried in newsletters, websites or handouts."
Expanding on that, she said of the press conference she gave last week to announce her drug-test failure: "I already told you about the December 22, 2015 email I received. Its subject line was 'Main Changes to the Tennis Anti-Doping Programme for 2016.' I should have paid more attention to it."
Sharapova said she received another email on 18 December, entitled "Player News", containing a warning but added: "In order to be aware of this 'warning', you had to open an email with a subject line having nothing to do with anti-doping, click on a webpage, enter a password, enter a username, hunt, click, hunt, click, hunt, click, scroll and read. I guess some in the media can call that a warning. I think most people would call it too hard to find."
Sharapova also said the warning contained a different name for the medication that she had been prescribed and was taking. That was mildronate but she tested positive for meldonium.
It was the International Tennis Federation who alleged she had been sent five email notifications. But in supporting her argument, Sharapova posted a photo of a "wallet card" which was handed out at tournaments after the ban began, saying: "This document had thousands of words on it, many of them technical, in small print. Should I have studied it? Yes. But if you saw this document, you would know what I mean. Again, no excuses, but it's wrong to say I was warned five times."
Sharapova also further explained how she had been taking the drug, whose use by athletes the World Anti-Doping Agency (Wada) began monitoring in 2015 and which was put on the banned list on 1 January this year. She said she had been taking the heart drug since 2006 but dismissed reports she took it every day, saying she followed doctors' instructions and took it in the "low doses recommended".
Reports have suggested that the normal course of treatment for patients on meldonium is four to six weeks.
"That headline has been repeated by many reporters who fail to tell their viewers and readers what the rest of the story says," wrote Sharapova.
"The story quotes the manufacturer of my medicine as saying: 'Treatment course can be repeated twice or thrice a year. Only physicians can follow and evaluate patient's health condition and state whether the patient s hould use meldonium for a longer period of time.' That's exactly what I did. I didn't take the medicine every day."
Sharapova also said she had refused to fake an injury just to keep the news quiet. "I'm proud of how I have played the game. I have been honest and up front. I won't pretend to be injured so I can hide the truth about my testing," she said. "I look forward to the ITF hearing at which time they will receive my detailed medical records.
"I hope I will be allowed to play again. But no matter what, I want you, my fans, to know the truth and have the facts."
Sharapova failed a drugs test on 26 January after losing to Serena Williams in the quarter-finals of the Australian Open. She was charged with an anti-doping violation on 2 March, and was provisionally banned from 12 March.
The ban could be reduced to two years or less if anti-doping officials find Sharapova did not intentionally take the drug to enhance performance. The lost of sponsors has already hit her $175m (£125m) empire.
Join our new commenting forum
Join thought-provoking conversations, follow other Independent readers and see their replies