Naomi Osaka wins second Australian Open title with straight sets victory over Jennifer Brady
The Japanese star won 6-4, 6-3 to earn her fourth grand slam title and now must set her sights on new worlds to conquer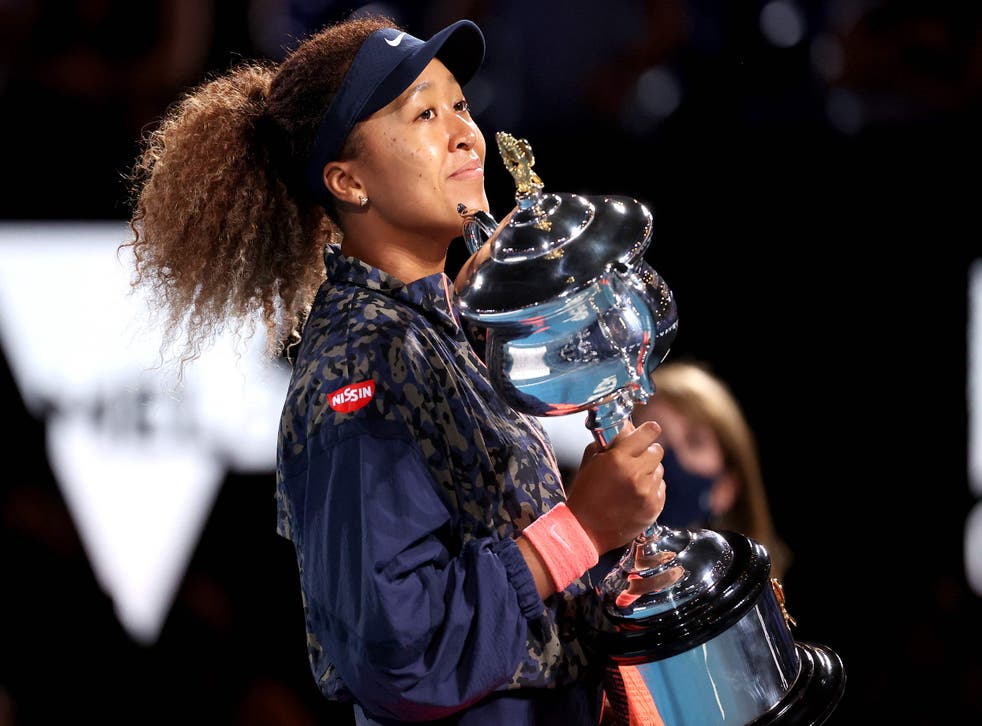 Naomi Osaka reasserted her position as queen of the hard court with a straight sets victory over the American Jennifer Brady at the Australian Open. Osaka pinched a tight first set 6-4 and dominated the second to win 6-3 and close out her second title in Melbourne, and her fourth grand slam.
After dispatching Serena Williams in the semi-final and dominating this final, Osaka proved she really is "the new boss" of women's tennis, as Brady described her in the build-up. The 23-year-old Japanese will undoubtedly have the summer's Tokyo Olympics on her to-win list, and will now set her sights on translating her hard-court dominance to grass and clay, as well as winning back her position as world No1 from Ashleigh Barty.
It has not been all smooth sailing in Melbourne for Osaka, who saved two match points against Garbine Muguruza back in the fourth round, an illustration of how the tiniest moments can have the greatest repercussions, and that was the case in this match too. Brady, playing in her first grand slam final, battled well to establish a foothold in a first set which seemed to be moving towards a tie-break, but lost her composure when on the wrong end of some misfortune. At deuce on serve with the score 5-4 to Osaka, the Japanese ballooned a shot off the frame of her racket only to watch it land perfectly on the baseline. The shot flummoxed Brady, who missed the resulting forehand and erred again on the next point to gift Osaka the opening set when it had been in the balance.
The moment seemed to stick in Brady's mind and her game fell away as Osaka raced into a 4-0 lead in the second set and seemingly had the championship wrapped up. But Brady showed great heart, unleashing her punishing forehand perhaps most effectively when the pressure seemed to be off and the match lost. She broke back and gave the crowd on Rod Laver Arena some enjoyable rallies in what was a thoroughly entertaining match, despite the scoreboard's one-sided look.
Ultimately though, Brady's misfiring serve cost her any chance of seriously competing. Osaka repeatedly attacked her second serve with powerful returns to the backhand side. In response, Brady upped the speed of her second serve but it only caused her more problems, with double faults at important moments costing the American dearly.
"Firstly I'd like to congratulate Naomi," Brady said on court afterwards. "She's such an inspiration to us all and what she's doing for the game is amazing. I hope young girls at home watching are inspired by what she's doing. I'd like to congratulate her team. You're obviously doing something special and she's getting better every day.
"I'd like to say thanks to my team. Without you guys I wouldn't be standing here tonight. Thank you for everything you've done for me and let's keep going for more. Mum, I know you're watching right now in front of the TV, probably crying, so... Tonight, it wasn't meant to be, but hopefully there's many more."
Osaka called on all her championship know-how to close out the match, dishing up a series of unreturnable serves to seal her triumph with only one match point needed.
"Firstly I want to... [turns to Brady] do you like to be called Jenny or Jennifer?" Osaka said. "Jennifer, I want to congratulate you. After we'd played at the US Open I told everyone you'd be a problem, and I was right. To see your growth over the last few months is really cool. I for sure know that your mom and friends and family are very proud of you. I know we're going to play a lot more matches."
You suspect this will not be the last time we see Osaka raise a grand slam trophy on a hard court. The challenge now for the star women's tennis is to leave her comfort zone and conquer new worlds.
Register for free to continue reading
Registration is a free and easy way to support our truly independent journalism
By registering, you will also enjoy limited access to Premium articles, exclusive newsletters, commenting, and virtual events with our leading journalists
Already have an account? sign in
Register for free to continue reading
Registration is a free and easy way to support our truly independent journalism
By registering, you will also enjoy limited access to Premium articles, exclusive newsletters, commenting, and virtual events with our leading journalists
Already have an account? sign in
Join our new commenting forum
Join thought-provoking conversations, follow other Independent readers and see their replies