Nick Kyrgios banned: Australian tennis player given three-month ban after Shanghai Masters controversy
Kyrgios walked off the court while his match against Mischa Zverev was still being played and became embroiled in a heated argument with a fan during the defeat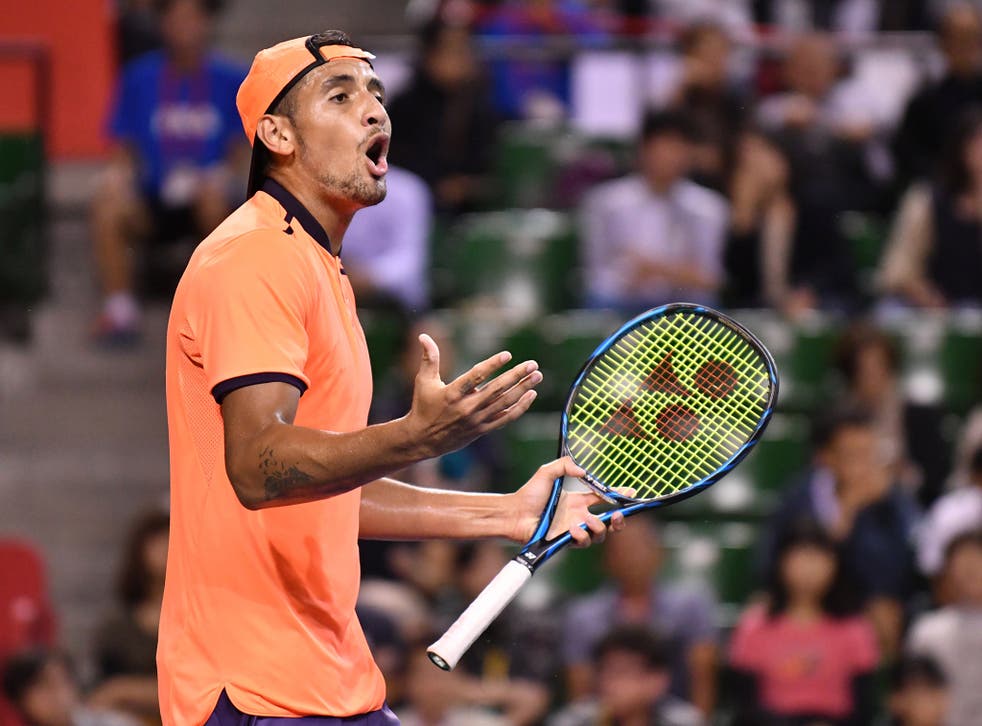 Nick Kyrgios has been suspended from playing tennis until 15 January 2017 following his controversial outburst and lack of effort during his Shanghai Masters defeat by Mischa Zverev last week.
The outspoken Australian, who was also gven a £20,000 fine, can return on 7 November though if he agrees to see a sport psychologist, with the ATP implementing the conditional ban after he also got involved in a heated argument with a fan who criticised his lack of effort.
The 21-year-old issued an immediate statement on his website to address the ATP's ruling, but while he apologised for his actions and admitted that he was fully aware how important the fans are to the game, he appeared to suggest that he will not see a sport psychologist and will subsequently not return until mid-January.
"Following the ATP's decision today I would like to take this opportunity to apologise again for the circumstances in Shanghai," Kyrgios's statement read. "The season has been a long one as I battled several injuries and other challenges towards the end of the summer. The Asian circuit was particularly tough after the long week and win in Tokyo and with the travel throughout the continent, my body finally just gave out in Shanghai both physically and mentally.
"This is no excuse, and I know very well that I need to apologise to the fans – in Shanghai and in other parts of the world – as well as the tournament organisers in Shanghai who do an amazing job. I of course know how important the fans are to the success of our sport and I personally love the interaction with fans in the many different cities throughout the world on the tennis circuit.
"I am someone who gives a huge amount of time to my fans because I love and value their support. Their energy is what motivates me to reach for the top of the game."
Towards the end of the statement, Kyrgios added that he will not be playing again this year, suggesting that he has no intention of seeing a sport psychologist to reduce his ban.
"I regret that my year is ending this way and that I will not have a chance to continue chasing the ATP Finals," he added. "This was an important goal for me. I do understand and respect the decision by the ATP and I will use this time off to improve on and off the court. I am truly sorry and look forward to returning in 2017."
It's not the first time that Kyrgios has found himself on the wrong side of the regulations, but it is the first time that the ATP have decided to implement a ban as punishment. Kyrgios has clashed with fans before as well as opposite players, where he infamously told Stanislas Wawrinka that his girlfriend had slept with another player on the tour.
Kyrgios did receive support though from close friend and world No 2 Andy Murray, who believes that hitting the Australian with a ban and fine is not the best way to cut out the discrepancies from his game.
"I don't know if that stops that happening again. I'm not convinced about that," Murray said after winning the Shanghai Masters final by defeating Roberto Bautista Agut.

"I think sometimes players do need protecting as well. Sometimes he goes into press and says things he regrets. In those situations he maybe needs to be guided a little bit better and I'm sure he will learn from that.
"You don't want to to see young guys who are in the spotlight, struggling and making mistakes, doing things that ultimately hurt them."
Kyrgios responded to Murray's comments on Twitter, saying: "Cheers @andy_murray. Someone with a bit of perspective…"
Join our new commenting forum
Join thought-provoking conversations, follow other Independent readers and see their replies