Petra Kvitova readies herself for emotional return to tennis after horrific knife attack left her fearing for career
The Czech player has worked tirelessly on her rehabilitation and is now ready to make her comeback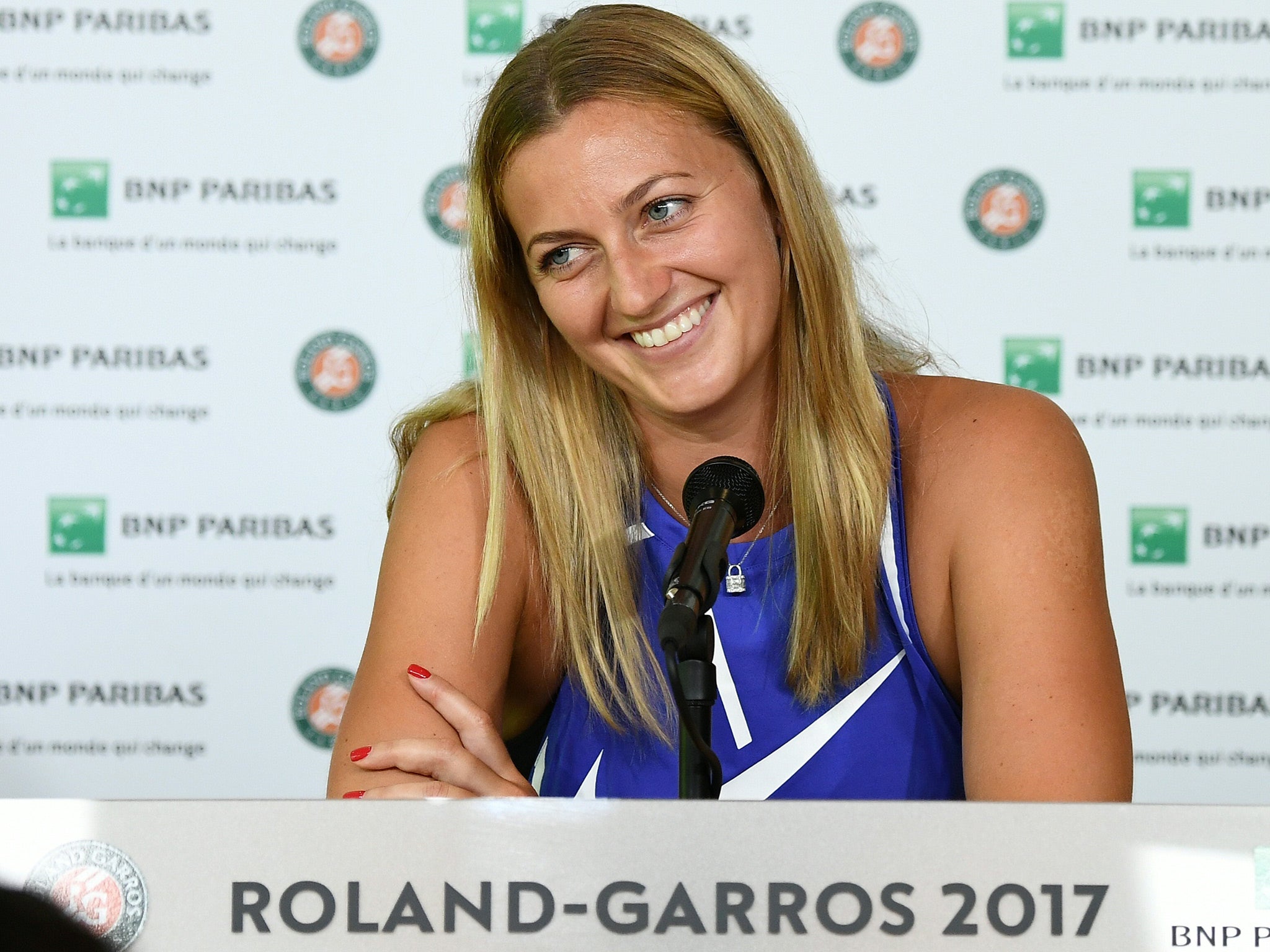 She will not win the French Open, which begins here on Sunday, but nobody will take more joy from their participation in the tournament than Petra Kvitova. Little more than five months after suffering horrific injuries to her left hand when she was attacked in her home in the Czech Republic, the two-times Wimbledon champion will return to competition.
In the immediate aftermath of the attack Kvitova's doctors feared that her career might be over, but she has worked tirelessly on her rehabilitation, picked up a racket again in March and took a late decision to play here, having originally made Wimbledon her comeback goal.
"Not many people believed that I could play tennis again, so I'm happy that I can play," Kvitova said, appearing close to tears as she talked at her first press conference since the attack. "I've actually already won my biggest fight. I like challenges and this has been one of the biggest, of course. I stayed alive, I have all my fingers and I can play tennis. I can be here and I'm in the draw."
Fire at Wimbledon practice courts
It will be an emotional occasion when Kvitova plays her first match here against the world No 86, Julia Boserup, of the United States. The 27-year-old Czech's parents and her two brothers will all be watching from her player box.
Kvitova said the experience of the last five months had made her realise how important tennis was to her, but also to appreciate that it is still just a sport.
"Sometimes when I miss a ball now I don't cry," she said with a smile. "I missed being on the court. I missed the fight. Now I can just enjoy everything. Sometimes I just stand outside and see the sun and say" 'Oh, it's beautiful.' I see different kinds of things than I did before."
The attack happened on 20 December in her apartment in Prostejov. The attacker, who had said he was there to read a meter, placed a knife under her throat. In an ensuing struggle Kvitova suffered deep cuts to the fingers of her left hand. The attack is still being investigated by the Czech police, who have yet to charge anybody.
Kvitova, who has been told not to talk in public about the incident itself because of the ongoing investigation, had surgery, which lasted nearly four hours, on the same evening as the attack.
"The injury was horrific," Dr Radek Kebrle, her surgeon, said later. "The chances of Petra's hand healing well enough for her to be able to play tennis again were very low."
All five fingers of her left hand were injured and the nature of the wounds meant that her recovery was potentially very difficult. There was also a major risk of infection and of ruptures to tendons, but within two days of the surgery she was starting therapy on her hand.
Jiri Vanek, Kvitova's coach, said: "It was really tough for all of us, but Petra stayed strong. The first few months were the worst because we didn't know how the hand would respond to work, but we were positive."
He added: "I was surprised by how well she responded and how motivated she was to come back. Her motivation was huge and although it was a tough experience, Petra was always inspired by the challenge of playing again."
Kvitova said that watching matches on television during her absence made her understand what she was missing. "I didn't feel great," she said. "I felt like my tennis had been taken away from me. Suddenly I couldn't do what I love."

The Czech's hand was in a protective splint for eight weeks after the attack, but within a month she was doing some light training. At first she focused on cycling and running, but after 12 weeks she picked up a tennis racket again for the first time. She started practising on clay in Monaco at the start of this month.
"Two weeks [after the attack] I was able to take off the splint and start to rehab actively," Kvitova said. "At first I just made small moves with my fingers. I still can't move them fully. But moving them every little millimetre more made me happy.
"I'm happy that I haven't had to change my technique or anything. Everything seems OK. Of course the hand doesn't have that power and the strength yet, but I'm working on it. Hopefully one day everything will be perfect, but we don't know that yet.
"I'm happy that when I'm playing I don't have pain in my hand. I haven't tested it in a match, of course. Maybe it will be different when the nerves come and I get tight, but so far it's been OK."
Kvitova said her doctor had told her that it might be six months before she got back to where she was before.
"I hope that's true but it doesn't matter how long it takes," she said. "But it will be great when I do have everything working properly. Tennis is a joy now. From the beginning when I hit a nice forehand, I was so happy inside. I thought: 'Wow, it's really great that I do have it still'."
Kvitova said she had remained positive throughout her rehabilitation. "I knew this day would come," she said. "I'm really happy that I'm here and that the dream has come true. I'm here in the draw and I'm playing tennis again.
"Of course it was a difficult time for me. It wasn't easy, but I'm happy that I've worked through this and I can play tennis again. I know that my hand is not perfectly ready. It's still not 100 per cent ready, so we will see how everything goes."
As for her emotional and mental state in the aftermath of the attack, Kvitova said she had not slept well in the days immediately afterwards but otherwise had been coping well, thanks in large part to the support of her family, friends and coaching team.
"I don't really have nightmares, but from the beginning I was feeling really weird when I went in the city or somewhere. I was always staring at people and looking to see if there were strangers there. But with time, it's got better."
During her recovery Kvitova enrolled in a university course, studying communications and social media. "I wanted to keep my mind busy while I couldn't play tennis," she said. "I think that has helped me."
Kvitova joked with the packed press conference that in future she might be on the other side of the microphones. "It's nice to see you all again," she added. "I missed you guys."
Join our commenting forum
Join thought-provoking conversations, follow other Independent readers and see their replies