As it happened
ended
1505084759
US Open men's final 2017: Rafael Nadal beats Kevin Anderson in straight sets for sixteenth Grand Slam title
Top-seed Nadal beat Anderson 6-3 6-3 6-4 in the US Open final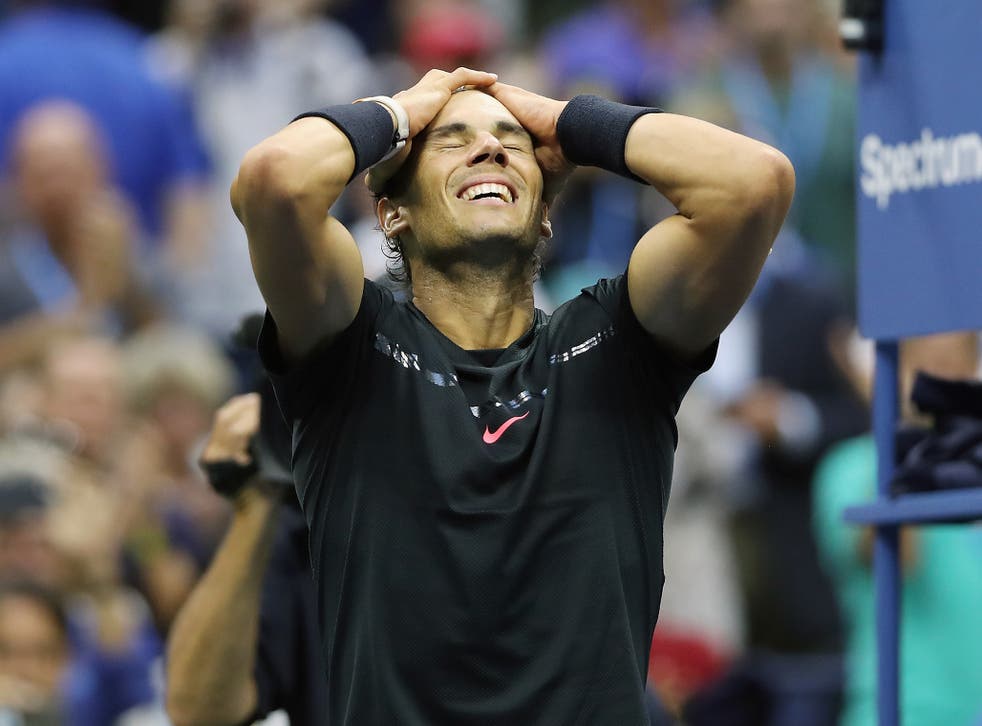 Rafael Nadal proved far too good for Kevin Anderson as he claimed a 16th grand slam title at the US Open.
The world number one lived up to his billing as the heavy favourite with a 6-3 6-3 6-4 victory over surprise finalist Anderson.
It completed a throwback year in men's tennis at the slams, with Nadal and Roger Federer claiming all the titles between them for the first time since 2010.
Nadal has once again closed to within three of Federer's all-time record of 19 slam singles titles, while the 'big four' can now lay claim to 46 of the last 51.
There have been highs and lows in New York since Nadal's maiden title seven years ago but this was one of his most dominant performances, with the 31-year-old losing just 15 points on serve in the match and not facing a single break point.
Relive all of the live action below.
What time is it?
The final is expected to start at 9pm BST. That's 4pm in New York.
What have they been saying?
Rafael Nadal
"For me, what is more important than winning Slams is to be happy.
"I am happy if I am healthy and happy if I feel competitive in most of the weeks that I am playing, and that's what happened this year.
"Of course winning or losing that final is a big change, but I am very happy about all the things that happen to me and I am going to fight to win another title here.
"But it's still been a great season for me."
Kevin Anderson
"I knew in my mind there was opportunity there, but I must be honest, I didn't focus really too much on that.
"We are sort of accustomed to the few guys doing well, exceptional consistency.
"It's tough beating those guys because they have had so much experience at this level.
"Even with them out, there have still been a lot of challenges I've had to face throughout this week. I have faced some of the best tennis players in the world."
Odds
Nadal to win: 1/8
Anderson to win: 11/2
1505070449
Good evening and welcome to our live coverage of the 2017 men's US Open final, between Rafa Nadal and Kevin Anderson.
The match is expected to get underway at around 9pm BST, but stick with us in the meantime as we bring you build-up ahead of the showpiece final.
Vithushan Ehantharajah
10 September 2017 20:07
1505073960
Before the players appear on court, some background reading.
Here's why a resurgent Rafa Nadal is the overwhelming favourite this evening...
Vithushan Ehantharajah
10 September 2017 21:06
1505074170
And here's something on how Kevin Anderson is planning on spoiling Nadal's party...
Vithushan Ehantharajah
10 September 2017 21:09
1505074446
Here we go! Both men walk onto the court to huge cheers. Anderson wearing aqua blue, Nadal in all black.
Vithushan Ehantharajah
10 September 2017 21:14
1505074786
The pair are having their knock up as fans continue to pile into the Arthur Ashe Stadium.
Kevin Anderson wins the toss and the South African is going to serve first. 
Vithushan Ehantharajah
10 September 2017 21:19
1505075408
Anderson 1-0 Nadal* (* Denotes next server)
Here we go then! Anderson to serve first, but he loses the first point when he belts an attempted passing shot into the net. He takes a deep breath … and then sends two big first-serves whistling down the middle of the court. Nadal gets his racquet to both, but is unable to return them.
Anderson gets aggressive on the next point, following up his serve and attacking the net. But Nadal dictates the pace of the point from the baseline and wins it when Anderson hits long.
A 136mph serve gets Anderson to 40-30. Nadal takes him to deuce, but Anderson then smashes two aces to hold his first service game.
Vithushan Ehantharajah
10 September 2017 21:30
1505075679
Nadal starts confidently – and impressively. At 30-15, he hits a superb unreturnable second serve to really take control of his first service game. Anderson gambles on the next point, absolutely belting his service return down the line, but it's long. 1-1.
Vithushan Ehantharajah
10 September 2017 21:34
1505076454
This is a very aggressive start from the South African, he's swinging for the lines and taking the ball exceptionally early. Occasionally a little too early: At 15-0 he's in control of a baseline rally but pulls the trigger too early, slamming his crosscourt forehand wide of the line.
At 15-30 he's in a minor spot of bother when his first serve clatters the net, but he holds his nerve and wins the point when Nadal shoots long.
Nadal then takes Anderson to deuce … and gets the first break point of the final with a sublime spinning return! Forced into the corner of the court, a pirouetting Nadal somehow flicks a looping backhand down the line. Anderson thinks it's going out and leaves it, but the ball clips the tape and it's Nadal who wins the point.
The first seed then looks on the verge of breaking when he seizes control of the subsequent rally, but his attempted winner down the line is too flat and cracks into the net. Anderson loses the next point but again defends the break point.
More drama: A big kick-serve to the ad court gets Anderson to advantage, but the South African then double-faults and we're back to deuce. Anderson then hits his best shot of the match, trading blows with Nadal from the baseline before ripping a sublime crosscourt winner. His next shot is long though … deuce again.
Will this game ever end?! Yes! After defending three break points, Anderson hits two more big serves down the line and holds.
Vithushan Ehantharajah
10 September 2017 21:47
1505076664
After that titanic previous game, this one zips past. Nadal holds to love. He's only lost one point on serve so far.
Vithushan Ehantharajah
10 September 2017 21:51
1505077366
Anderson under pressure again as Nadal brings up yet another break point, at 30-40. But the South African catches him out, slowing his second serve all the way down. Nadal completely misreads it and thwacks his return long. Clever stuff from the underdog.
But a similar gamble a few seconds later fails to pay off. This time Anderson goes big on his second serve and it flies out. A second break point for Nadal, but Anderson defends it with an ace.
Are we in for another titanic Anderson service game? Looks that way! Anderson thinks he's won the game with a thumping forehand down the line, but Nadal wisely challenges and HawkEye shows that the ball was out by less than an inch.
He then spurns another advantage when he charges the net, only to send his drop volley wide. But he holds with a big serve Nadal is unable to return.
35 minutes and we're only though 5 games!
Vithushan Ehantharajah
10 September 2017 22:02
Register for free to continue reading
Registration is a free and easy way to support our truly independent journalism
By registering, you will also enjoy limited access to Premium articles, exclusive newsletters, commenting, and virtual events with our leading journalists
Already have an account? sign in
Register for free to continue reading
Registration is a free and easy way to support our truly independent journalism
By registering, you will also enjoy limited access to Premium articles, exclusive newsletters, commenting, and virtual events with our leading journalists
Already have an account? sign in
Join our new commenting forum
Join thought-provoking conversations, follow other Independent readers and see their replies